Famous Impressionist Works
The following paintings mark the history of Impressionism and post-Impressionism. We have purposefully excluded Monet's paintings as an entire page will be dedicated entirely to his famous works.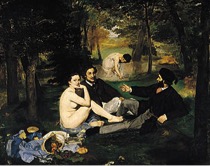 Édouard Manet, Le Déjeuner sur l'herbe, 1862-1863
Initially called The Bath (Le Bain), this painting was part of the exhibition at the Refused Works of Art Fair in 1863. The public was shocked by the representation of a nude woman among clothed men.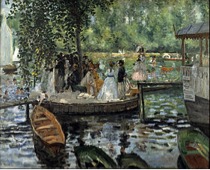 Pierre-Auguste Renoir, La Grenouillère, 1869
This painting shows The Frog Pond (La Grenouillère), a very popular place along the banks of the Seine where polite society could be seen. There was also a restaurant. The Frog Pond was the place to be in summertime where people came to bathe and to go canoeing.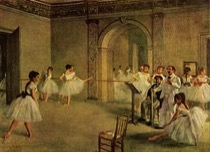 Edgar Degas, le Foyer de la danse, 1872
Degas chose to paint a place that bore witness to the cultural and daily life of Paris at the time: the Opera on Peletier Street. The scene depicts a dance room where girls rehearse for a ballet.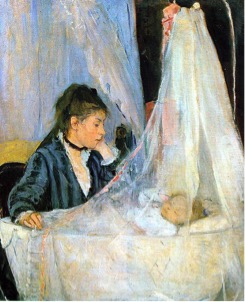 Berthe Morisot, Le Berceau, 1872
Here Morisot evokes motherhood and the loving gentleness between a mother and child.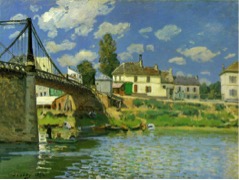 Alfred Sisley, Le Pont à Villeneuve-la-Garenne, 1872
Sisley painted the bridge and the shores of the Seine that run the length of Villeneuve-la-Garenne during summer. He also painted Rives de Seine, Villeneuve-la-Garenne (banks of the Seine).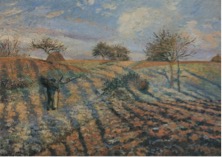 Camille Pissarro, Gelée blanche, ancienne route d'Ennery, Pontoise, 1873
Pissarro chose to paint nature at its simplest; a frozen-over patch of countryside at sunrise where a peasant walks, clutching a bundle of sticks. At this time, Impressionism is doing very well.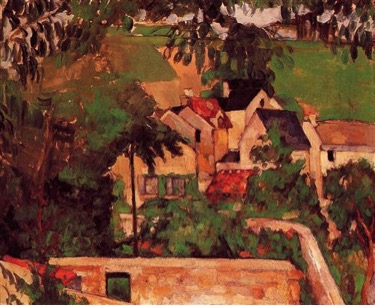 Paul Cézanne, Étude – Paysage à Auvers, 1873
Cézanne lived in a period where he was heavily influenced by the Impressionist movement. He decided to study it to eventually find his own, unique style. He was helped by Camille Pissarro who he met up with at Pontoise in 1872 and then by Vincent Van Gogh who he met up with at Auvers-sur-Oise in 1873.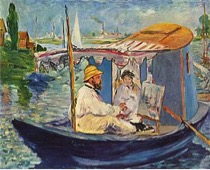 Édouard Manet, Claude Monet peignant dans son atelier, 1874
Manet painted a portrait of his dear friend, Claude Monet, who was himself in the middle of painting while on his boat in Argenteuil.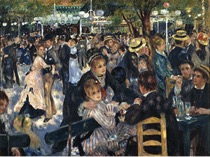 Pierre-Auguste Renoir, Le Bal du Moulin de la Galette, 1876
This painting was exhibited during the Impressionist Fair in 1877. There Renoir painted some of his friends among the crowd, depicting a joyous ambiance.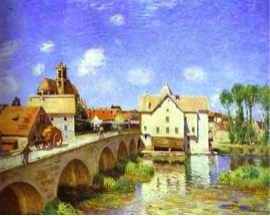 Alfred Sisley, Le Pont de Moret, 1893
Sisley painted the bridge at Moret-Sur-Loing, a town rich in history with preserved ramparts. He painted a series on this town where he lived until his death in 1899.
Giverny is where it all began with Claude Monet, who founded the impressionist movement.