Giverny is undoubtedly the town of impressionism. In this article, we will explain how this movement was born and how it has evolved to become so famous. You can admire a great deal of impressionist paintings at the Giverny Museum of Impressionisms.
The Birth of a Movement
A group of painters created a new painting style...
The history of the Impressionist movement centers around a series of encounters between different artists who were all looking for their artistic independence during the second half of the 19th century. If we take into consideration those impressionist artists central to the movement -- Claude Monet, Edouard Manet, Alfred Sisley, Pierre-Auguste Renoir, Paul Cézanne, Camille Pissarro and Vincent Van Gogh -- they were all united in their quest to do away with the strict codes imposed by the Royal Painting and Sculpture Academy of the period. This is what pushed them to work in private workshops where they were able to paint how they wanted, in total liberty. The Impressionist spirit is evoked in a quote by Manet: "I paint what I see and not what others would like to see."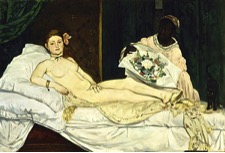 Olympia, Edouard Manet, 1863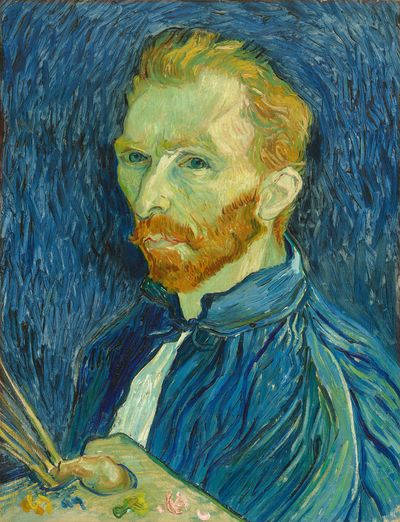 Vincent Van Gogh, Autoportrait avec palette, 1889
Impressionism is a movement that consists of a new take on reality and that marks a turning point in the art of that period. During the 1850s, Monet and Manet were also inspired by Japanese prints, particularly those by Hokusai and Hiroshige. In fact, the two painters were greatly influenced by this Far East art and Monet would end up with a private collection of 250 prints that are currently on exhibition at the Monet Foundation.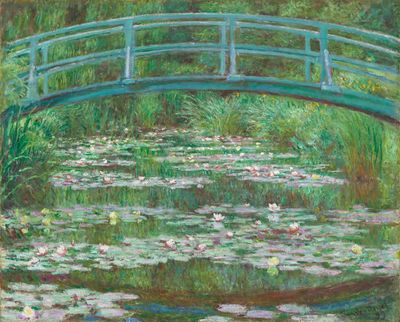 Claude Monet, Le Bassin aux nymphéas, harmonie verte, 1899
Thereafter, in the 1870s, when a group of friends (namely Monet, Manet and Renoir) decided to meet up in Argenteuil, considered to be the home of the Impressionist movement, the former as we know it was already born.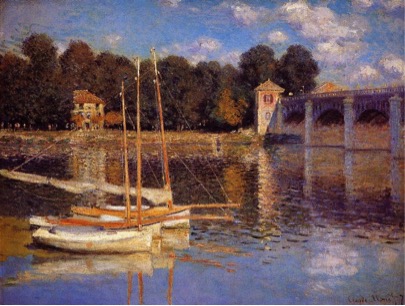 Claude Monet, Le Pont d'Argenteuil, 1874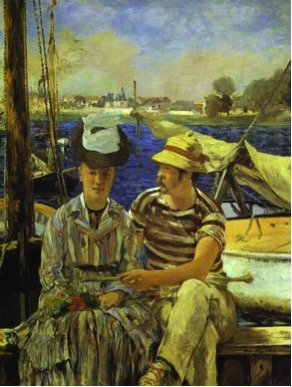 Édouard Manet, Argenteuil, 1874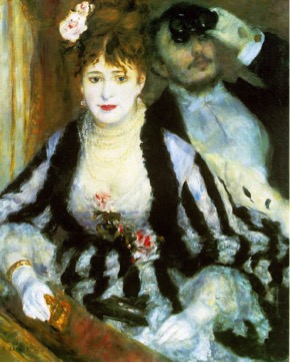 Pierre-Auguste Renoir, La Loge, 1874
Reactions and Criticism on Impressionism
Confronted with numerous refusals by art gallery representatives and by cutting remarks in the press and from the public about the group's works during its first exhibition "Non-admitted works," in the 1860s, the Impressionists decided to create their own exhibitions, the first of which was organized with the help of the photographer Nadar. Despite this initiative, the group could not claim success. The public had a hard time accepting this new painting style that was so far from classical references. Disconcerted, the public felt that the Impressionist paintings were vulgar and shapeless rough sketches and thus took to making fun of the movement and its works.
The first work considered to be symbolic of the movement is a painting by Monet, "Impression, Rising Sun."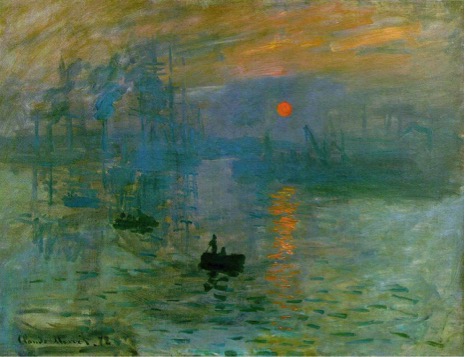 Claude Monet, Impression, Soleil levant, 1872
It was Louis Leroy, an art critic, who would use the word "impression" found in Monet's painting to give a pejorative nomenclature to the group. He considered their work to be incomplete, a simple impression far from reality. It is widely accepted that the group then jumped at the occasion to use this name, Impressionists, following Leroy's virulent critiques.
Nonetheless, the Impressionists were backed by writers such as Emile Zola who published articles in defense of the movement. Zola learned of the movement thanks to his childhood friend, Paul Cézanne. For example, Zola had an article published in The Event (L'Evénement) on April 30, 1866, in which he states: "My sole aim in writing these articles is to demand that these artists, who will without fail be the masters of the future, are not persecuted today."
Durand-Ruel: An integral figure to the Impressionist movement
The role played by Durand-Ruel in the development of the Impressionist style is undeniable. Thanks to him the movement was finally recognized and made a success.
Monet met the art dealer and art gallery rep Paul Durand-Ruel in London. Durand-Ruel was very interested in Monet's paintings and consequently purchased various paintings by several other Impressionist painters. He would be a huge financial help for the group of artists.
Through the exhibitions that Durand-Ruel would hold in London and above all New York in 1866 (Works in Oil and Pastel by the Impressionists of Paris), the Impressionists were slowly but surely recognized by the public. Their impressionist paintings were finally appreciated for what they were worth. Neo-Impressionism would end up taking over the Impressionist era and its independent artists, thus marking yet another new era for Art.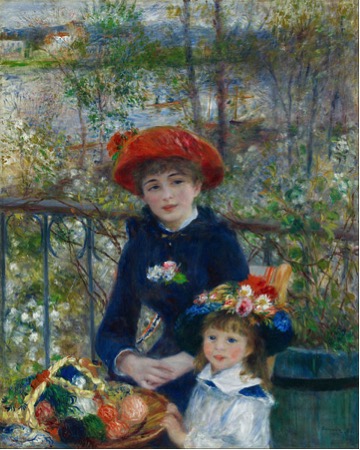 Claude Monet, Les Deux Sœurs (Sur la terrasse), 1881
Its main characteristics
Playing with light and color....
Impressionists are careful not to mix colors but to juxtapose them by employing quick brushstrokes that also show their art's spontaneous nature. The choice in colors gives a certain richness to their paintings, and vibrant and clear colors that express light and its myriad effects on landscape give another aspect to their paintings that was previously not seen during their time. Their interpretation of nature is all the more unsettling and seductive as the play on landscape and its movements are visible. One hears talk of vibration, play on reflections and light...Certain artists painted the same landscape but at different times of the day or during different seasons to play with the changing colors. Among the various landscapes that marked the history of Impressionism and Monet's paintings, one can cite the White Water Lily Series (les Nymphéas) and the Rouen Cathedral (la Cathédrale de Rouen) that you will be able to discover during a Giverny tour.