The famous Impressionists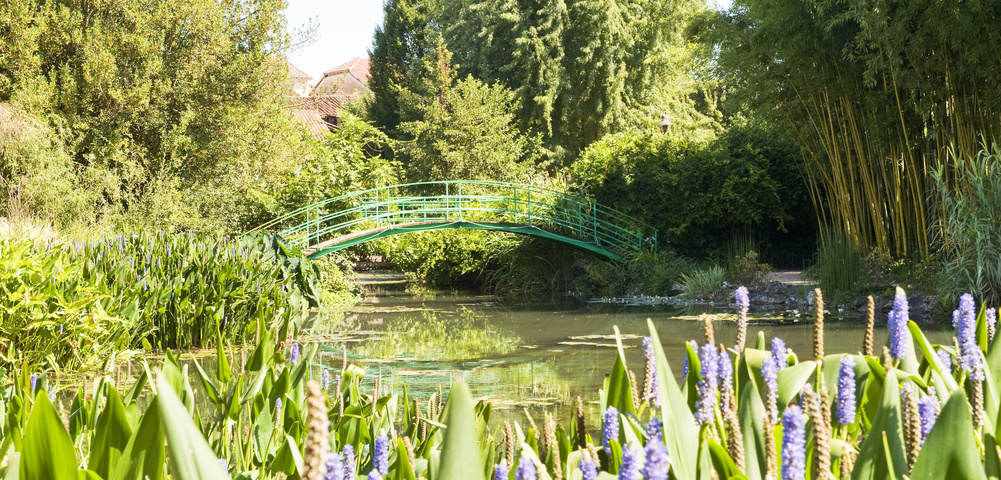 The Impressionist movement began in France during the second half of the 19th century. You can admire the paintings of some of the most famous Impressionist painters in Giverny, home of Claude Monet. Today we'll introduce you to five major names in painting whose works have a place of honor in the Musée des Impressionnismes in Giverny.
What sets the Impressionist movement apart?
All artistic movements are born of a break with existing movements and a will to reinvent the creative process. Impressionism is not an exception to the rule: it was founded in opposition to academic painting. Leaving behind historical, mythological, and Orientalist themes, this new movement, led by painters such as Pissaro, Renoir, and Monet, focused on subjects and scenes from everyday life. The goal was no longer to paint a large fresco with a faithful visual representation but to allow oneself to express the sensations experienced while painting. Light and climate phenomena, including snow, rain, and waves, as well as the joys and sorrows of men and women, left fleeting impressions that the artists worked to capture and reproduce on the canvas. Among all the young artists who, brush in hand, participated in the development of Impressionism, we would like to introduce you to five of the most well-known French painters of the generation in more detail.
Claude Monet, talented precursor
Claude Monet was one of the founders of Impressionism and one of the most talented painters of his generation. Trained at the École des Beaux-Arts in Paris, he was able to move beyond the methods and precepts of his training to find his own path and, in doing so, express his full talent. As a reaction to the dictates of academic painting, Claude Monet founded the Impressionist movement with other major figures such as Pierre-Auguste Renoir.
His most famous paintings may be Impression, Sunrise and Waterlilies. Claude Monet established himself as a gifted portrayer of light and left us with an impressive collection of over 2000 works. In 1883, he moved to Giverny, where he lived for nearly 40 years. He spent many happy days in what we call Monet's house and while still alive was successful enough to earn his living from his art.
Pierre-Auguste Renoir, painter of a happy life
The artistic vocation appeared early in this man who would become one of the most famous Impressionist painters. Working from a young age to make ends meet, he saved enough to enroll in the École des Beaux-Arts in Paris in 1862. He also frequented Charles Gleyre's private studio, where he formed friendships with other artists such as Claude Monet.
This hedonist, who came to Impressionism notably to take up the challenge of reproducing light, often composed joyful scenes of moments of celebration or shared happiness. His most famous paintings include Luncheon of the Boating Party, Two Sisters (On the Terrace), and La Grenouillère (The Frog Pond).
Gustave Caillebotte, painter and patron
The talented artist Gustave Caillebotte was also a friend of the arts and a committed humanist. Gustave Caillebotte is known for his commitment to and patronage of the Impressionist movement. It was he who organized four exhibitions dedicated to this artistic movement during the last quarter of the 19th century.
Though Gustave Caillebotte painted as a hobby and was sometimes—wrongfully—considered to be an amateur, art historians now willingly qualify him as an original and bold artist. His most well-known works include Paris Street; Rainy Day, The Floor Scrapers, and View of Rooftops (Snow Effect), all of which are powerfully evocative and poignantly bear witness to 19th-century Paris. An exhibition of 80 works was dedicated to this artist in the first half of 2016 at the Giverny museum.
Camille Pissaro, elder and initiator
Born in the West Indies, Camille Pissaro fell in love with painting during his school years in Passy, near Paris. After two years in Venezuela, he made a permanent move to the capital, where he frequented the Académie Suisse, an important meeting place for an entire generation of painters and an occasion to form strong friendships, including with Monet and Cézanne.
This founder of the Impressionist movement tried throughout his life to push against the limits of his talent. He worked with Cézanne before becoming interested in divisionism after meeting Seurat. His works include Hoarfrost and The Boulevard Montmartre at Night, to name just a few.
Paul Cézanne, self-taught artist
Without Cézanne, the way we look at Provence and Montagne Sainte-Victoire would not be the same. His life was spent between Paris, where he frequented the Académie Suisse, and the city of his birth, Aix-en-Provence. Cézanne was discovered later on than his contemporaries; it would not be until 1895 and the retrospective organized by Ambroise Vollard that the general public would finally take an interest in his works.
This painter, today one of the most well-known Impressionists, made famous the city of Aix-en-Provence and the Montagne Sainte-Victoire that dominates the landscape. The mountain inspired nearly 80 of Cézanne's works, including Mont Sainte-Victoire seen from Bellevue.
Many famous Impressionist painters
During you Giverny tour, you will realize how this selection of five artists is not enough to pay homage to all the talent of the many painters who also defined the history of art and painting. We could mention Edgar Degas and Vincent van Gogh, both figures of Post-Impressionism.
By entering the Giverny Museum of Impressionisms or the Musée d'Orsay in Paris, you can admire the most beautiful impressionist paintings by the famous painters who participated in the artistic renaissance at the end of the 19th century.