Visit Paris in a different way by taking a cruise along the Seine, while enjoying traditional French cuisine.
Go directly to the boarding area of the PARISCityVISION boat, La Marina, located on Quai Anatole France, Port Solferino, just steps from the Musée d'Orsay. Our team will welcome you aboard the boat-restaurant for an unforgettable lunch cruise along the Seine.
Through the large windows of La Marina, you will be able to admire the Seine and the famous bridges of Paris, such as the splendid Pont Alexandre III and the romantic Pont des Arts.
Among the great landmarks located along the banks, you will have a breathtaking view of the Île de la Cité with its Notre-Dame Cathedral and the Conciergerie, the Musée d'Orsay and the Louvre. You can admire the Grand Palais, one of the most iconic monuments of Paris, which hosts many exhibitions, and also see le Palais Bourbon, which is home to the Assemblée Nationale.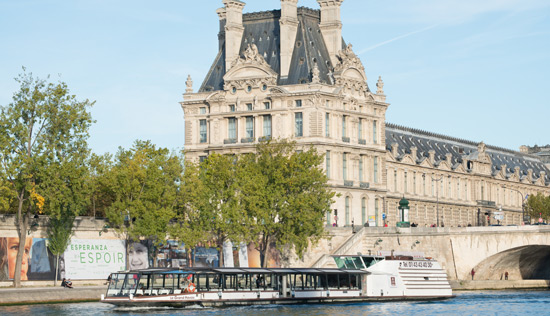 Enjoy an enchanting experience on this delightful lunch-cruise. In the friendly atmosphere of this excursion along the Seine, you will discover the city's charm through a unique view of Paris, while savoring a fine meal (with or without drinks depending on the option selected). We offer you two menu options, to be selected when you order: menu with drinks (1/2 bottle of wine) or without drinks included.
Menu
Starter at choice :
Smoked salmon on blinis, artichoke tapenade, young spinach shoots
or
Assortment:
Provencal tart with fresh tomatoes, peppers and pine nuts
Scallop flavoured with lime leaf, diced potatoes with seaweed preserve
Cucumber and artichoke tartare, diced smoked salmon and lumfish roe
Pan-seared aubergines, shrimps with lemongrass, yellow pepper coulis
or
*Three-greens gazpacho, crushed fresh tomatoes with Espelette pepper
**
Main course at choice :
Braised chicken leg, Mediterranean flavoured vegetables, celery chips with parmesan
Haddock loin with shellfish juice, roast artichokes and carrots
Piece of beef, new potatoes, caramelised peppers and onions, green pepper sauce (+7€)
*Medley of seasonal vegetables, crunchy celery with tarragon vinegar
**
Cheese platter (+6€)
**
Dessert at choice :
Raspberry and lychee éclair, chocolate-coated rose petals, exotic coulis
or
Assortment:
Cream pastry with apricot medallion
Intense chocolate ingot
Mixed fresh seasonal fruit
or
*Chocolate dome, ring of strawberries and raspberries, apricot coulis
**
Drinks depending on the tour selected :
No drinks
or
½ bottle of wine per person
Children's Menu :
Shredded turkey, cherry tomatoes and mozzarella balls
**
Choice of main dish from the menu
**
Sparkling chocolate ingot
**
Orange juice, Coca Cola or water
*Lactose and gluten free vegetarian menu
* Exemple of menu, subject to modification
Please note :
Boarding at 12.15 pm at the foot of the Orsay Museum.
End of the cruise at 2.00 PM
Map of boarding area, download here
The price includes :
A 1.30 hours Lunch Cruise on the Seine
Drinks depending on the tour selected
Information on the confirmation voucher :
You will receive confirmation of your tour booking by email, along with a voucher. Print your voucher and present it at the boarding area of the La Marina PARISCityVISION boat.