This combo tour will allow you to discover two symbolic places of Paris and France. You will explore the exterior of Notre-Dame Cathedral as you listen to its history and stroll through the surrounding streets. You will visit the Louvre Museum and admire the great works of art that have made it so famous.
You will come to our agency PARIS CITY VISION Notre-Dame at 10am to pick up your audio guide containing an audiopen and an illustrated map to help you find your way around. You can then head to Ile de la Cité where the first comments will be given in front of Notre-Dame de Paris Cathedral (closed during its reconstruction). You will learn about the history of this masterpiece of flamboyant Gothic art, listen to explanations about its architecture, portal and towers, and imagine the interior thanks to the photos on the map. You will continue your visit of the district by walking around the Ile de la Cité, the historic heart of Paris, and the typical streets of the Latin Quarter.

Notre-Dame-de-Paris Cathedral
Once this getaway is finished, you will be invited to return your audiopen to our agency Notre-Dame. You will then have time to have lunch in the surrounding area or in any district of Paris of your choice.
Afterwards, you will have to present yourself at Paris City Vision Louvre agency at 2pm to Collect your audio guides and discover the Louvre museum. Thanks to your skip-the-line ticket, you will be able to quickly get into the most visited museum in the world where you will admire some of the most famous works of art throughout the rooms. The audio guided comments will allow you to discover the history of the museum and its artistic masterpieces such as the Venus de Milo that represents the goddess Aphrodite, the must-see Mona Lisa of Leonardo da Vinci, the Winged Victory of Samothrace and many other wonderful paintings. Take the time to look at the paintings and sculptures as you wish and stroll through this former Royal Palace.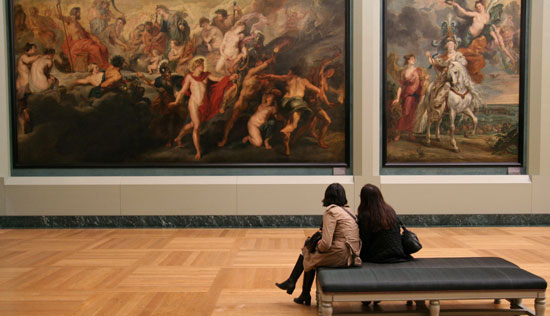 Painting of the Louvre
At the end of your visit, don't forget to go back to our agency to give the audio-guides back. If you wish so, you can end up your day with a walk in the beautiful Tuileries Garden.
Please note:
You must start your tour with Notre-Dame at 10am. You will then have to get to our agency at 2pm for the visit of the Louvre.
This tour is not suitable for disabled people, there is no lift on the tour route.
A deposit of 30€ will be requested at each agency for the audio guides loans. They will be returned when the audio guides will be taken back.
Louvre Museum:
- Pick up your audio guide at our Louvre agency. A deposit of 30 euros per audio guide will be required at the agency upon the departure.
- You will need to return the audio guide at the agency at the end of the tour, your deposit will then be given back to you.
- Large bags, strollers and umbrellas must be left in the museum cloakroom
- The new anti-fraud procedure of the Louvre now requires the full name of each visitor or the reservation can be cancelled at the last moment. The museum can refuse admission if the name indicated does not match the one on the ID card, and no refund will be possible.
- Recorded comments available in: French, English, Spanish, Italian, German, Japanese, Mandarin Chinese, Russian, Portuguese, Korean
- Due to renovation work, some works of art may not be accessible
The price includes:
Notre-Dame Cathedral:
- Audiopen and map provided in our agency PARIS CITY VISION Notre-Dame
Louvre Museum:
- Entry ticket with priority access
- Map with tour itineraries and advice
- Audio guide provided by our agency PARIS CITY VISION Louvre
The price does not include:
Information on the voucher:
You will receive your confirmation and your tour voucher in 2 separate emails. Present it (on paper or on your smartphone) at PARIS CITY VISION Louvre agency at the beginning of your tour