Artists and athletes: Moulin Rouge dancers
Like many of us, you must be fascinated by those scantily clad dancers performing graceful choreographies in the Moulin Rouge. But what are the secrets hidden behind these talented performers? Why are they so representative of the French culture?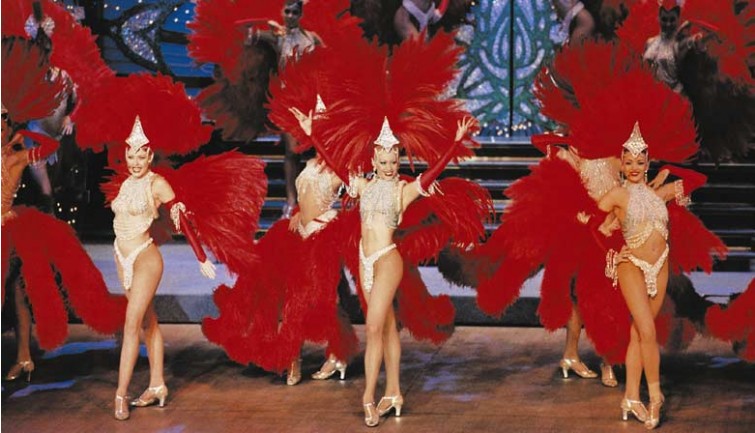 How are they chosen?
Unlike what you might think, Moulin Rouge dancers aren't only chosen based on physical criteria. It actually takes a lot of skills and talent to be a Moulin Rouge dancer. Moulin Rouge dancers come from all over the world and have been practicing dance as professionals for a very long time. They're selected after very selective auditions that can last several hours and where they have to show what they're capable of (cartwheels, splits, etc.). An audition is divided into sections; each one of them is about a given type of dance or specific acrobatics. If a dancer has the chance to be selected, she/he's going to have to train about five hours a day in readiness for Moulin Rouge shows. After that, dancers have to closely monitor their weight because they are allowed neither to lose nor to gain 2 kg (4.4 pounds). They're also expected to do many rehearsals a day to be perfectly on point when it is show time.
Some famous Moulin Rouge dancers
Through its history, many dancers have contributed to make the Moulin Rouge a worldwide known legend. Minstiguett is one of the names that immediately come to mind when talking about Moulin Rouge. Her real name was Jeanne Florentine Bourgeois and due to her huge talent, she became the most highly paid entertainer of her time. She was known for her daring performances and reviving the Moulin Rouge after World War I with her captivating shows. She dived into the universe of Moulin Rouge in 1907 when she met Jacques-Charles and collaborated with him to give birth to some of the cabaret's most memorable revues. Another French Legend who is often associated with Moulin Rouge is Edith Piaf. She was first noticed by Louis Leplée while singing alongside her father and then started a successful career during which she sang on multiple cabarets of Paris including Moulin Rouge in 1944.