The Moulin Rouge Restaurant
An evening at the Moulin Rouge cabaret means enjoying a fantastic show, Féérie, and a renowned gastronomic meal. Reservations are made in advance due to high demand. Not surprising, as it's a one-of-a-kind cabaret! A festive, 1920s ambiance now makes way for an elegant dinner lit by the cabaret's emblematic red table lamps.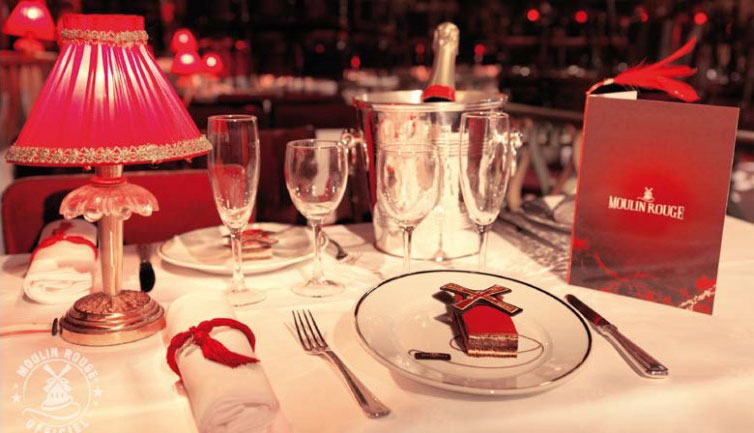 A prestigious team, an unforgettable dinner experience
When you sit down to dinner at one of the most famous institutions in Paris, it's only natural that you'd expect a French gastronomic meal worthy of the name -- and stature, as the Moulin Rouge was designated a UNESCO intangible cultural heritage site in 2010.
Chef David le Quellec and his sous-chef Alexis Mathey run a team of 25 people who cook meals for 600 guests every night of the year while a brigade of 120 people ensure impeccable service for 600,000 guests per year. Some of the creatively named dishes one can savor range from the "sot-l'y-laisse de dinde poêlé," (sautéed turkey), "le froufou de thon mi-cuit en tataki," (seared tuna) or "le potage d'un jardin à la française" (vegetable soup). Guests with a sweet tooth will enjoy refined desserts such as opéra with chocolate and noisette sauce or a fruit sorbet trilogy. The restaurant menu only uses seasonal products, which is why it changes throughout the year.
Set Menus for all Tastes
The restaurant takes into account all possible tastes and preferences, from à la carte to set menus and from vegetarian to vegan ones. It's a good idea to enquire about menu options when making a reservation as the à la carte dishes are not included in show ticket price.
For a fancier time, you can choose a Toulouse-Lautrec evening or a Belle Epoque evening which include a half bottle of champagne. A VIP evening on the imperial balcony is another option, and one that provides an excellent view as well as the chance to enjoy an intimate meal.
The Moulin Rouge restaurant is every bit as good as its cabaret. Those with the most gourmet, food-loving taste buds will be treated to a dinner as refined as Féérie itself!