Accommodation and hotels near Disneyland Paris
Are you looking for a hotel near Disneyland Paris at the best price? Find out where to stay near the amusement park with our selection of hotels and accommodations in and around the park.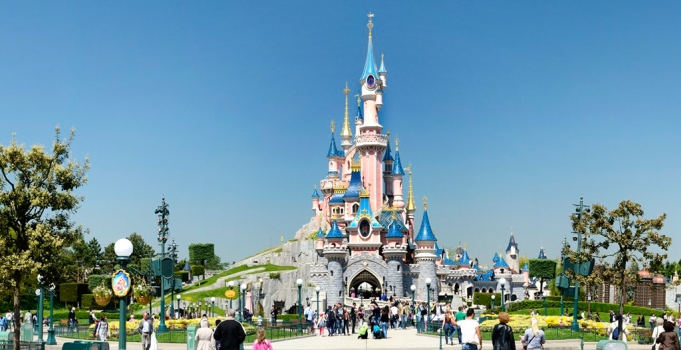 Hotels near Disneyland Paris The hotels nearest to Disneyland Park Paris
Six themed hotels are open within the park, the most prestigious being the closest. This way, you can walk to the park by crossing through Disney Village.
The Hotel Santa Fe channels the special atmosphere of the legendary Route 66 in the great outdoors of the American Southwest. There's a particular ambiance that mixes Mexican and American influences. The advantages of this hotel? Affordable prices to stay near Disneyland Paris without breaking your budget.

Disney's Hotel Cheyenne evokes a town in the American Far West just like in old western movies. Immerse yourself in a Cowboys-and-Indians atmosphere. Rooms are located on either side of this town's main street.
The Sequoia Lodge takes you to the American northwest and the special atmosphere of the Rocky Mountains. This immense building recalls the great mountain hotels and offers a very warm atmosphere. Its advantage? A particularly well thought-out indoor aquatics areas.
At the Newport Bay Club, you'll be delighted by the elegant world of the most elegant New England seaside resorts. A gigantic lake was dug in front of the hotel to reinforce the seaside feeling.
Disney's Hotel New York brings Manhattan architecture to France. This quality hotel is located right on the entrance to Disney Village: you can reach the park in just 10 minutes and enjoy the events, shops, and restaurants located right nearby.
The closest to the park entrance, the Disneyland Hotel is a palace hotel where you can live our your own fairy tale in a castle. Dine with Mickey, Minnie, and your favorite characters in a gourmet restaurant.

A selection of the best hotels near Disneyland Paris
Other hotels are here to welcome you for one or more nights near the best-known amusement park in Europe. You'll find hotels near Disneyland Paris that suit all budgets and expectations.
Luxury hotels near Disneyland Park
The Radisson Blu Hotel is nestled in the lush green spaces of a magnificent 27-hole golf course. You will find luxurious rooms and high-quality 4-star service. Its advantage?
Its ideal location just a 10-minute shuttle ride from the park.
Address: Rue de la Mare Houleuse Magny-le-Hongre, 77700
Affordable hotels near Marne-la-Vallée
The Explorers is a 3-star family hotel near Disneyland Paris. Its special pirate-themed atmosphere will delight children and families who dream of adventure. You will find beautiful rooms and suites here. The indoor pool with games and pirate's galleon will delight you.
Address: 50, avenue de la Fosse des Pressoirs, 77700 Magny-le-Hongre
The Chelles Première Classe, less than 3 kilometers from Marne-la-Vallée, offers rooms at unbeatable rates. The services are not fancy but the prices are unbeatable, and you can easily get to the park by car.
Address: Eae De La Tuilerie, 77645 Chelles
The Ibis Budget Marne-la-Vallée also offers attractive rates with the Accor Group's guarantee of quality and comfort. This hotel is great value for money for families on a budget.
Address: 55-59 Avenue Francois Mitterand , 77500, Chelles
Unique accommodation and camping sites around Marne-la-Vallée
To save money, you can also book at a campsite near Disneyland Paris, Marne-la-Vallée. Enjoy the delights of outdoor hotels, take in the natural setting near Disneyland Paris, and spend a day or two in the park to enjoy all of the attractions.
If you are looking for a natural hunter's atmosphere but don't want to sacrifice comfort, Disney's Davy Crockett Ranch is perfect for you. Enjoy the relaxing, independent atmosphere in a comfortable bungalow. Many activities, such as tree climbing, are available on-site.