Food, shopping, and entertainment await at Disney Village Paris
Located near the entrance to the famous Disneyland Paris theme park and hotels, Disney Village Paris is friendly and open to all. Entrance is free and its central location makes for a festive, lively venue from morning to night, whatever the season.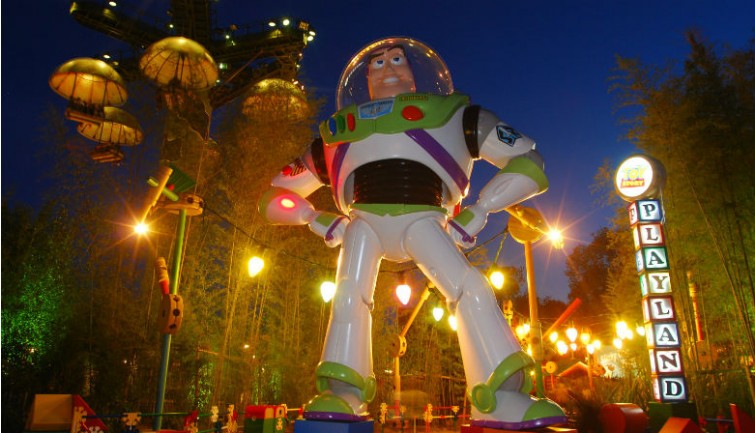 Shops and stores at Disney Village Paris
The shopping center combines the magic of the Walt Disney universe with the non-stop rush that some feel while out shopping.
Looking for a place where you can get a bite to eat while also having fun at Disney Village Paris ? There is so much to choose from! A wide selection of themed restaurants offer a full range of sights and sounds and are sure to transport you to infinity and beyond. Mickey fans can rejoice at Café Mickey, jungle explorers at the Rainforest Cafe, future movie stars at Planet Hollywood, and cowboys can order a meal at Billy Bob's Country Western Saloon.
A variety of stores are available at Disney Village Paris for a shopping spree, mostly themed after the Walt Disney universe. Need to redecorate your home's interior? After a visit to the Art Gallery, refresh your wardrobe at the Disney Fashion store and walk through the Lego Store or World of Toys with your children.
A number of shows and attractions provide additional entertainment: soar over 328 feet above ground in the PanoraMagique tethered balloon, or sit back and enjoy the Buffalo Bill Wild West Show, a story set during the time of the Wild West.
You can also buy tickets to see the latest and greatest films in spacious, high-tech theaters.
Disney Village opening hours
Access is totally free, except during special events or seasonal parades. A train station and parking lot are located close by.
Disney Village Paris Opening Hours
Disney Village is open all day starting at 7:30 a.m. Disney Village opening hours continue late into the night. It's the perfect opportunity to party all night without worrying about a closing time !
Disney Village Paris Parking
Want to take your car from Paris to this unique shopping center? Parking is available at the Disney Village Parking Lot. The lot is managed by Vinci and is located right nearby the stores and entertainment venues. It is open 24/7. Parking charges apply,
but unlike visitor parking lots that offer a daily rate, the Disney Village parking lot offers much more flexible options.