Indiana Jones and the Temple of Doom, a Disneyland Paris ride
Follow in the footsteps of the most awesome archeologist in history of film and a style icon with his hat and whip Budding adventurers, will you be brave the void as you board the crazy cars of the Indiana Jones and the Temple of Doom ride? The Indiana Jones Disneyland ride has thousands of visitors holding their breath each day.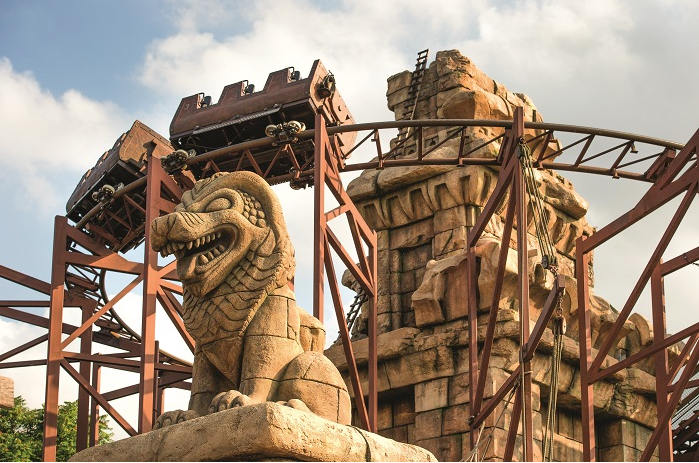 A mythical scene from Indiana Jones and the Temple of Doom
Fans of the film series held their breath in suspense during the famous mine cart scene. Do you remember? In the second installment of the adventures of Indiana Jones, our hero, the comely Willie Scott and the joking Short Round try to escape fearsome enemies by hopping a ride in a mine cart. Between jumps, gunshots and obstacles, they give us one of the greatest action scenes on film.
This is the sequence that you can relive on the Disneyland Paris ride. The roller coaster ride is decorated like an abandoned temple in the jungle that has fallen into ruin and is traversed by a train track made of wooden railroad ties. Riders are seated in vintage cars that look like the movie's mine carts to embark on a thrilling path that packs in the thrills.
Even as you wait in line, you are plunged into the film's ambiance, advancing through the forgotten remnants left behind at the campsites of unlucky adventurers. Indiana Jones' shadow looms over you as you begin your adventure.
Indiana Jones and the Temple of Doom by the numbers
The ride opened in 1993. The track is 1,800 feet long and culminates with a 60-foot drop. To give you a sense of scale, that is about the height of a seven-story building. As you can see, the Temple of Doom that draws so many aspiring Indys is truly imposing.
The highlight of the roller coaster is a staggering loop. Indiana Jones and the Temple of Doom is more than deserving of its name: you will get an adrenaline rush and you will feel relieved at the end, despite the optimum safety conditions.
If you climb into one of the seven cars on the Indiana Jones and the Temple of Doom ride, you will zoom through the entire attraction in 1 minute and 14 seconds! Remember, you must be 4'7" to go on this ride. Pregnant women are also strongly discouraged from going on this legendary Disneyland Paris ride.
Other rides at Disneyland:
Big Thunder Mountain
It's a Small World
Pirates of the Caribbean
Space Mountain