The Disney's Newport Bay Club hotel
Are you looking for a true vacation experience that immerses you in an entirely new landscape? The Newport Bay Club near Disneyland Paris offers you more than just a room: it's an invitation to escape the brings the magic of Disney to every waking moment.
The timeless charm of the seaside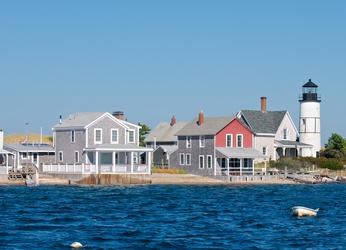 Open the doors to the Newport Bay Club hotel and travel through time and space. Dive into the heart of an upscale New England seaside resort in the 1900's where the building's façade reflects off the calm waters of Lake Disney. The ambiance is upscale, elegant, and romantic. For one or more nights, share in the life of the rich tourists of the 20th century who would vacation on the seaside.
Cape Cod, which you can see in the photo opposite, is located in Massachusetts in the United States. It is renowned for its hotels, stately homes, and mansions, and the upper class has gathered there for more than a century. By choosing the Newport Bay Club, experience the cozy elegance just steps from Disneyland Paris.

Disney's Newport Bay Club, a 4-star hotel
Are you looking for a high-end hotel with the best level of comfort? Recently renovated, the Newport Bay Club hotel has undeniable charm and high-range services. In a decor inspired by 1900-1920's New England, you can enjoy high-level services: valet parking, concierge, FastPass (for the suites), etc.
The rooms are inspired by the first cartoon that showed Mickey Mouse on a steamboat. Enjoy the indoor and outdoor pool and the sauna and hammam in a fitness center equipped with the latest machines.
Discover the 5 other hotels near the Newport Bay Club: