Downloadable tourist map of Montmartre
Situated in the heart of Paris, the district of Montmartre will captivate you with its village-like atmosphere and artistic buzz: for decades, the most famous painters have lived a bohemian lifestyle here. By downloading this map of Montmartre, you can easily locate the most remarkable places in this charming Parisian district.
Click below to download the plan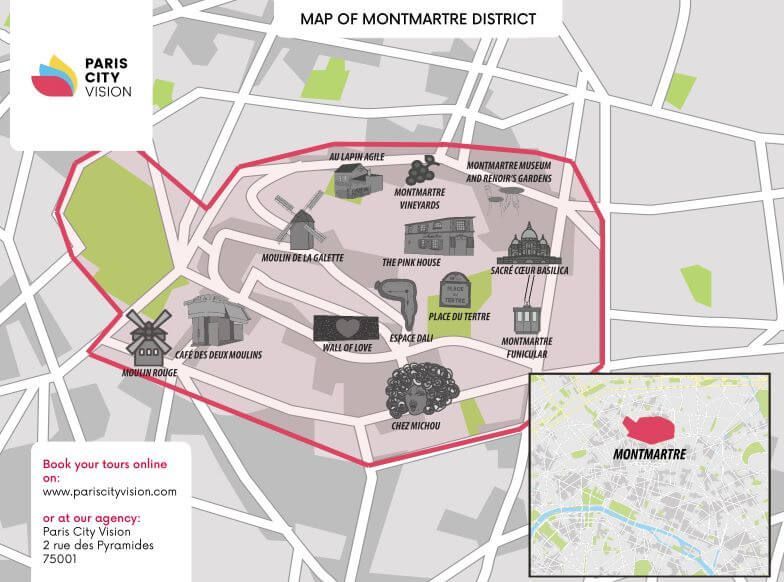 PDF tourist map of the Montmartre district
If you enjoy strolling along the alleyways and streets of this exceptionally picturesque area, make sure to visit its must-see buildings, monuments, streets, and squares.
Our tourist map of Montmartre is easy to download. Keep it handy on your smartphone or tablet so you can access it easily, without requiring an internet connection. Print the map in PDF format and slip it into your pocket.
It shows the principal monuments, museums and tourist attractions of Montmartre, as well as the hidden treasures of a district that is one of the most popular with tourists.
Montmartre: monuments, museums, cabarets and alleyways
Although the imposing Sacré Cœur Basilica dominates Paris from the hilltop, there are other tourist treasures that await you. The place du Tertre, with its numerous painters, cafes and brasseries, is a hot tourist spot. The Clos-Montmartre, a vineyard plot cultivated in Paris, also attracts tourists with its bucolic charm. The Museum of Montmartre, the Renoir Gardens, and the Espace Dali are also among some of the iconic places in this district, which served as a background for the film « Amélie ».
Several legendary cabarets, such as Chez Michou or Au lapin Agile, also contribute to the history of Montmartre.
It is this timeless Montmartre that we feature on our tourist map.
Map of Montmartre for savvy tourists
Our map lists ten attractions, from the most famous to the lesser-known:
Sacré Cœur Basilica
Montmartre Funicular Railway
Moulin Rouge
Place du Tertre
Clos Montmartre Vineyard
Moulin de la galette
Café des Deux Moulins (Amélie)

Wall of Love
La Maison Rose
Museum of Montmartre and Renoir Gardens
Espace Dali
Chez Michou Cabaret
Au Lapin Agile Cabaret
Other downloadable tourist maps
Plan for your trip in advance and download our different maps on your smartphone or tablet in PDF format: