All about the Eiffel Tower
All about the Eiffel Tower Facts
Built in the extension of the Champs de Mars in Paris, the Eiffel Tower's unusual architecture is supported by four self-buttressing metal legs that culminate in a pylon shape. At the time of its construction, it was merely a technical and architectural problem to solve, but it quickly became the symbol of Paris and a synonym for innovation and wizardry. Today its silhouette is recognized around the world and looms in our collective imagination as a symbol of grandeur that inspires artists, esthetes and dreamers.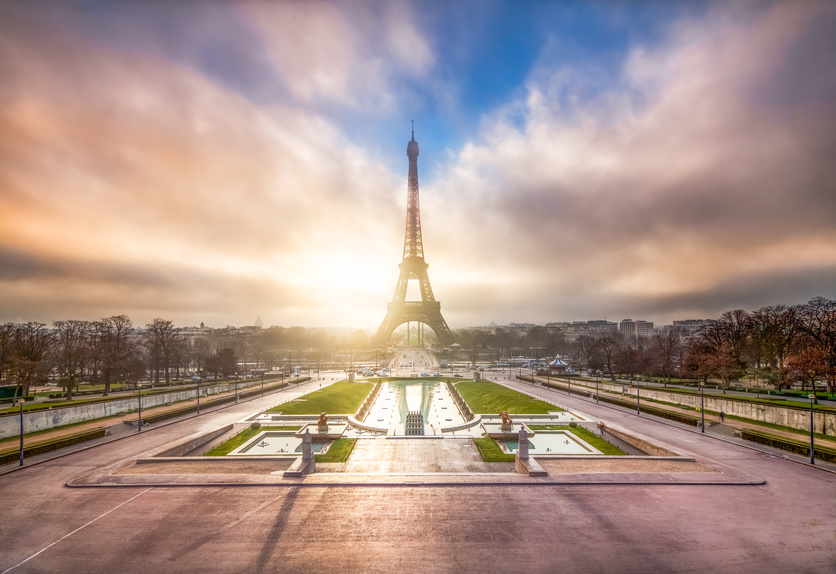 From birth to maturity
On doit le projet de la Tour Eiffel à l'équipe de l'entrepreneur Gustave Eiffel, répondant au concours lancé dans le Journal officiel en prévision de l'Exposition Universelle de 1889. Choisi parmi une centaine de projets, cette utopie de 300 mètres de haut prendra alors forme en 2 ans, 2 mois et 5 jours de travaux. Inaugurée le 31 mars 1889, elle attirera 2 millions de visiteurs pendant l'Exposition Universelle et finira, malgré les polémiques ayant éclaté pendant son élévation, par conquérir le cœur des parisiens. Destinée à rester en place 20 ans seulement, elle s'est en réalité installée dans le panorama parisien pour n'en plus disparaitre, notamment grâce à son utilisation comme antenne de radio.
The Eiffel Tower has been on the list of historic monuments since 1964 and a UNESCO World Heritage Site since 1991. Each year it receives nearly 7 million visitors, of which 75% are foreigners, and it is stands as the undisputed symbol of France around the world. It is the most visited fee-charging monument in the world and, since it opened in 1889, a whopping 250 million people have visited it.
A few key figures that say it all
1,023 feet tall
1,710 steps to the top
10,100 tons of iron
2,500,000 rivets
20,000 twinkling light bulbs
60 tons of paint used for each renovation
6.5 feet per second traveled by each elevator
7 inches maximum sway at the top on a windy day
For more information, check out the infographic "The Eiffel Tower in numbers".
Technical applications
If you want to know everything about the Eiffel Tower, you also have to take a look at its scientific history. It is not just an esthetic achievement, for as soon as it opened, Gustave Eiffel wanted to make it a place for experiences. By turns it served as a meteorological laboratory and a research center for aerodynamics, physics and radio links, making the Eiffel Tower a hotbed of research and innovation. With the 120 antennas perched atop it, the Eiffel Tower still broadcasts radio, television and digital terrestrial television today. It has nine lightning rods and eight grounding terminals, but the entire tower is a giant lighting rod that protects a vast area against lightning.
Records and achievements
What better place to set a record? Bets and challenges began in the 19th century as soon as construction of the Eiffel Tower was under way. Many inventors and athletes chose it a the setting for their exploits. Examples include the "Bird Man" who, in 1912, threw himself off the first level in a parachute; Pierre Labric who rode down the first level on a bicycle in 1923; mountain climbers Guido Magnone and René Desmaison, who climbed the tower in 1964; A.J. Hackett who bungee jumped from the second floor in 1987; the tight-rope walker Philippe Petit who walked from the Palais de Chaillot to the tower on a tightrope in 1989; and triathlete Yves Lossouarn, who ran the stairs to the top in 8 minutes and 51 seconds in 1995.
Among the unusual feats performed, a special mention goes to Victor Lustig, the crook who succeeded in 1925 in selling the tower to a scrap metal merchant by masquerading as the chief of staff at the Ministry of Postal and Telegraph Services.
Touristic and cultural influence
The silhouette of the Iron Lady is recognized around the world as a symbol of Paris and France. Many copies have been made in France and abroad. While the best known is in Las Vegas, there are other versions in Canada, Japan, Bolivia, Honduras, Vietnam and Kazakhstan. As a predominant feature of French culture, it has inspired many artists since it was erected, including poets such as Guillaume Apollinaire, Blaise Cendrars and Jean Cocteau, as well as painters (Chagall, Dufy, Delaunay), performers of songs about the Eiffel Tower (Mistinguett, Charles Trénet, Dutronc, etc.) and filmmakers. The tower also appears in a wide variety of films, such as "Zazie in the Metro" (1960), "Superman II" (1980), the James Bond installment "A View to a Kill" (1985) and "Rush Hour 3" (2007). This geographic and cultural omnipresence has forged the legendary identity ascribed to it today as the great Iron Lady inextricably linked to Paris.