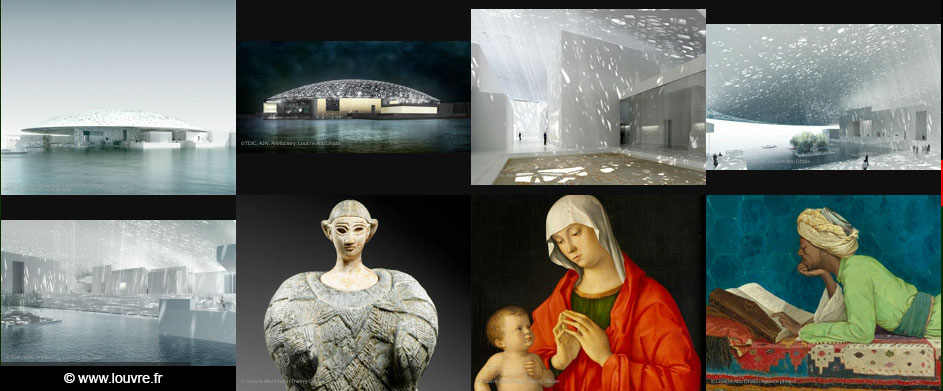 The Louvre Abu Dhabi project began in 2010. It is an initiative by the United Arab Emirates, who, wanting to create a universal cultural site, asked France for help. The building was designed by Jean Nouvel.
The origins of a new grand museum
The Louvre Abu Dhabi is the fruit of a cultural cooperation signed in 2007 between France and the United Arab Emirates for a 30-year period. The plans include establishment of a grand museum of universal value, like the Louvre, in Abu Dhabi, the country's capital. France is playing an advisory role for creation of the museum, its building, and definition of its mission. The Agence France-Muséums was founded to handle the project, and the shareholders are none other than French cultural establishments.
France is also lending works to the Abu Dhabi museum and will organize temporary exhibitions. France's objective is to enable the Abu Dhabi museum to become self-sufficient by acquiring its own collection as it goes along. In return, the United Arab Emirates pays France a sum of around €1 billion. The direct aim of this payment is to fund cultural projects both for the Louvre and for the other establishments taking part. The Louvre Abu Dhabi project is therefore entirely funded by the United Arab Emirates. They therefore get an institution of grand standing with the support of the largest museum in the world. The challenge lies in creating a cultural center on Saadiyat Island.
The construction project is still ongoing and, according to its spokesmen, opening is scheduled for the end of 2016.
An island museum
The Louvre Abu Dhabi museum is located on the island. The building was designed by Jean Nouvel as a skillful blend of oriental and modern aesthetics. A white dome measuring 590 feet in diameter is reminiscent of the rounded forms of traditional Muslim architecture. The design of the roof was itself inspired by the palm leaves that were used in constructions in the past. The whole thing forms a real oasis. The water around the Louvre Abu Dhabi creates reflections from which the building seems to emerge directly.
The collections of the Louvre Abu Dhabi museum
It is anticipated that this new global cultural center will have a 1.5 acre space for the permanent collections and a 0.5 acre space for the temporary exhibitions. The institution undertook in 2009 to acquire its own works and now has 600, covering history from Ancient times to the modern day.
With the opening long overdue, the Louvre Abu Dhabi museum remains a mystery. The public is eagerly awaiting the chance to see these promising new spaces.
Until then, why not visit the Louvre Museum in Paris with PARISCityVISION?
More info at www.louvre.fr/en/louvre-abu-dhabi