Paris in Spring: the most beautiful parks and gardens
There's nothing better than strolling around Paris's gardens, parks and squares when the sun is shining in springtime. In total exclusivity, discover our selection of the 10 best Parisian parks and gardens that you must see during the spring season.
The Garden of Plants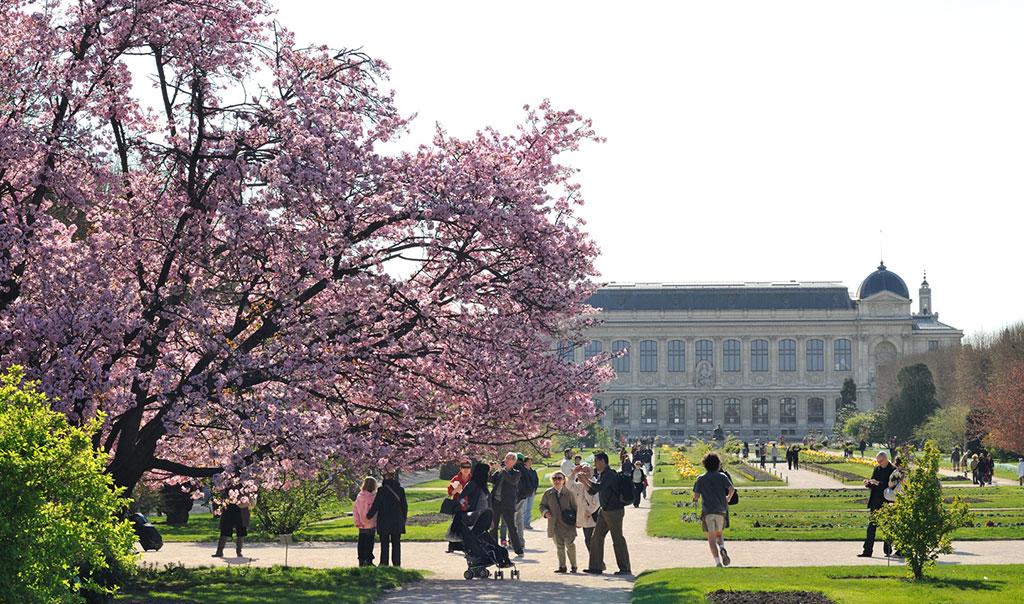 Spread out lengthwise, the Garden of Plants in Paris is the perfect place for taking a walk when it's beautiful outside. This sizable botanical garden is home to specialized gardens and greenhouses where hundreds of vegetable species sprout up starting in March. It also has a menagerie where visitors can see dozens of different bird species as well as primates and felines. It happens to be the second oldest zoo in the world.
Address: 57 Rue Cuvier, 75005 Paris
Tours and activities at the Garden of Plants
Luxembourg Gardens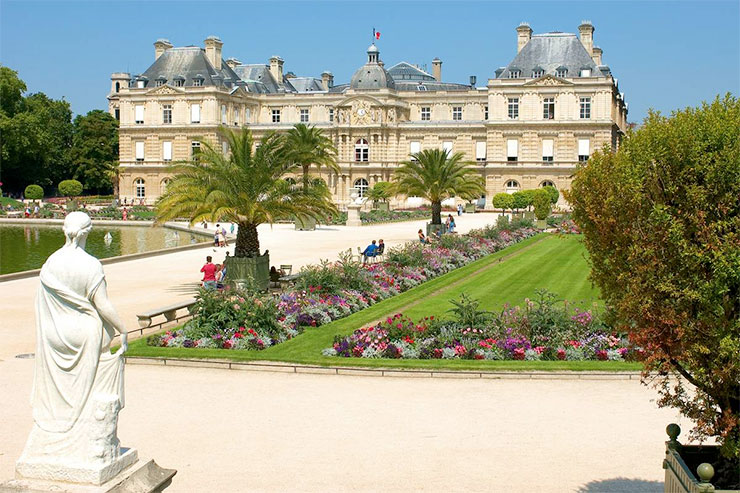 Located in the heart of the capital, Luxembourg Gardens was created by Marie de Medici and today represents the most renowned outdoor public garden in all of Paris. Spring is the perfect season for visiting its lush lawns, pathways and central basin. In addition to playing tennis or doing yoga amid beautiful statues, visitors can also check out concerts that take place in the music kiosk. Spring is also the season when multi-colored flowers bloom in the garden's fabulous English and French-style plots.
Address: 6e Arrondissement, 75006 Paris
Tours and activities at Luxembourg Garden
Bursting with Color: Monet's Garden in Giverny

Monet's Garden in Giverny is considered to be one of France's most beautiful gardens. Giverny is where Monet settled at the end of the 19th century and painted his famous white water lilies that grew in the garden's pond. Springtime is when numerous flowers (like the white water lily) bloom, thus rendering the garden its most stunning. From oriental vegetation to a Japanese bridge and a charming pond covered with white water lilies, Monet's Garden in Giverny will marvel visitors and blow them away with explosions of pink, yellow, orange, blue and green.
Address: 84 Rue Claude Monet, 27620 Giverny
Our tours and activities in Giverny
Springtime Shows: Gardens at the Château de Versailles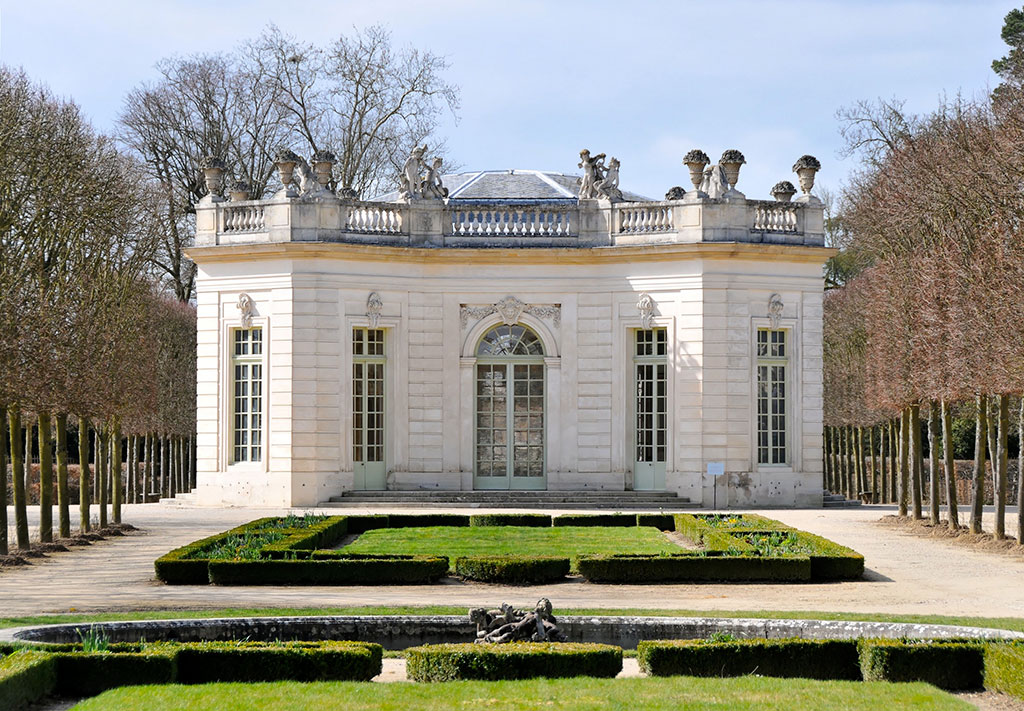 With over 350,000 trees, millions of flowers, and 2,000 basins, the Gardens at the Château de Versailles merit a visit during spring. Overflowing with sun, visitors can unwind in the gardens to the paced rhythms of nature. In addition to countless vegetal species that reveal their splendor starting in March, the Versailles gardens are also home to marvelous historical relics like marble statues and vases. It's also during the spring season that visitors can watch the Grandes Eaux Musicles, a fabulous musical show with the garden's fountains as its performers.
Address: Place d'Armes, 78000 Versailles
Visiting the château and its gardens
PARISCityVISION tip: For an unforgettable springtime day trip, check out our combined Giverny-Versailles visit.
A Romantic Atmosphere: Monceau Park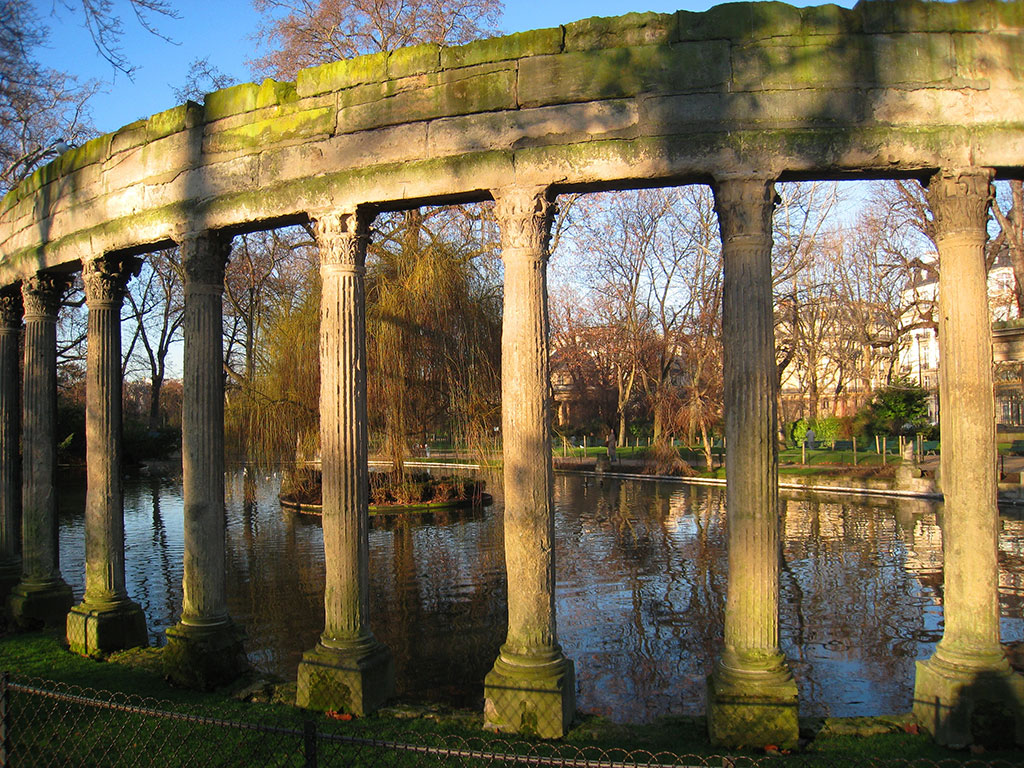 Painted five times over by the painter Claude Monet, Monceau Park and the ruins of the Temple to the Goddess Diana are a peaceful haven when beautiful weather graces Paris. Weeping willows, groves and statues take on a new sheen under the sun's delicate rays. Monceau Park is one of the most elegant and romantic gardens in the capital.
Address: 35 Boulevard de Courcelles, 75008 Paris
Our tours and activities at Monceau Park
The Gardens and Museums at the Tuileries Park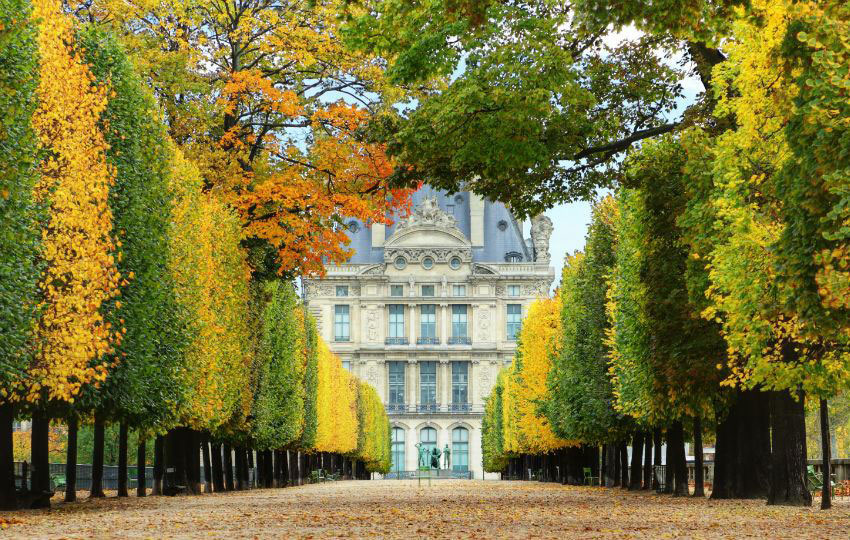 Take advantage of springtime to combine nature and culture. The Tuileries Park is blooming with noblesse and elegance, its long walkways bordered with colorful flowers and its basins filled with enchanting water lilies. After a relaxing picnic in the shade of one of the park's many sculptures, head to the Louvre, the Jeu de Paume or the Orangerie for a cultural respite rich in information.
Address: 113 Rue de Rivoli, 75001 Paris
Our tours and activities at the Tuileries Park
Champs-de-Mars: Gardens and Concerts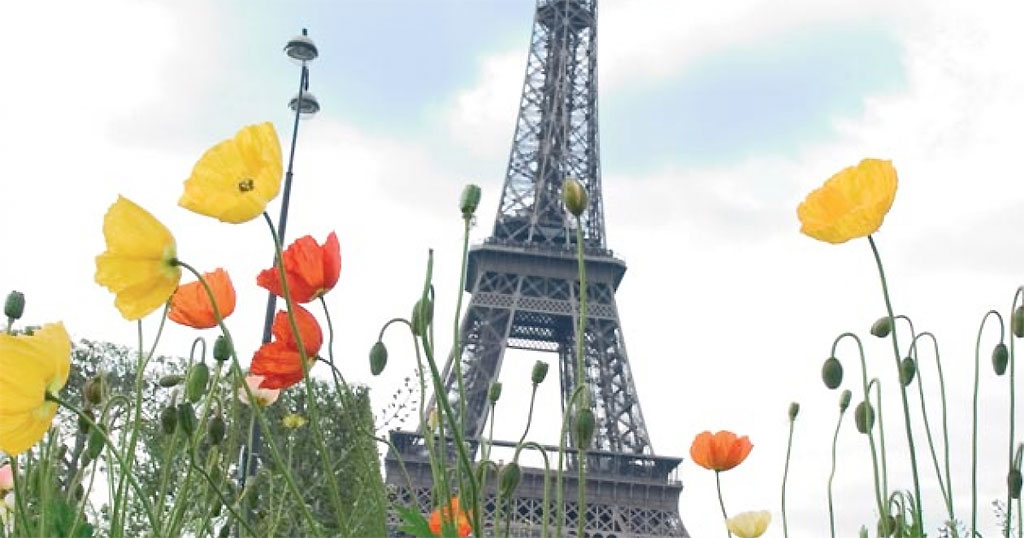 Located between the Military School and the Eiffel Tower, the Champs de Mars garden has become the place for picnickers when the weather turns nice in the springtime. The park, a huge, natural area stretched out in a rectangular fashion, dons its most beautiful colors under the sunshine: pathways lined with trees in bloom, basins, and playgrounds. It also happens to be the best garden from which one can admire the Eiffel Tower while sitting comfortably on perfectly manicured grass. In spring, musical concerts are often organized.
Address: 2 Allée Adrienne Lecouvreur, 75007 Paris
Tours and excursions at the Champs de Mars Garden
View on the Eiffel Tower: the Trocadéro Garden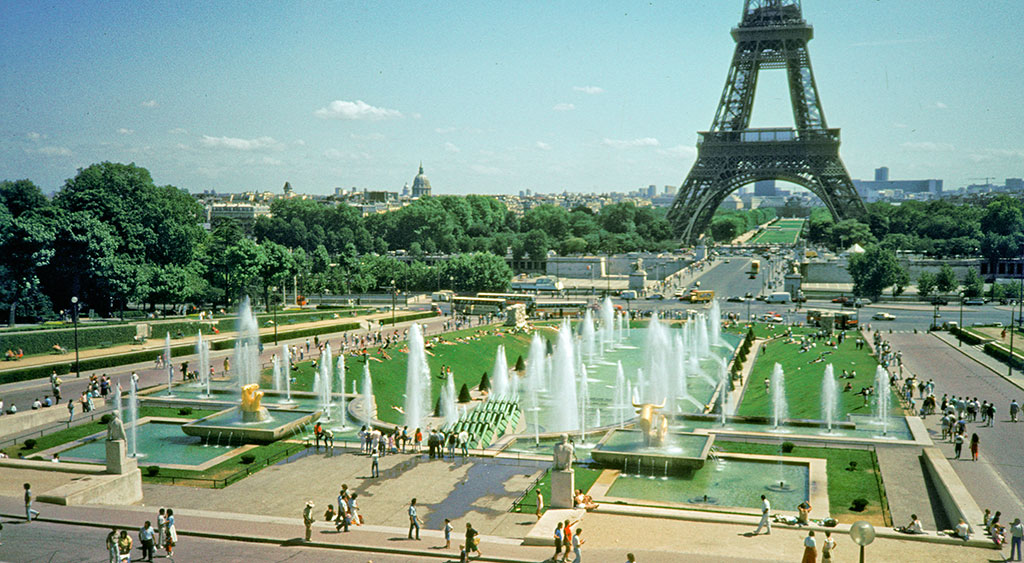 Appreciated by tourists and locals alike, the Trocadéro Garden offers a spectacular view of the Eiffel Tower, especially when the weather is nice. In spring, the garden's numerous daisy-chain basins are surrounded by multicolored flowers -- a truly peaceful garden in the heart of the capital!
Address: Place du Trocadéro et du 11 Novembre, 75016 Paris
Tours and excursions as Trocadéro Garden
Buttes Chaumont Park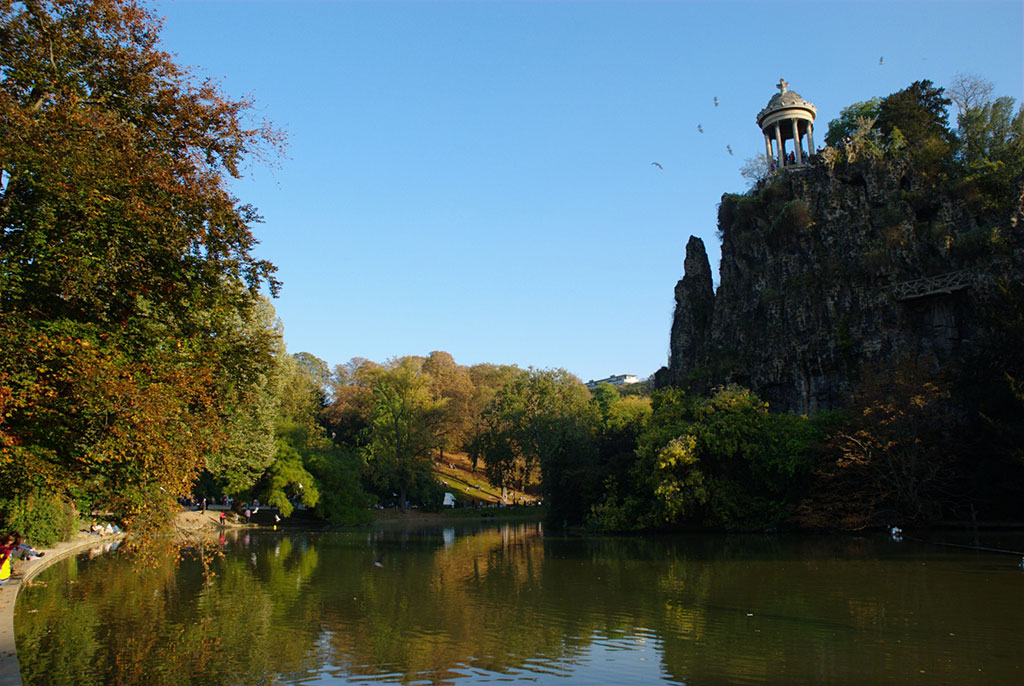 For those who need to take a breather while staying in Paris, this park is an indispensable stop on anyone's itinerary. Best admired and appreciated during the spring season when its lake, forest, and hilly contours are aglow in the sun, there are also several grottos, charming walkways, and bridges to be discovered. The Buttes Chaumont Park is one of Paris's largest outdoor public parks.
Address: 1 Rue Botzaris, 75019 Paris
Tours and Excursions at Buttes Chaumont Park
Batignolles Square: a Neighborhood Feel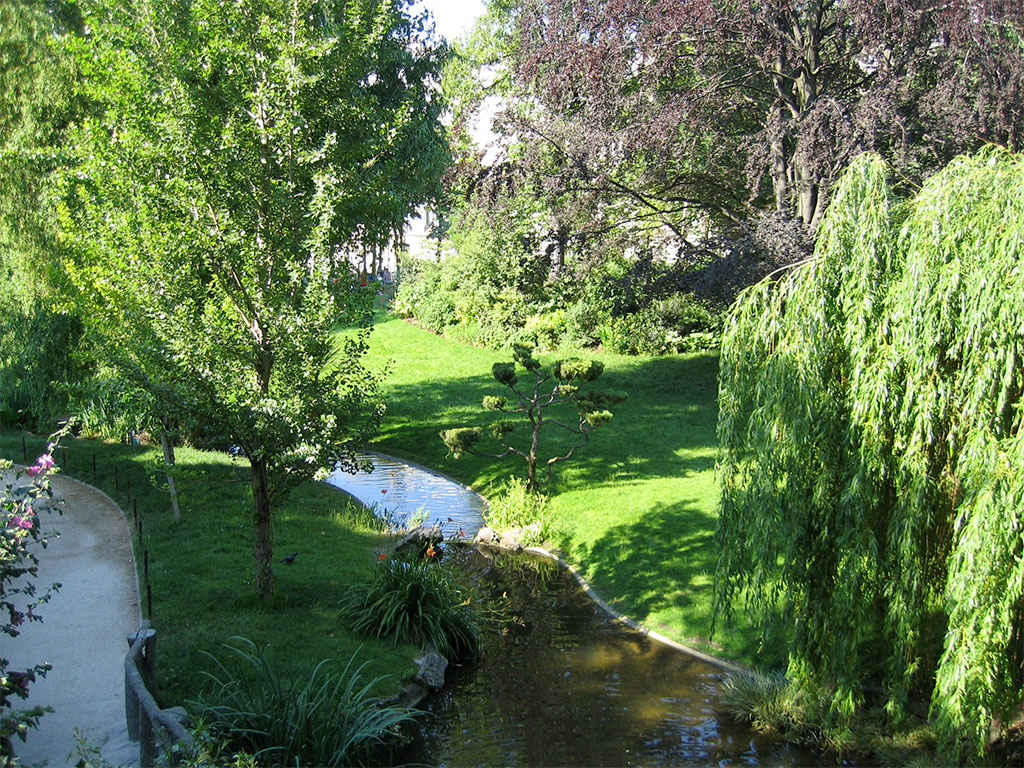 Smaller than its fellow public parks, Batignolles deserves a place on our Top 10 list. Not only does it have a small lake and creek where ducks splash about during springtime but it also has a fantastic grotto. Batignolles is also the perfect place to admire English-style gardens.
Address: 147 Rue Cardinet, 75017 Paris