This pass will allow you to take a tour of Paris on a panoramic bus whenever you like and to enjoy a fantastic evening at the Moulin Rouge which includes dinner and the "Féerie" show.
The Paris city tour will introduce you to the most iconic sights in the capital. Hop aboard a comfortable, air conditioned motor coach and listen to a presentation on Parisian history in the language of your choice through individual headphones. This tour of Paris is perfect for seeing all the essential spots in the blink of an eye. The route will travel over the magnificent bridges that traverse the Seine, pass through the great neighborhoods of Paris such as the Champs Elysées and Saint-Germain-des-Prés, and pass before the most famous monuments, including the Paris Opera, the Louvre, the Musée d'Orsay, the Arc de Triomphe and Les Invalides. Don't forget to contact us to book your city tour.
The staff at the Moulin Rouge will treat you to a magical evening. You will feast on the "Mistinguett" menu developed by Chef David Le Quellec, awarded by the Moulin Rouge entrance to the Gault et Millau. Traditional French cuisine will be served alongside a half-bottle of champagne, depending on the option you choose.
Menu Mistinguett*
Starter at choice:
Quail and Foie Gras Terrine, Apple and Seasonal Pickled Vegetables
Red Beetroot Puck, Shaving of Smoked Swordfish, Lamb's Lettuce Shoot, Broken French Dressing
**
Main Course at choice:
Roasted Chicken Breast, Mixed Seasonal Vegetables, Chestnuts, Chicken Juice
Atlantic Croaker Fish, Orzo with Green Parsley, Wild Mushrooms, Smoked Bacon Emulsion
**
Dessert at choice:
Chocomangue: Guanaja Dark Chocolate 70% from Melaka, Cream of Mango, Coconut Dacquoise
Tatinramel: Tatin Tart, Salted Caramel, Brittany Shortbread
**
Drinks:
1/2 bottle of Champagne per person depending on the tour selected
Vegetarian / Vegan menu*:
Starter at choice:
Baby Leeks, Jerusalem Artichoke, Truffle Dressing, Cazette Nuts
Artichoke and Paris Mushrooms Tart, Goat Cheese Mousse, Red Onions Chutney, Arugula with Truffle Dressing
**
Main course at choice:
Mixed Seasonal Vegetables, Parsley, Hazelnut Emulsion
Atlantic Croaker Fish, Orzo with Green Parsley, Wild Mushrooms, Parmesan Emulsion
**
Dessert:
Seasonal Fruit Minestrone
* Examples of menu, subject to modification
After a delicious dinner, you will watch the spectacular "Féerie" show at this legendary Parisian cabaret. You will marvel at the beauty of the Doriss Girls and their lavish costumes, not to mention the sumptuous decor which showcases the stage and lends the room a singular atmosphere. The performances unfurl at a boisterous pace: you will be blown away by the numbers ‒ each more extraordinary than the last ‒ set to recorded music and live music played by an orchestra of 80 musicians and 60 chorus members.
- The Circus: acrobats and jugglers intermingle in a colorful scene that culminates with a parade of the Doriss Girls and Doriss Dancers
- The Pirates: a piece about love set amidst priestesses and other creatures
- Moulin Rouge from 1900 to...: an homage to Parisian women over the years illustrated by the uber-famous French Cancan
- International acts highlighting artists of all persuasions, plus a giant aquarium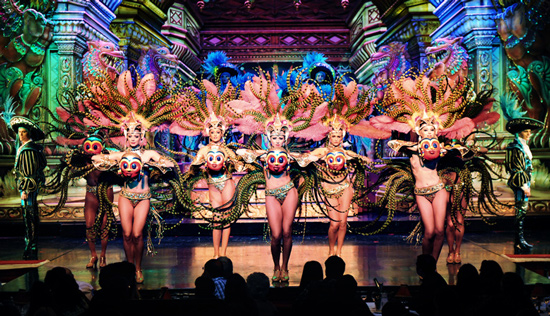 Pirates Scene at the Moulin Rouge ©Sandie Bertrand
You will leave the cabaret with a head full of gorgeous tableaux and memories of a delightful evening.
Please note:
- Moulin Rouge
Guests should dress elegantly. No shorts, jeans or tennis shoes
Mandatory paying cloakroom at the Moulin Rouge cabaret
Children are accepted from 6 years old
The show starts at 9.00 pm and ends at 11.00 pm
- Paris City Tour:
Please contact our reservations office by phone ((+33.(0)1.44.55.60.00) or email (resa@pariscityvision.com) to book your Paris city tour.
Available languages for city tour commentary: French, English, Spanish, Italian, German, Portuguese, Japanese, Mandarin, Russian, Korean, Dutch
Commentary for children available in: French, English, Spanish, Italian, German
The price includes:
"Mistinguett" menu with a half-bottle of champagne
Moulin Rouge first show
City tour by panoramic bus with audio guide commentary through individual headsets (digital sound)
Further information on your confirmation voucher:
You will receive a confirmation of your tour reservation by email, as well as a voucher. Print the voucher and give it to our representative at the Moulin Rouge security desk 30 minutes before the started time. You must provide a paper copy of the voucher. You will then receive a ticket to give to our agency when you depart for your city tour. You must contact us to reserve the time and date of your choice.