Normandy & D-Day Beaches tours
Starting from
229,00 €
Find out more
Arromanches-les-Bains is a town in the Calvados area of the Normandy region. Today a highly frequented beach resort, the town and its beach were decisive during the WWII D-day landings. Discover our guided tours in Normandy commemorating the Battle of Normandy and visit Arromanches-les-Bains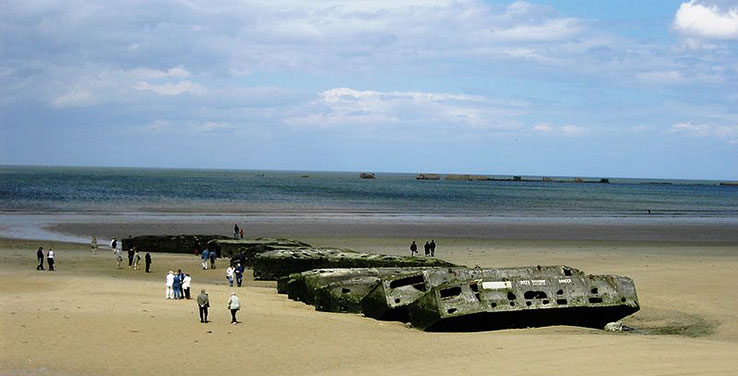 Disembarkment at Gold Beach
When British troops landed on Gold Beach on the morning of June 6, 1944, they spared the town of Arromanches-les-Bains from disaster. In effect, this zone had to be controlled without disrupting installation of the artificial port thought up by the Allied forces. Nearly 25,000 men from the 50th British Infantry Division launched an amphibious attack on the Gold Beach sector, located between Asnelles and Ver-sur-Mer. Arromanches-les-Bains, located to the west of the landing zone, was taken by Allied forces late afternoon on June 6. The objective of the Gold Beach landing was to regain control over the sectors between Bayeux and Caen.
Mulberry Port
Mulberry Port is an artificial port set up on the Arromanches beach. Its objective was to bring necessary provisions to Allied troops to see the Battle of Normandy through to the end. The idea was thought up following the failed Canadian attack in Dieppe in 1942.
Two ports were set up: the first at Omaha Beach, attacked by the Americans, and the second at Arromanches-les-Bains. A 3-day storm that began on June 19, 1944, would destroy the Mulberry A Port (American). Its debris were reused in the final stages of the Mulberry B Port construction (British). Every day, 9,000 tons of merchandise -- military equipment, tools, and other supplies -- arrived on the port.
Today, Mulberry Port is one of the many sites that attracts the most visitors on the Calvados coast. The history of its conception and its role in the Battle of Normandy are recognized for their ingenuity. The logistic superiority of the Allied forces allowed fighting to last for months, or until France was liberated.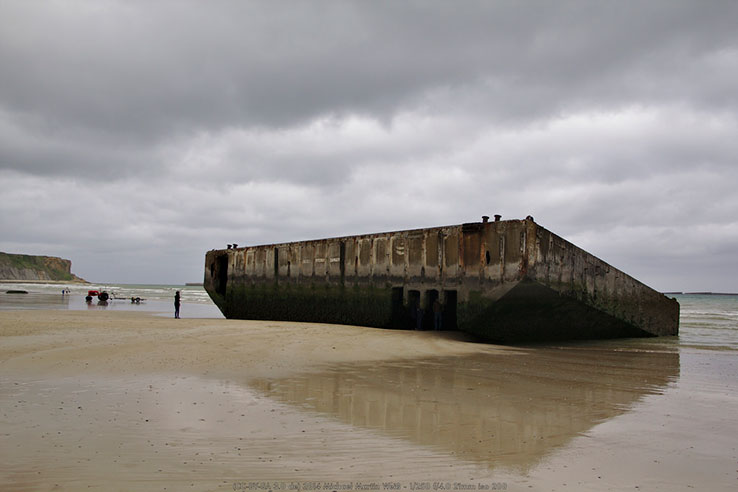 © Flickr / exumo
The Arromanches D-day Museum
On June 5, 1954, for the 10th Anniversary of the D-day landings in Normandy, the Museum was inaugurated in the presence of the President of the French Republic, René Coty. It was the very first museum to treat Operation Overlord. The site of the Mulberry B Port was especially chosen as one can still see underwater vestiges. The museum welcomes 350,000 visitors a year.
Although the Allied forces never landed at Arromanches-les-Bains in June 1944, the beaches nonetheless became famous for their importance in determining the success of the Battle of Normandy. Visiting the town allows one to see firsthand the Mulberry Port vestiges, whose history is recounted at the D-day Museum.