Normandy & D-Day Beaches tours
Starting from
229,00 €
Find out more
Hoc Point is a 30-meter high cliff that juts out into the English Channel. Located in the Calvados region, and more precisely in the municipal town of Cricqueville-en-Bessin, Hoc Point was the theater of a decisive operation during the beach landings on June 6, 1944. Visit Normandy and Hoc Point during your holidays.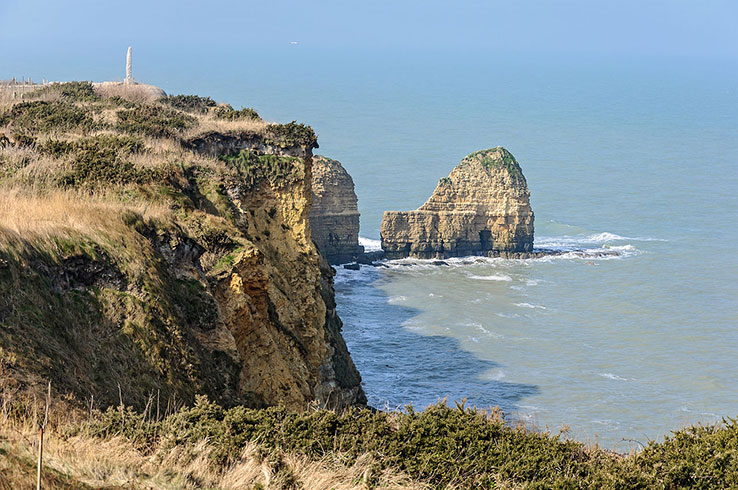 France Occupied by the Germany Army
By 1944, France had been occupied by the Germans for four years following armistice on June 22, 1940. The occupation was mainly in northern France whereas the southern part of the country was still governed by the French (later becoming the Vichy regime). German occupation mainly consisted in using France's resources.
However, not wanting to lose so early on in the war, a part of the French population organized a Resistance to fight against occupation; sabotaging public offices, civil disobedience, refusing to cooperate and clandestine publications, etc. These actions were strongly encouraged by General Charles de Gaulle on June 18, 1940. Exiled abroad and far from the organization of Operation Overlord, de Gaulle nevertheless became a WWII hero. Operation Overlord was the code name for the entire operation in Normandy led by Western Allied forces in June 1944.
June 6, 1944: Landing Theater
Hoc Point is a place of major strategic interest. Indeed, the cliff is an ideal observation point for surveying the English Channel and its coastline. Furthermore, its location between two beaches made it a natural watchtower from which it was easy to defend the D-Day beaches that are today known as Omaha Beach and Utah Beach.
This is why the cliff was bombed in April 1944, several months before disembarkment. Several attacks were launched, allowing rangers to act accordingly. On D-day, 225 men under the command of Colonel Rudder landed at 6:30 am to climb to the top of Hoc Point and seize control.
Once Hoc Point was taken, it was attacked several times by the German Army. The isolation of troops made them vulnerable; although reinforcements wouldn't arrive until June 7, the mission's ultimate success wasn't compromised. The village of Saint-Pierre-du-Mont, located 4 kilometers away, was taken by American troops on the morning of June 8.
A Place to Commemorate D-day
Hoc Point has become a place where the Allied forces and their sacrifices are remembered. At the end of the 1970s, France ceded a part of Hoc Point to the United States of America who subsequently erected a monument. In fact, the 40th and 50th anniversaries of D-day
were commemorated at Hoc Point where American Presidents Ronald Reagan and Bill Clinton attended.
Hoc Point is open to the public year long, every day of the week. The observation point, however, is only open during the day. A command station and artillery firing points still remain at Hoc Point.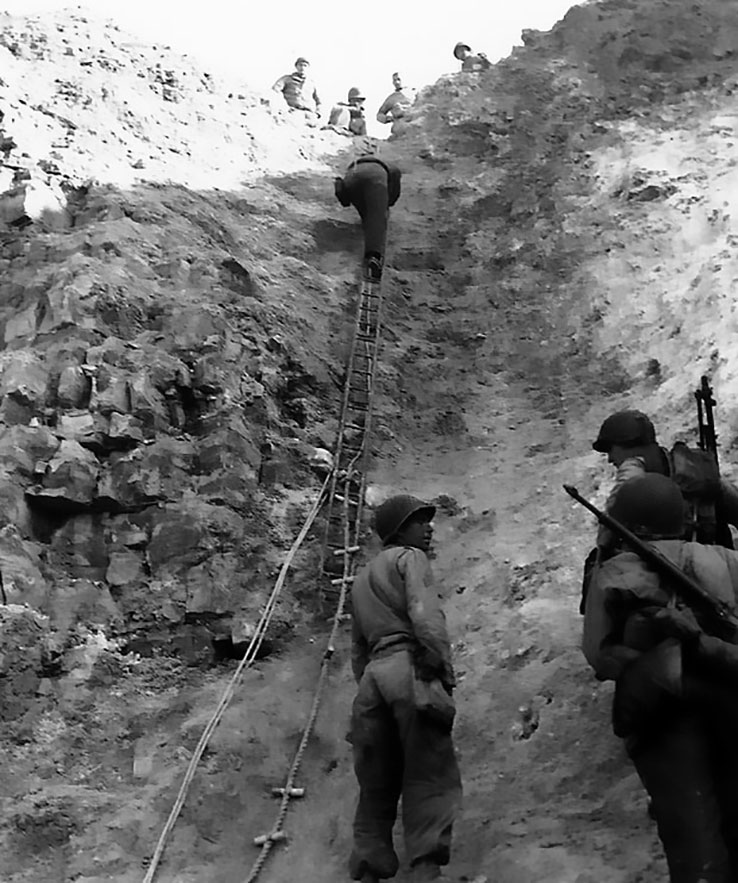 You want to relive History ? Some Normandy tours include visits of D-Day museums and beaches.