Normandy & D-Day Beaches tours
Starting from
229,00 €
Find out more
Utah Beach is the name of one of the 5 beaches in Normandy where Allied troops landed during summer 1944. This zone was handed over to American troops whose objective was to gain control over the beach and take back the town of Cherbourg. Most of our Normandy Tours include a visit to this beach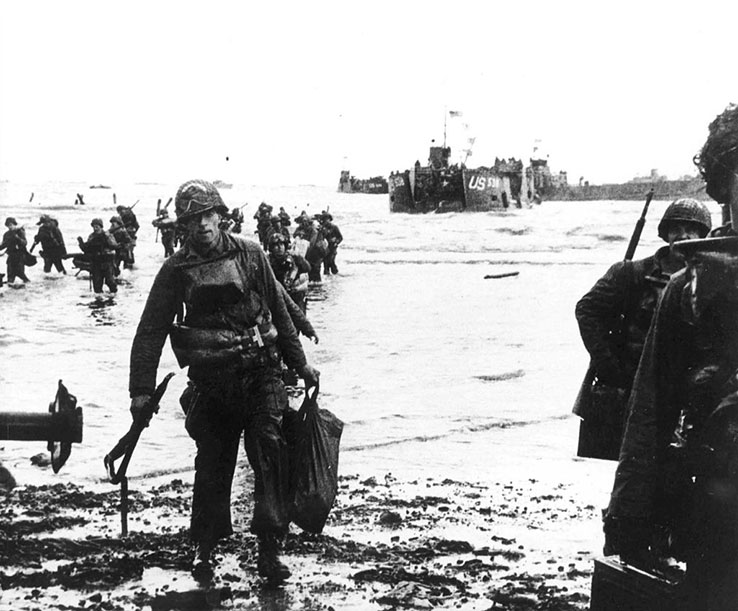 Operation Neptune: Yet Another Beach
When General Eisenhower was named Supreme Commander of the Expeditionary Allied Forces in Europe, he thereby became head of the organization of the Normandy beach landings. Operation Torch (landing in North Africa in November 1942) was an experience that allowed the General to improve his military strategies. It was decided that the landing zone in West Europe had to be enlarged and the means to do so multiplied. Significant Canadian losses in Dieppe in 1942 showed the efficiency of German defenses. Utah Beach also served as a retreat zone in case of failed assaults on Calvados.
The western part of Utah Beach, which lies in Cotentin, was added to Operation Neptune and thus became the westernmost amphibious attack zone.
Victory at Utah Beach
Utah Beach remained the least fortified beach on the Normandy coastline. Despite a reinforcement of defenses under Rommel's command, the terrain, composed of dunes and wetland, was determined as difficult for military troops to get around, even if Utah Beach is not far from Hoc Point and its fortifications.
At 6:30 am on June 6, 1944, Allied forces heavily bombed the defenses along Utah Beach. This attack, carried out at a distance, was efficient; amphibious tanks were able to disembark before the enemy could regroup. When the tide receded and exposed the obstacles put in place by Rommel, military engineers managed to remove them. The antitank wall was destroyed and American soldiers rapidly advanced.
Despite the victory of Allied forces at Utah Beach, the human losses were considerable in the airborne divisions. Parachutists were among the most numerous to perish on land. The least lucky landed directly in the marshland following problems during aerial drops.
The Utah Beach Landing Museum
Founded in 1962, the Utah Beach Museum has been enlarged over the years. In 2011, it acquired additional space (3,000 meters squared) in which several exhibitions recount Operation Overlord. The museum displays a B-26 Maraudeur, an American bombardier, as well as a landing craft. The museum is located in the town of Sainte-Marie-du-Mont on the site of the historic assault. Normandy has many museums about Battle of Normandy and D-Day landings.
Once the Utah Beach landing had been accomplished, Allied forces left to liberate Cherbourg. The battle, known as Bocage, was deadly and Cherbourg was taken on June 27, 1944.