Normandy & D-Day Beaches tours
Starting from
229,00 €
Find out more
The town of Sainte-Mère-Eglise in the Cotentin area is known for having been among one of the first liberated towns in 1944. Located just a few kilometers from the Utah Beach, German troops lost control over this landing beach when American soldiers parachuted into town the day before D-day.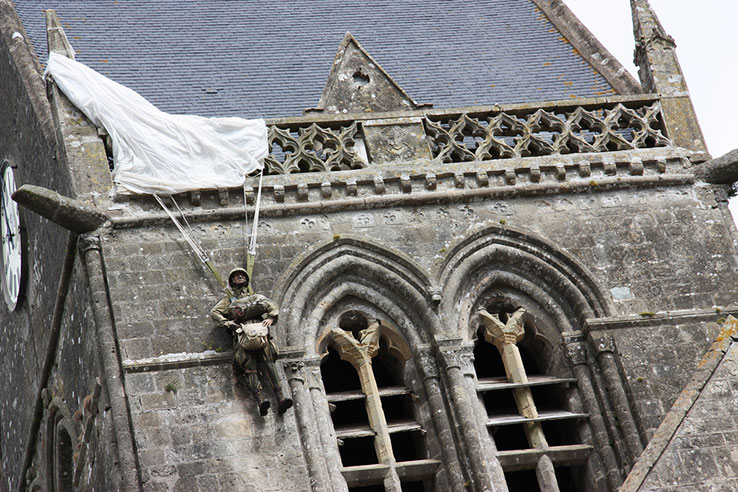 © Flickr / screenpunk
The Arrival of American Soldiers
There was a fire behind the village church during the night of June 5, 1944. While firefighters and inhabitants attempted to extinguish the fire, they were watched by German soldiers who had occupied the town since June 18, 1940.
A little while later, the first American parachutists appeared in the sky (Operation Boston) and became German targets. Their landing on Cotentin soil was meant to buffer the troops that would land on the morning of June 6 at Utah Beach and help them advance inland. During his descent, soldier John Marvin Steele was shot in the foot and got his parachute lines fouled in the church steeple for two long hours. Helpless, the soldier watched the fighting below. He was later cut down by a German soldier and thrown into prison only to escape and find his way back to Great Britain where he was tended to for wounds.
The First Town Liberated by Airborne Troops
On June 6, 1944, at 4:30 am, Sainte-Mère-Eglise was the first occupied town to be liberated by airborne troops -- the 82nd "All American" Airborne Division. The German Army retaliated by attempting to retake the town but the parachutists quickly received reinforcements coming from Utah Beach.
Today, there's a 0 kilometer sign in front of the Town Hall (Hôtel de Ville) on the Road to Liberty that commemorates the events that took place at Sainte-Mère-Eglise and which represents the beginnings of Liberation.
The Airborne Museum at Sainte-Mère-Église
Located on Eisenhower Road, the Airborne Museum is dedicated to the town as an operations theatre of the Battle of Normandy. It is above all committed to showcasing the operations led by the 82nd and 101st Airborne Divisions. The museum exhibitions are set up around authentic WWII gliders and divided up into 3 distinct buildings: WACO, C-47, and Operation Neptune. Gliders, archived documents, and personal affairs belonging to veterans allow visitors to discover how the Battle of Normandy military operations unfolded.
Sainte-Mère-Église is the first Allied victory in West Europe. The fact that it was the first town to be liberated by airborne troops is commemorated every year. The town's inhabitants, however, paid dearly for this liberty as their town was heavily damaged by bombings and 44 civilians lost their lives.
Discover also, 100 km away, Pegasus Bridge : another battlefield involving paratroopers.