Big Thunder Mountain: roller coaster ride at Disneyland Paris
Big Thunder Mountain is an absolute must for thrill seekers. This roller coaster featuring a Wild West theme is an iconic attraction at Disneyland Paris. It is a prominent feature of Frontierland's visual identity: the roller coaster cars wind around the mountain that looms large over the area. Are you ready to discover a Disneyland Paris ride that will have you on the edge of your seat?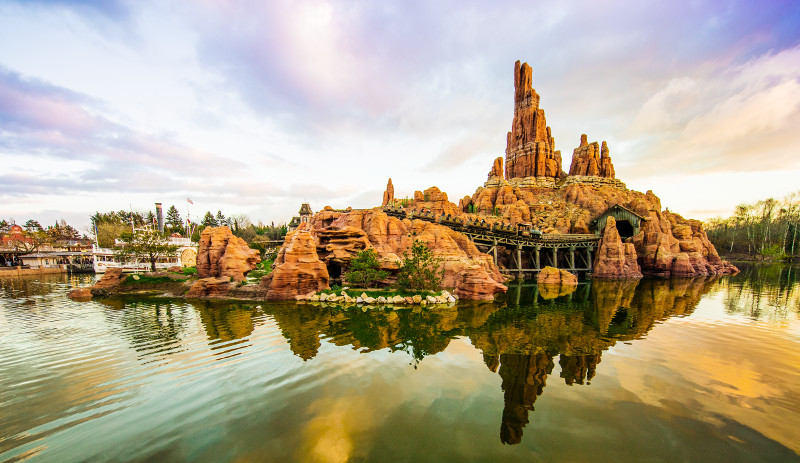 Was the Big Thunder Mountain mine cursed by the Indians?
The attention to detail is one reason for the success of the Disneyland Paris theme park. Big Thunder Mountain is far more than a banal roller coaster. The ride tells a story and invites visitors to go behind the screen by inviting them right into the thick of the action.
You will be immersed in the Western ambiance as you wait in line and learn more about the mine you are about to explore. The Thunder God is a powerful spirit said to live in the mine, which has supposedly fallen under an Indian curse that destroyed its gold veins and cause it to partially collapse. Consider yourselves warned, youngadventurers seeking to conquer the Wild West: you risk incurring the wrath of the Native American spirits if you climb into one of the mine carts.
Roller coaster rides you can't miss at Disneyland Paris
Big Thunder Mountain railroad is indomitable, with numbers to prove it. With a track that is over 1.5 miles long, the ride lasts four minutes, which is three times longer than Indiana Jones and the Temple of Doom. Your maximum speed will be 41 miles per hour.
At its highest point, the ride is 108 feet high, which as high as a 12-floor building!
The Big Thunder Mountain decor is inspired by legendary locations made popular in movies: Monument Valley and Bryce Canyon, which were backdrops to many films in which John Wayne played a solitary cowboy, the quintessential figure of the Wild West.
Aspiring cowboys can brave the staggering ascents and plummets on Big Thunder Mountain if you are at least 40 inches tall.
Other rides at Disneyland:
Indiana Jones and the Temple of Doom
It's a Small World
Pirates of the Caribbean
Space Mountain