You want to visit Paris on your own, as a couple, with your family or friends? This big city is always active; it has one of the best public transport in Europe and offers many other alternatives to get around the city freely: self-service bike rental, taxi or private chauffeur… Discover the best tips and tricks to move around in Paris easily, freely and safely.
Parisian public transportation
Public transportation is broadly the best option to travel in Paris easily, quickly and at an affordable price. Tickets can be bought individually or by pack of 10 tickets, if you take a days trip to Paris, you can also choose to use the 5 day "Paris Visite" pass or the Navigo pass, available for a week or even a month in case of extended stay. Prices differ according to the area served. Two different options are available when using a Navigo pass: access to 1 or 2 zones.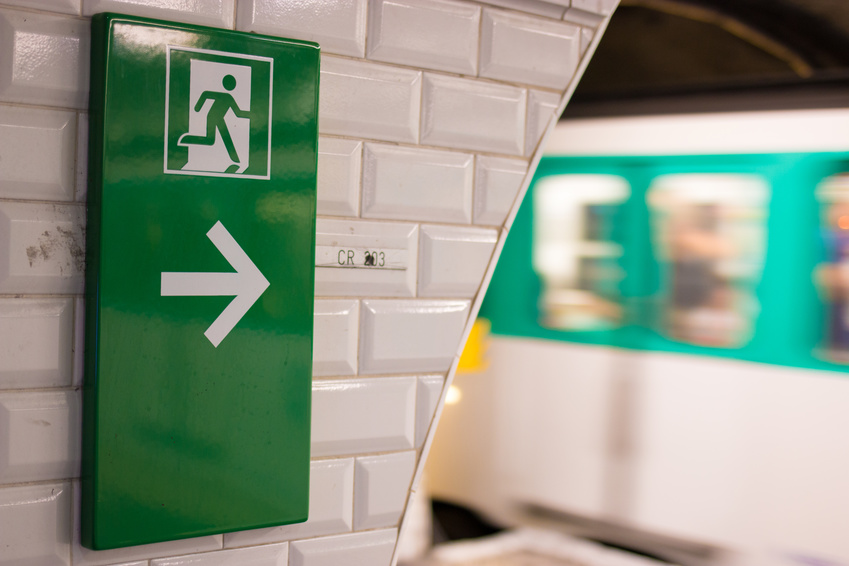 Metro in Paris
The Parisian metro densely connects all the inner Paris as well as many neighboring cities of Île-de-France. The Paris metro map shows 14 lines (16 if we count the lines that split) and nearly 300 metro stations. Every great touristic monument is thus served by a metro station: the Eiffel Tower, the Louvre, the Musée d'Orsay, the Arc de Triomphe, Notre Dame, Montmartre and the Sacré Coeur basilica, the Ile Saint-Louis or the Ile de la Cité, etc.
The network's quality depends on the line or the section taken. Some stations are themselves a full touristic attraction. If you travel around Paris via the line 3 or line 11, for instance, take the time to stop at the Art et Métiers station where you'll be plunge into an atmosphere worthy of one of Jules Verne's book.
The metro schedule makes it easier to travel early in the morning or late at night.
Metro stations open at 5:30 am.
From Sunday to Thursday, the last train reaches the terminal at 1:15 am.
On Friday, Saturday and eve of public holidays, nighttime hours are extended to 2:15 am.
RER
The network of regional express trains, which is tightly connected to the metro network, enables you to move around Paris easily and quickly or even reach more distant tourist destinations, such as Fontainebleau. The network consists of 5 lines, named with letters to avoid any confusion with the metro lines. It serves a total of nearly 250 stations.
Discover the whole Transilien network which gathers the SNCF transportation in Paris and in the Île-de-France region to extend your trips: in addition to the RER ones, 10 more lines are waiting for you, on 1300 kilometers of train track and 383 stations.
Transfers with other means of transportation are possible. The Île-de-France and T+ tickets enable you to use the RER and metro for synchronized trips. However, watch out the number of zones you are going to since Paris metro RER connections are not always possible with a regular metro ticket if you are going further than zone 1 & 2.
Tramway
The current tramway network of Île-de-France has 10 lines (including the T3 line which splits in 2). Getting around Paris by tramway is an interesting mobility alternative, perfect compromise between speed and convenience. This network serves around 200 stations.
Schedules vary according to the days of the week and the line: we invite you to look into the time schedule of the line you will use.
Buses and panoramic coaches
With more than 350 lines covering near 4000 kilometers, the RATP network of buses is one of the most developed in Europe. You will easily find a bus stop close to your hotel or monument visited. Traffic lanes exclusively dedicated to public transportation are useful to avoid traffic jams.
You can also choose another ideal solution for tourists who discover the French capital city: the Hop On Hop Off tourist bus. Open Tour, Big Bus and several panoramic bus lines are driving across Paris. You can easily book your tickets directly on PARIS CITY VISION website.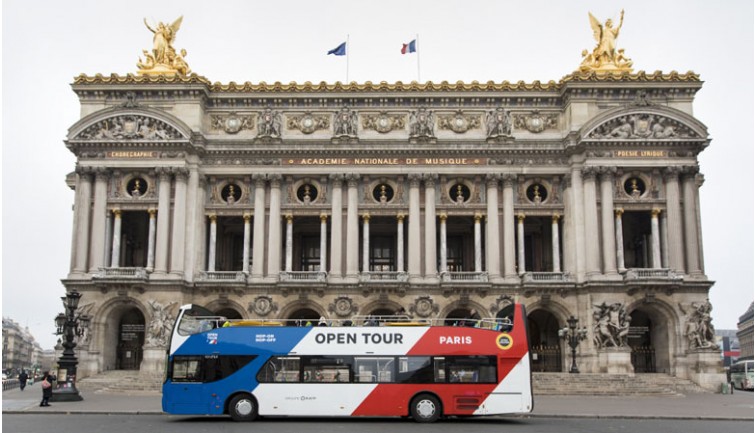 Travel by tourist bus
Vélib': biking around
What about discovering the City of Lights under the sun and your hair blowing in the wind? Paris has been offering, since 2007, a solution of self-service bike rental. More than 1100 stations in January 2019 (1400 expected) have bikes on self-service waiting to be rented. In addition to being pleasant on sunny days, cycling is an unusual way to discover the city: you can move around Paris and admire the most beautiful quarters and monuments in complete freedom.
Moving with taxis and private chauffeurs
You want to benefit from the best travel conditions in and around Paris, move quickly and with maximum comfort and safety? There are close to 1800 taxis ensuring fast and flexible travels, anytime by day or night, week-ends and public holidays included. You can hail a taxi or find one at a dedicated station. You can also use an app or a call center.
There is an alternative to taxi: private chauffeurs. You will find a lot of them in Paris via dedicated applications, you can book one and get around easily to hotels Paris. Most Paris star hotels are located in the city center.
Even though they are more expensive than public transportation or Velib', taxis and private chauffeurs are considered as one of the most convenient and fast mobility solutions, especially at night, when returning to your Parisian hotel.
Going to the airport from Paris
If you arrive by plane, you will have to reach the city center from Orly or Roissy Charles de Gaulle airport.
The Roissy Charles de Gaulle airport is served by the RER B: expect between 35 to 45 minutes of travel to Paris hotels.
The Orly airport is served by the RER B + Orlyval (30/35 minutes), the RER C (35 minutes) and the T7 tramway (30 minutes). For more information, go to the Paris Orly page.
You can also call a taxi or a private chauffeur or even buy a direct bus ticket; however, the traffic conditions might make the trip longer and uncertain during rush hour since road traffic can be particularly congested during those peak hours.
If you are looking for an accommodation look at Paris hotel deals in star hotels.
Walking around Paris?
Enjoy a beautiful sunny day to walk around Paris best areas. The city council plans to make central Paris car-free. This measure was already initiated a few years ago with the car banning on a part of the banks of the Seine.
Quarters such as Montmartre, the Marais, the Île de la Cité are particularly adapted for walking. You will enjoy walking and crossing the parks and gardens in the capital allowing you to move faster from a place to another. For instance, you can reach the Arc de Triomphe from the Louvre Museum through the Jardin des Tuileries, the Jardins des Champs-Elysées and wander before store fronts of the most beautiful avenue in the world: it will be a pleasant walk of 3,5 kilometers and about 45 minutes / 1hour.