The stations of Paris metro line 14
It's the most recent of Paris's metro lines. Opened in 1998, it served Paris's northwest and southeast. Originally intended to lighten traffic on the line 1 and make transfers to the RER easier, it has quickly become one of the busiest in Paris, with one million passengers per day in 2010, 12 years after opening. Discover a particularly modern line and, uniquely for Paris, completed automated. You will not find any drivers on the trains as they are remotely controlled. Safety is at the heart of Paris metro line 14: windows with doors that open when the trains arrive help avoid anyone falling onto the rails.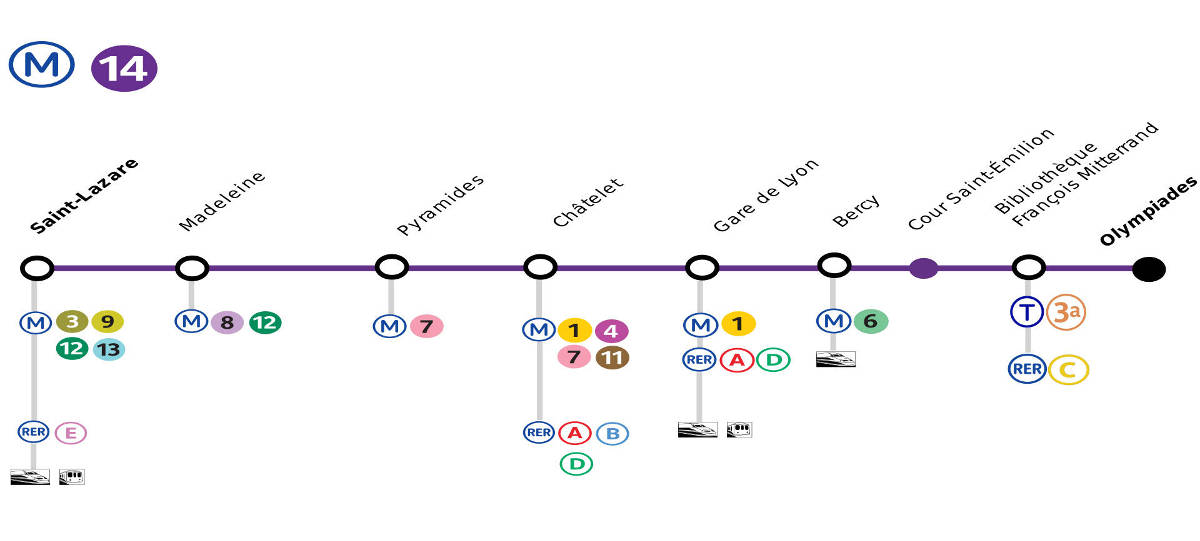 The stations on line 14

Nine stations are spread along Paris metro line 14.
Saint Lazare : transfer to lines 3, 9,12, 13 and the RER E
Madeleine : transfer to lines 8 and 12
Pyramides : transfer to line 7
Châtelet : transfer to lines 1, 4, 7 and 11 and the RER A, B, D
Gare de Lyon : transfer to lines 1 and the RER A and D
Bercy : transfer to line 6 and the TER to the Burgundy region
Cour Saint-Emilion
Bibliothèque François Mitterrand : transfer to tramway line 3a and the RER C
Olympiades
Its success is also explained by its many transfers with the RER and other metro lines. It's also a quick way to move between the Gare de Lyon and the Gare Saint-Lazare and used by many connecting passengers.
An extension to the line 14 under study
Line 14 should be extended to Orly airport as part of the Greater Paris program with new stations being built:
Maison Blanche - Paris XIIIe : transfer to metro line 7
Kremlin-Bicêtre Hôpital
Villejuif - Institut Gustave-Roussy
Chevilly Trois communes
Porte de Thiais - Marché International
Pont de Rungis : transfer planned to the RER C
Aéroport d'Orly
Stations with innovative architecture
The creation of Paris metro line 14 was the occasion to design entirely new stations. Space was a focus with large open areas to avoid an oppressive feeling. Stations are well-lit and play off of transparent effects.
For example, Gare de Lyon station has a luxurious exotic garden that offers a natural oasis that recall tropical jungles. Saint-Lazare station has a light well that can be seen from the platforms. It's a veritable technological feat when you remember that you are five stories below ground level.
The station Bibliothèque François-Mitterrand has an architecture that can be considered monumental, with its columns that reach 15 meters high and its semi-circular stairs with a 70-meter diameter.
Olympiades station also has special attention paid to it: light concrete vaults, wood in the ceilings, etc. Its design was entrusted to the "ar.thème associés" architectural firm and we can feel this choice in the harmony of the elements and the attention paid to the details.
You will also love the Madeleine station, which pays homage to the Moscow metro and Russian culture more widely. A vast 40-m2 stained glass work from Ivan Loubennikov shows the famous fable of the golden goose while using symbols from Russian history and imagination.
Remarkable sites served by line 14
Gare Saint-Lazare is located a few hundred meters from the major department stores Printemps and Galeries Lafayette; perfect for a shopping session in Paris.
From Madeleine, you can easily get to the Olympia concert hall just a few steps away.
If walking 500 meters doesn't scare you, you can easily make it to Place Vendôme, a mecca for Parisian jewelry, to the west of Pyramides station and the gardens of Palais Royal to the east.
Get off at Bercy and you'll discover one of the best concert halls in Paris or take a walk in the Parc de Bercy. Cour Saint-Emilion also lets you walk to the Parc de Bercy and also serves the Musée des Arts Forains.
As its name suggests, the line 14 station Bibliothèque François Mitterrand serves the library of the same name.
Underground, in the stations, or nearby Paris metro line 14 has many surprises in store for you! Hop onto its automated trains and discover the Paris treasures nearby.