Several days are needed to see all Versailles has to offer. Even if one would like to see everything as quickly as possible, the palace alone cannot be seen in an afternoon. The palace warrants at least two to three hours before strolling around the parks and gardens to take in the incredible perspectives conceived by the famous landscape artist, André Le Nôtre. Staying at a hotel near to or in the city of Versailles is more than a good idea!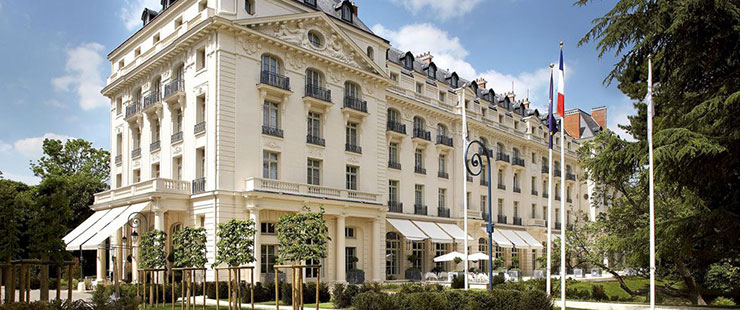 Source : trianonpalace.fr
A Taste of Palace Life
Passing through the Hall of Mirrors or treading on the marble floors of the Grand Trianon can make one feel like experiencing palace life. One might imagine spending a few nights in a luxurious 17th century setting much like Madame de Montespan did. One night at the Trianon Palace de Versailles and you'll get the picture. Sumptuous rooms and suites are conducive to relaxing evenings after a long day out and about. Why not take the time for yourself at the Guerlain spa? And what better than a meal prepared by the chefs at Gordon Ramsay? Indeed, the famous British chef has set up one of his restaurants at the hotel.
Unless, of course, you prefer the Louis XVI era to contemporary luxury, the Hotel des Roys might better suit you. This 18th century building is located just near the palace entrance and makes things easier by selling palace tickets at the hotel reception. With entirely renovated rooms and bathrooms, this hotel offers its guests total comfort as well as conveniency.
Great Value for Money
If you're looking to save money, other hotels offer rooms at more affordable prices.
Hotel Campanile Versailles - Buc is one example where a less convenient location makes for interesting prices (when reservations are made in advance the hotel group has promotional offers). Keep in mind that you'll need to take some form of transportation to get to Versailles if you choose to stay at this hotel but that the commute is worth the trip if you're looking for a bit of countryside tranquility.
If you have already booked an hotel in Paris city center, you should know that PARISCityVISION offers day trips from Paris to Versailles. You can book your tickets to Versailles online now.