The Heritage of Versailles
The city of Versailles is more than 9 miles from the Capital. Yet, this is where King Louis XIV chose to establish his residence and his court as a reflection of Paris, dedicated to his own pleasure. The royal presence left its mark on the city. The nobles who settled there built their mansions and palaces, which became accessible to the public for the most part.
Hôtel de Ville (City Hall)
Formerly Hôtel de Conti, the Versailles city hall was previously a residence of Marie-Anne de Bourbon, Princess of Conti, the eldest illegitimate child of King Louis XIV. After extensive expansion work at the end of the 19th century, the building was acquired by the city in 1859 and inaugurated as the city hall in November 1900.
Théâtre Montansier Versailles
Théâtre Montansier bears the name of its creator, Marguerite Brunet, also known as La Montansier. It is an Italian-style theater shaped like a horseshoe. It was inaugurated in 1777 in the presence of King Louis XVI as well as Queen Marie-Antoinette, who had private access from the Palace to visit the theater.
Successive restorations of the theater have preserved its splendor of yesteryear. Visitors can marvel at the painted ceiling, the blue and gold decor, and the impressive chandelier.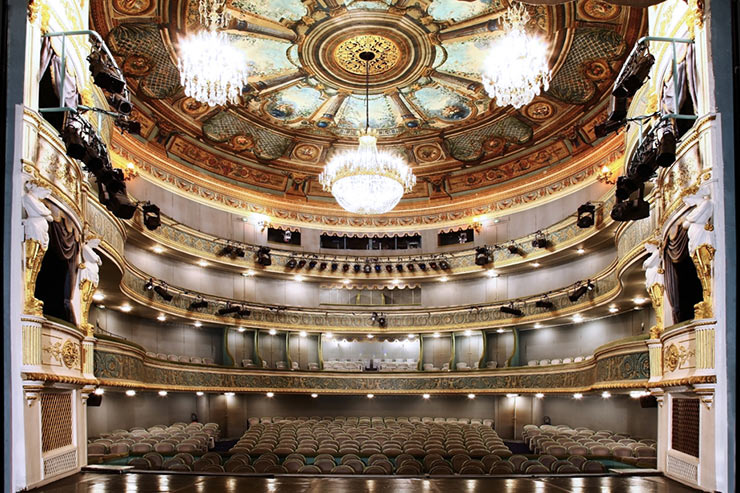 Hôtel des Affaires Etrangères et de la Marine
A historical monument since 1929, this building was commissioned by the Duke of Choiseul and constructed in 1762 as the seat of the Ministry of Foreign Affairs and the Navy and the site of its archives. The building is characterized by a ceremonial hall, which today serves as a public library. It is a valuable collection holding a wealth of very old documents.
Cathédrale Saint-Louis de Versailles (Versailles Cathedral)
Cathédrale Saint-Louis de Versailles is a building not to be missed. Built at the instruction of King Louis XV, the sole purpose of this church was to provide a place of worship in the south of the city to complement the parish of Notre-Dame de Versailles. After the French revolution, the church became a cathedral.
Versailles Museum
The heritage of the city of Versailles and its Palace naturally lies in its museums. But beyond being true backdrops for collections of great value, the museums themselves are buildings worth visiting. Occasionally mansions or outbuildings of the King's residence, they are sites where history is found both in the stone and in what it houses. The Musée des Carrosses was the former royal stables. And how can you visit the Salle du Jeu de Paume without being reminded of the oath taken there?