We invite you to visit the Palace of Versailles with our expert guide. You will be amazed by the sumptuous decor of the building and you will plunge into the heart of the Royal History of France thanks to the stories told by a passionate guide. A short free time will allow you to discover the magnificent gardens of the Versailles Estate. Depending on the option chosen, you may decide to go in the morning or afternoon.
The Palace of Versailles was the residence of French Kings Louis XIV, Louis XV, and Louis XVI and their courts from 1682 until the French Revolution in 1789. With commentary from your guide played through individual headsets, discover the splendor of the Palace of Versailles, a symbol of royal power. Its sumptuous decoration, Baroque architecture, many works of art, and furniture were all created by the greatest craftsmen of the day. Then enjoy the beauty of the French gardens of Versailles
at your own pace.
Set off for the Palace of Versailles from our agency in Central Paris. Take advantage of the 45-minute journey by luxury air-conditioned coach to listen to your guide's introduction to the palace's history.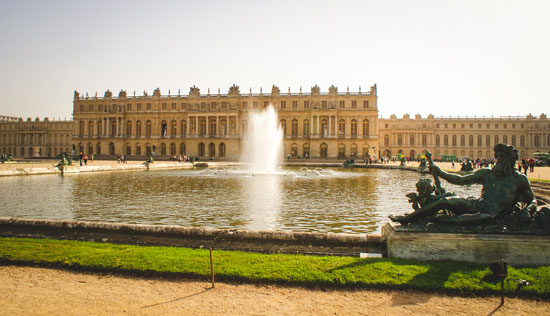 Royal Palace of Versailles
Stretching for more than 721,000 square feet, the Palace of Versailles has over 700 rooms. Follow your guide straight to the front of the line to tour the palace's most beautiful rooms: the King's Grand Apartments, with seven rooms each dedicated to a different god (Apollo, Mars, Mercy, Venus, etc.), and the Queen's Grand Apartments, mirroring those of the king, including the Coronation Room and the Queen's Bedroom, once occupied by Marie Antoinette. Also, marvel at the majestic "Hall of Mirrors" Versailles, a large reception room in which to see and be seen, dreamt up by the famous architect, Jules Hardouin-Mansart. Almost 240 feet-long, it was created to astonish visitors to the Sun King, Louis XIV; it is lit by 17 windows and some 350 mirrors, and overlooks the palace's breath-taking gardens, the second part of your visit.
In 1661, Louis XIV commissioned the landscape architect André Le Nôtre to lay out the gardens and grounds, something that was just as important to the king as the construction of the palace. Spend time exploring the Gardens of Versailles and admire the 386 works of art (including more than 200 statues), fountains, ponds, flower beds, and woodland. During the Summer months, a range of activities are organized, for example, the Grandes Eaux Musicales, when the garden's fountains "dance" in time to music.
Please note:
High-heeled shoes are not recommended due to parquet flooring in the rooms and cobblestones outside
Strollers may not be taken into the palace
Access to the palace can be challenging for visitors with reduced mobility
Photography without flash is permitted inside the palace
Tuesday mornings are not recommended because the palace is particularly busy
The skip-the-line access is subject to the Versailles Palace procedures: The Vigipirate plan, the security control or an unforeseen crowd can slow down the entrance