A day to discover two iconic sites of France in complete autonomy. Equipped with an audio guide, you will walk through Claude Monet's superb gardens in Giverny. You will also discover the house and workshop of this master of Impressionism. You will visit the Palace of Versailles, the main royal residence of France, listening to fascinating comments on its history.
Take your seat aboard an air-conditioned tour bus departing at 8:15 a.m. from our office located in the center of Paris. You'll be driven to the Fondation Claude Monet, where you can visit the garden at Giverny and Monet's home at your own leisure. See Giverny at your own pace, starting with Monet's home. There, you will learn about the life of the artist, who lived there until his death at the age of 43. You can appreciate the reading room, also called the "blue room," the sunflower-yellow dining room adorned with Japanese prints, and the private apartments. Continue your visit in Monet's studio, today a gift shop where you can find a variety of souvenirs. Next, turn on your audio guide for commentary as you visit Monet's garden. Amble through flower-lined paths that inspired the artist's impressionist paintings. Revel in the lavish, multicolored flower beds. Step into the Clos-Normand, home to many Far Eastern plants and vegetation. Cross the water garden by the Japanese bridge. Peer over the edge to see its famous water lilies, found in the celebrated painting of the same name. Take your time as you experience Monet's universe in an exotic, ethereal atmosphere.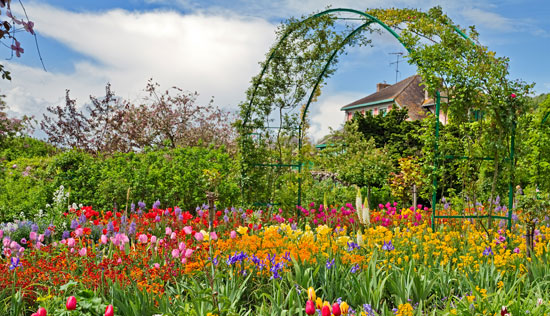 The beautiful gardens in Giverny
Next, climb aboard your bus. It will take you to the Moulin de Fourges restaurant 10 minutes from Giverny, where you will be served a lunch that includes traditional Normand fare.
Menu*:

Mackerel bread with vegetables and white wine, herbed cream and salad
**
Roasted chicken fillet, mushrooms sauce, mashed potatoes with salted butter
**
Apple pie "à la normande", vanilla iced cream
**
Red and white wine or local produced cider (on request)
Coffee or tea
* Example of menu, subject to modification
* The menu is not available in english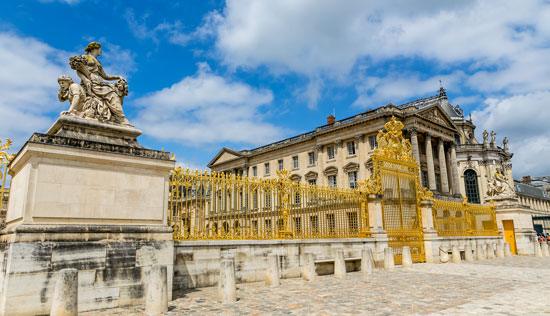 Palace of Versailles golden entrance
After the meal, it's off to the Palace of Versailles. Priority access lets you get the most out of your Versailles visit. Your audio guide will point you in the right direction as you discover the King's chambers. You will enter seven rooms, each decorated in the style of a God. Next, enter the magnificent Hall of Mirrors, where guests were invited during celebrations. The hall overlooks Versailles gardens. Admire the emblem of the Sun King, Louis XIV, one of the most ornate symbols to represent 17th century French art. If it is not the season for the Musical Fountains Show and Musical Gardens, you can take time to explore the gardens, where statues, sculptures, fountains, flowerbeds, coppices and reflecting pools are all aligned. Under Louis XIV, André le Nôtre designed the Palace's gardens, endowing them with unique, grandiose proportions.
You will depart Versailles around 5:00 p.m., reaching our office in Paris at about 5:45 p.m.
Please note:
Audio guides may not be used inside the Monet House and in the studio, as the rooms are very narrow
Audio guides should be picked up at our office before departure
Download our tour leaflet by clicking HERE
Between April and October 2018, an entrance fee is payable to access the gardens (fee not included - to pay on site) on the following dates:
On the dates of the MUSICAL FOUNTAIN SHOW: Saturdays and Sundays from March 31 until October 28, 2018 + Tuesdays from May 22 until June 26, 2018 + Friday March 30, 2018
On the dates of the MUSICAL GARDENS: Tuesdays from March 27 until May 15, 2018 and from July 3 until October 30, 2018
Bank holidays and exceptional dates (May 1, May 8, May 10, August 15)
We strongly advise against high-heeled shoes (parquet flooring in the rooms and cobblestones in the courtyard)
Strollers are not permitted inside the palace
Access to the palace is challenging for those with reduced mobility
Photography without flash is permitted inside the palace
The skip-the-line access is subject to the Versailles Palace procedures: The Vigipirate plan, the security control or an unforeseen crowd can slow down the entrance
On-site visit duration: 7h