Join us to spend a beautiful evening with La Marina company, which will help you discover the wonderful tradition of French cuisine while admiring the beautiful City of Light.
Visit our agency, which is located in the heart of Paris, opposite the Louvre Museum, to board one of our cars, which leave at 6:15 p.m.
You will be brought to the Quai de Solférino to board a La Marina boat-restaurant. Our team will welcome you and seat you at your private table. You will then depart on a 1 hour 15 minute cruise that offers you a magic view over Paris, its bridges that cross the Seine, and the most symbolic monuments that border the Seine.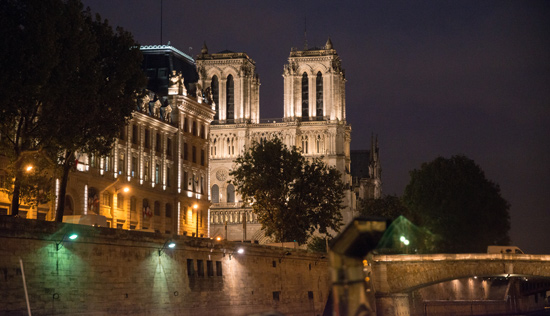 Notre Dame de Paris viewed from the Seine river
During your boat ride, you will enjoy a relaxing dinner of traditional fine French cuisine. In this warm setting, you will enjoy the panorama while you savor your delicious meal.
Menu :
Choice of starters :
Assortment:
Provencal tart with fresh tomatoes, peppers and pine nuts
Scallop flavoured with lime leaf, diced potatoes with seaweed preserve
Cucumber and artichoke tartare, diced smoked salmon and lumpfish roe
Pan-seared aubergines, shrimps with lemongrass, yellow pepper coulis
or
*Three-greens gazpacho, crushed fresh tomatoes with Espelette pepper
**
Choice of main course :
Haddock loin with shellfish juice, roast artichokes and carrots
Braised chicken leg, Mediterranean flavoured vegetables, celery chips with parmesan
Piece of beef, new potatoes, caramelised peppers and onions, green pepper sauce (+7€)
*Medley of seasonal vegetables, crunchy celery with tarragon vinegar
**
Cheese platter (+6€)
**
Choice of desserts
Assortment:
Cream pastry with apricot medaillon
Intense chocolate ingot
Mixed fresh seasonal fruit
or
*Chocoalte dome, ring of strawberries and raspberries, fruit coulis
**
Drinks:
One glass of wine (16 cl) at choice
or
A glass of soft (water or cola cola ou fruit juice)
Children's Menu :
Shredded turkey, cherry tomatoes and mozzarella ballsDrink: orange juice, Coca Cola or water
**
Choice of main course from the menu
**
Sparkling chocolate ingot
**
Orange juice, Coca-Cola or water
*Lactose and gluten free vegetarian menu
* Example of menu, subject to modification

At the end of the wonderful dinner cruise, you return to shore to join our motor coach, which will bring you either to our agency or the Place de l'Opéra, as you choose.
Boarding from: 6.15pm
Departure: 6.45pm
Return: 8.00pm
Please note :
Individual table
Attention : Nous ne pouvons garantir le placement près de la baie vitrée. Nous n'offrons pas la possibilité de payer un supplément pour y être placé. Vous aurez la possibilité de demander à être placé près de la baie vitrée, directement sur place, moyennant la somme de 10€ par personne et sous réserve de disponibilités.