Seine River Dinner Cruise 9 PM with Transport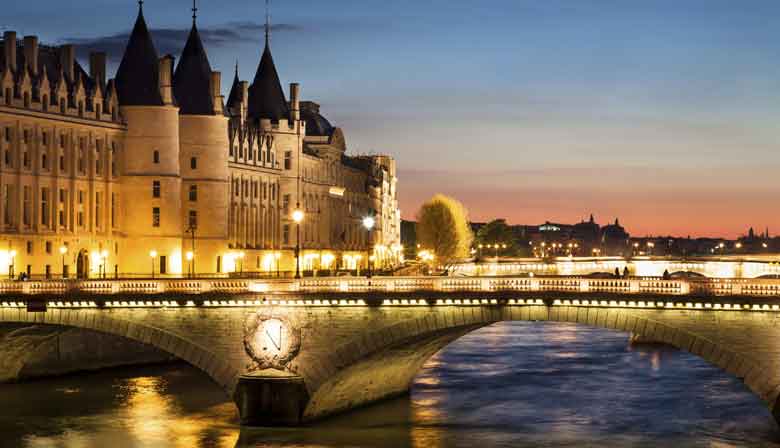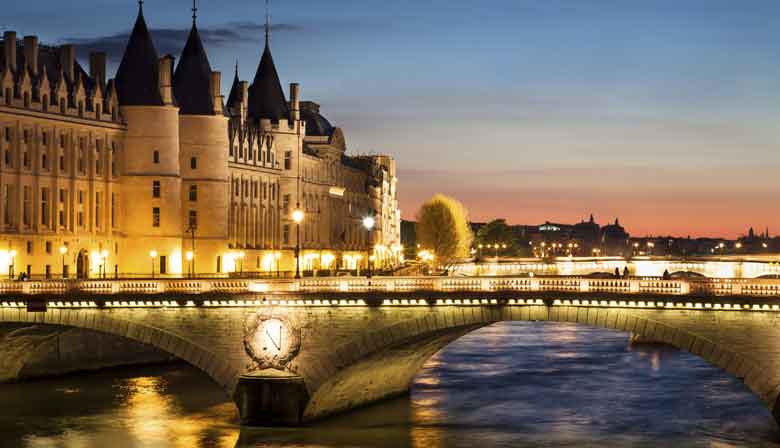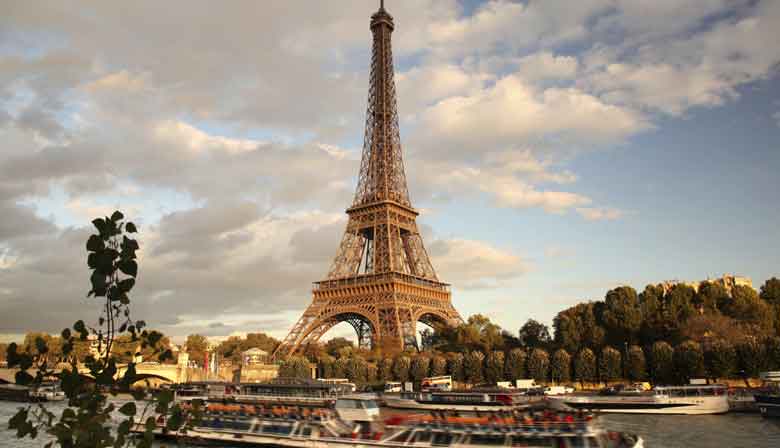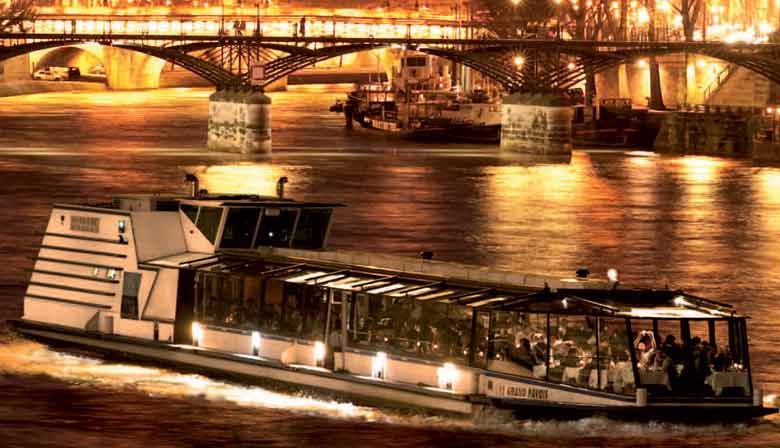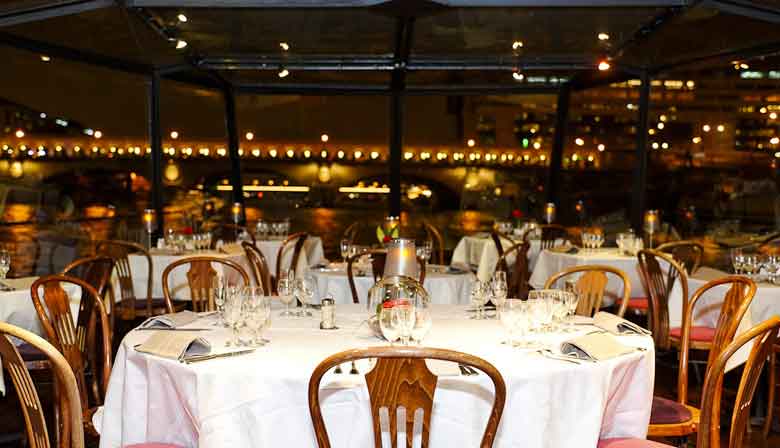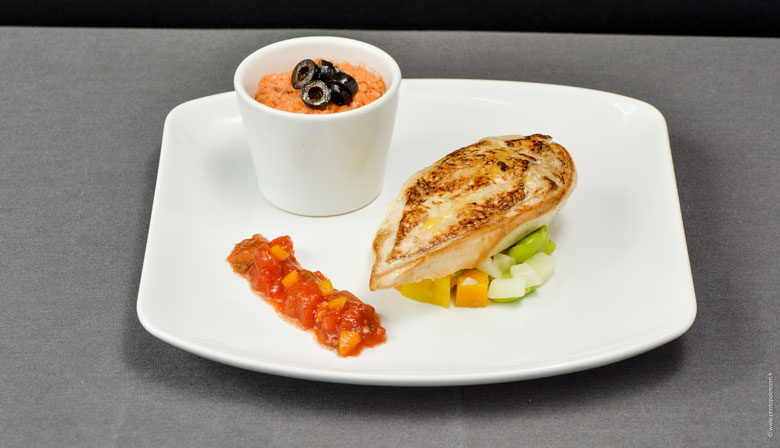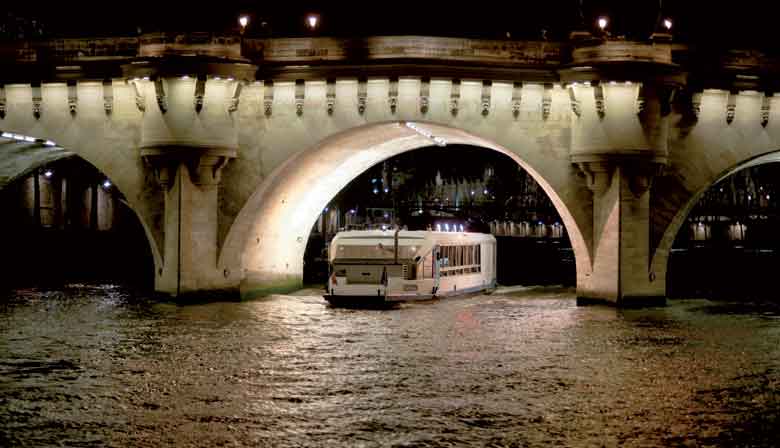 Highlights
Return to your near Paris residence.
Gourmet dinner in the cozy atmosphere of the La Marina boat-restaurant, at a private table 
Your choice of leaving from you hotel or our office, your choice of champagne or wine.
A not to be missed evening on the Seine 
Discover Paris from the water: from beautiful bridges to the leading sites of the city
Over the course of your stay in Paris, you should not miss the chance to have an evening on the Seine.
You will join one of our motor coaches at our agency, located between the Louvre and the Tuileries Garden. With a host or hostess, you will head towards the Musée d'Orsay, where quai Solférino is located.
You can choose among the various options available:
Depart and return to our office in Paris, 1/2 bottle of wine included
Depart and return from your Paris residence, 1/2 bottle of wine included
A magical evening awaits you, with an excellent dinner prepared by the La Marina chef. You will savor gourmet French cuisine, delicate and rich to discover. Comfortably seated at a private table, you can admire the beauty of the City of Lights as you glide over the water. You will experience a magic moment as you view the stunning bridges that cross the Seine and the unforgettable sights of Paris, such as the Louvre, Notre Dame Cathedral, the Arc de Triomphe. The setting offers a pleasant atmosphere, thanks to a welcoming team that makes sure you have a wonderful and unforgettable experience.
Menu :
Choice of starters :
Assortment:
Provencal tart with fresh tomatoes, peppers and pine nuts
Scallop flavoured with lime leaf, diced potatoes with seaweed preserve
Cucumber and artichoke tartare, diced smoked salmon and lumpfish roe
Pan-seared aubergines, shrimps with lemongrass, yellow pepper coulis
or
*Three-greens gazpacho, crushed fresh tomatoes with Espelette pepper
**
Choice of main course :
Haddock loin with shellfish juice, roast artichokes and carrots
Braised chicken leg, Mediterranean flavoured vegetables, celery chips with parmesan
Piece of beef, new potatoes, caramelised peppers and onions, green pepper sauce (+7€)
*Medley of seasonal vegetables, crunchy celery with tarragon vinegar
**
Cheese platter (+6€)
**
Choice of desserts :
Assortment:
Cream pastry with apricot medaillon
Intense chocolate ingot
Mixed fresh seasonal fruit
or
Chocolate dome, ring of strawberries and raspberries, fruit coulis
**
Drinks depending on the tour selected :
½ bottle of wine per person
Children's Menu :
Shredded turkey, cherry tomatoes and mozzarella balls
**
Choice of main dish from the menu
**
Sparkling chocolate ingot
**
Orange juice; Coca-Cola or water
*Lactose and gluten free vegetarian menu
* Exemple of menu, subjet to modification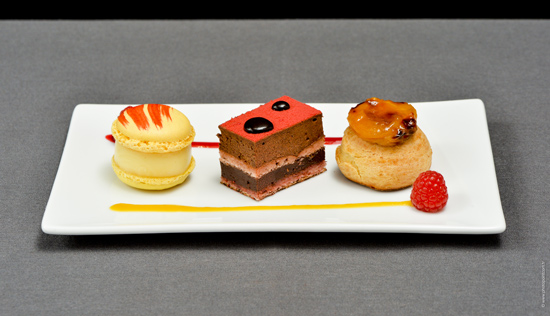 Assortment of french desserts
After the approximately two hour trip on the Seine, you will return to the dockside, where you will find our host or hostess with the car, to bring you as close as possible to your Paris residence (100 meters, maximum).
Information:
Individual table guaranteed
Formal dress required. Gentlemen are recommended to wear tie and jacket
A romantic evening with a private table for 2 persons (or more) guaranteed
Nice dinner on the Seine River
Boat with glass windows : exceptional view onto the monuments
Attention: We can't guarantee that you will be seated next to the bay windows. You can't pay online an extra-fee to choose your seat in the boat. Depending on the availability of the tables, you can ask for a window seat directly on the spot, paying 10 € per person
The price includes:
Dinner-cruise Marina de Paris (drinks included)
The services of a multilingual hostess/tour escort
Transport and drinks depending on the tour selected
Clients are accompanied to the vicinity of the hotels at the end of the tour
Let's go
Book your tour
1. Define your needs
Date
Selected
Special offer
Unvailable
2. Select your tour
Seine River Dinner Cruise 9 PM with Transport
Seine River Dinner Cruise 9 PM with Transport
Seine River Dinner Cruise 9 PM with Transport in a Small Group
2 calendar days prior service: 50% of tour price (Central European Time) 1 calendar days prior service: 100% of tour price (Central European Time)
We take care of everything
Preparation of the tour
Address : PARISCityVISION Agency
2 rue des Pyramides 75001 Paris
Metro :
Tuileries
, Pyramides
3 hour(s)
Organized by PARISCityVISION
Code: DMP
Reviews from the community
They give their opinion
Perfect in every way.Definitely would book again in further trips to Paris!
One word needed EXCELLENT