The Moulin Rouge and Montmartre
The Moulin Rouge is today one of Montmartre's landmarks. The neighborhood became a popular tourist site thanks to its village-like ambiance, street artists and incredible view on all of Paris. Yet the neighborhood didn't always attract so many visitors nor is the creation of the Oller and Zidler Cabaret an insignificant event.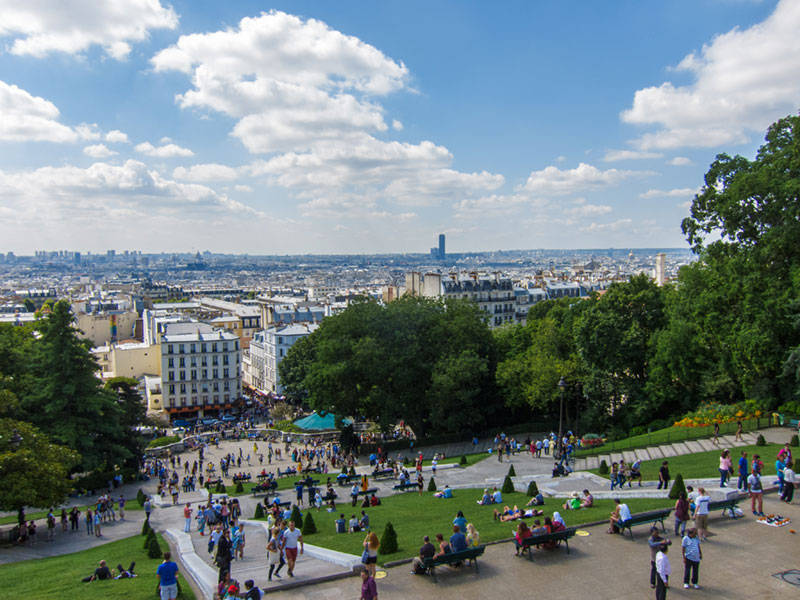 Montmartre during the 19th century
Spurred on by Baron Haussmann and Napoléon III, the commune of Paris was annexed to the capital in 1860 during its planned extension.
At the time, placing artists in outlying areas allowed them to take advantage of lower rent. When oil and watercolor painter Felix Ziem set up home in what would later become the rue Lepic in 1859, it was nothing but rural land.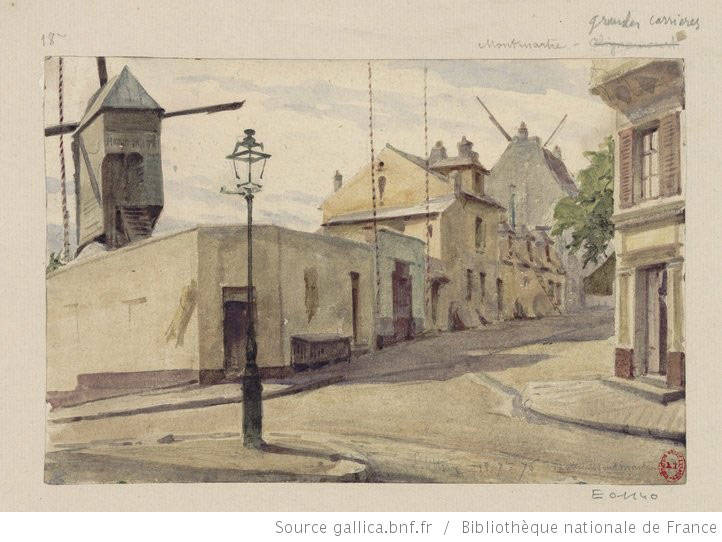 Even by today's standards one can esteem that the Moulin Rouge's architecture is original. For starters, why a mill? Well, at the time the Montmartre hill was covered with around 30 grain mills. Associating a mill with a cabaret is certainly an atypical choice but one that was perfectly in sync with the surrounding landscape. Above all, the Moulin Rouge set itself apart with its extravagant deco and completely illuminated facade.
The Moulin Rouge's Central Square
Located level with the Place Blanche on Boulevard de Clichy, the Moulin Rouge is actually on the outskirts of the Montmartre neighborhood. The fact that it's just next to the Place Pigalle and the Musée de l'Erotisme hasn't helped smooth over its scandal-provoking reputation. And yet, thanks to the success of Féérie and its gastronomic restaurant ran by chef David Le Quellec, the cabaret has become a symbol of French refinement.
What to See in Montmartre
If you head up the hill on rue Lepic you'll be able to visit the real Montmartre. Continue on rue Gabrielle to stop by the gardens over which the Sacré-Coeur Basilica towers. Before your evening out at the cabaret, don't hesitate to walk around the 18th district where, at the Musée de Montmartre, you'll learn about the district's history and discover the Renoir Gardens where the painter sometimes worked. Art lovers will also appreciate the Espace Dali to find out more about the Master of Surrealism, Salvador Dali. While you're at it, why not go for a stroll at the Montmartre cemetery?
From the get-go, the Moulin Rouge attracted a diverse and eager population to Montmartre to have fun in what was then a rural Parisian neighborhood. There, a Bohemian and artistic spirit made and continues to make this part of Paris absolutely charming. Yes, the Moulin Rouge is the heart and blood of Montmartre. But to really get to know the neighborhood one must take the time to meander around its streets -- and perhaps cross paths with the ghosts of Vincent Van Gogh and Henri de Toulouse-Lautrec!