Excursion available in a small group or on private basis
Full day small group tour of Paris introducing you to the city's most famous sights. Your minibus tour will include free time to explore Montmartre, lunch on the 1st floor of the Eiffel Tower, before your day continues with an incredible boat trip along the Seine river.
Leave your accommodation at 8:15 a.m. to explore Paris's attractions by minibus in a small group. The number of participants is limited to a maximum of eight to allow you to enjoy a personalized excursion with your driver-guide.
In the morning, visit the city center by minibus as your driver-guide tells you about the various monuments and neighborhoods of the French capital. See the Arc de Triomphe, the Champs Elysées, Concorde, Madeleine, the Opera House, the Latin Quarter, the Orsay Museum and the Alexandre III Bridge.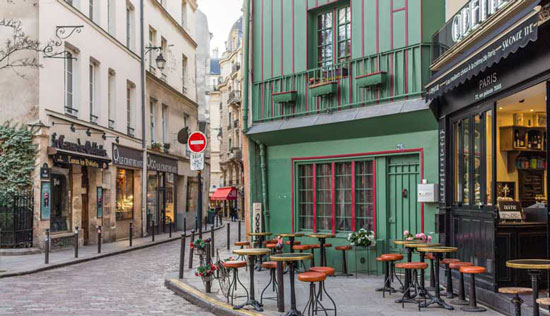 Latin District
You will then be dropped off in Montmartre to visit the neighborhood on your own. You will wander in this famous mythic Paris district until Place du Tertre where you can see the numerous artists painting and exhibiting their works of art. This walk through the quaint streets will make you feel immersed in the 100% Parisian life. You will then take the time to gaze at the architecture of the Basilica of the Sacred Heart and its dome. Inside, you will admire its numerous side chapels, the crypt, organs, statues and ornamentation. When you will get out of the monument that is located at the top of the Montmartre hill, one of Paris' peaks, you will have a unique panoramic view on the roofs of the city in front of you.
At lunchtime, your priority access ticket will allow you to skip the line and go straight up to the 1st floor of the Eiffel Tower for lunch in an exceptional setting, 187 feet off the ground with panoramic views over Paris. In the "58 Tour Eiffel" restaurant, which feels just like a typical Parisian brasserie, you can sample fresh, seasonal produce with our three-course menu.
3 Course Menu (starter + main course + dessert)*
Starter at choice :
Maison Verot chicken liver terrine with a honey and Meaux mustard vinaigre
Green aspargus with a rasberry vinaigrette and fresh herbs
Peas and fresh goat's cheese with a fine cress cream
Tomato gazpacho with vanilla olive oil and fresh basil
**
Main course at choice :
Fresh tagliatelle with sage sauce, parmesan and baby New Zealand spinach
Cod croquettes with aubergine caviar and organic quinoa with herbs
Lightly seared pork belly with honey and ginger roasted carrots
Creamy risotto with seasonal vegetables and fresh rocket
Crisp romaine lettuce, organic quinoa with herbs, tomatoes, charlotte potatoes and a respberry vinaigrette (additional 5€ on the set menu)

**
Cheese or dessert at choice :
Ferme de Viltain fromage blanc, muesli with Ile de France honey and fruits
Chocolat crème with streusel with sea salt and a dark chocolate coulis
Crisp pavlova with strawberry-rhubarb sorbet and a light coconut mousse
Iced seasonal fruit gazpacho

**
Drinks :
1 glass of wine or beer or soft
Coffee
Child Menu (- 12 years old)*

Tomato salad with vanilla olive oil and fresh basil
**
Cod croquettes with creamy risotto and sauce vierge
Corn-fed chicken filet with fresh tagliatelle
**
Chocolate crème with streusel with sea salt and dark chocolate coulis
**
Soft drink
* Example of menu, subjet to modification

View from the Eiffel Tower
In the afternoon, step aboard at the foot of the Eiffel Tower for a one-hour audio guided boat trip along the Seine River with music. Admire the splendid architecture of the heart of the city's most prestigious monuments that line the Seine: the Louvre Museum, Notre Dame Cathedral, the Orsay Museum, the Conciergerie, etc. Relax on the fully-glassed boat with terrace and glide along as you experience Paris from the river.
Once your tour has finished, your driver-guide will take you back to your accommodation in Paris.
Please note :
The itinerary and schedule are subject to change depending on traffic or changes of opening hours at the sights
Please note that a correct outfit is required for Notre Dame Cathedral inside visit. Shorts, off shoulder dresses, miniskirts, etc. are not accepted.