Stations and route of Paris metro line 2
Paris metro line 2 is the network's second oldest. It has 25 stations and has never been extended.
It major specificity is that it is elevated from Barbès Rouchechourat to Jaurès station. The 12-km line 2 cuts through the north of Paris from west to east from Porte Dauphine to Nation.


The stations of the line 2
Starting at Porte Dauphine in the west of the city, this line traverses the capital's right bank to its last stop at Nation, in the east of Paris.
Porte Dauphine : transfer to the RER C
Victor Hugo
Charles de Gaulle Etoile : transfers to lines 1 and 6 as well as to RER A
Ternes
Courcelles
Monceau
Villiers : transfer to ligne 3
Rome
Place de Clichy : transfer to line 13
Blanche
Pigalle : transfer to line 12
Anvers : transfer to the Montmartre funicular railway
Barbès Rochechouart : transfer to line 4
La Chapelle : Transfers with RER B, D, E
Stalingrad : Transfers to lines 5 and 7
Jaurès : Transfers to ligne 5 and 7
Colonel Fabien
Belleville : transfer to line 11
Couronnes
Ménilmontant
Père Lachaise : transfer to line 3
Philippe Auguste
Alexandre Dumas
Avron
Nation : transfers to lines 1, 6, and 9 and the RER A
Unmissable sites on metro line 2
line 2 serves some of the city's most popular and remarkable sites. With fewer passengers than the line 1, for example, it can be an interesting alternative to avoid traffic and make your metro ride more pleasant.
Charles de Gaulle - Etoile station will take you to the Arc de Triomphe on the Place de l'Etoile. Here you can get a clear view of the Champs Élysées and admire the Arche de la Défense from afar. It's a delightful prospect waiting for you as soon as you leave this station on line 2.
Line 2 will also take you to Sacré Coeur in Montmartre if you get off at Anvers station. From here, you can take the funicular railway or walk to Square Louise Michel. You can also get off at Pigalle station to go to the famous Moulin Rouge and then cross the artist's quarter to the hill. At Pigalle you will also find the La Cigale concert hall.

The elevated stations between Barbès Rochechouart and Jaurès offer a panorama of the city of Paris. Finally, if you are looking for some green spaces, hop off at Stalingrad station to go to the Saint Martin canal and the La Villette basin. The change of scenery is worth the detour. You can also use the occasion to visit the Cité des Sciences et de l'Industrie.
Belleville and Couronne stations are also a way to enjoy some greenery at Parc de Belleville. Fresh air awaits you after the underground tunnels of Paris metro line 2.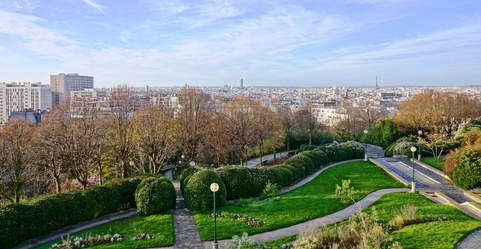 Finally, line 2 also takes you to the Père Lachaise cemetery; just get off at the station of the same name.
Line 2 stations worth a detour

If you get off at Porte Dauphine, you can admire one of two art nouveau canopy entrances by Hector Guimard. In the 1900's Guimard decorated several Paris Metro stations. Today, you can find "Métropolitain" displays and entrances on around eighty of the network's stations. However, you can only see canopies at Porte Dauphine, Abbesses, and Châtelet stations. The entrance is an ode to nature with its green forged iron and glasswork.
Finally, four elevated stations: Jaurès, Stalingrad, La Chapelle, and Barbès-Rochechouart are worth it to take line 2. Their architecture recalls Gustave Eiffel's style, marrying glass and forged iron as well as the shape of the arches. A special atmosphere is in the air here, with a return to the grandeur of the industrial era of the late 19th and early 20th centuries.