The ticket has to be collected at Paris City Vision any time during the opening hours.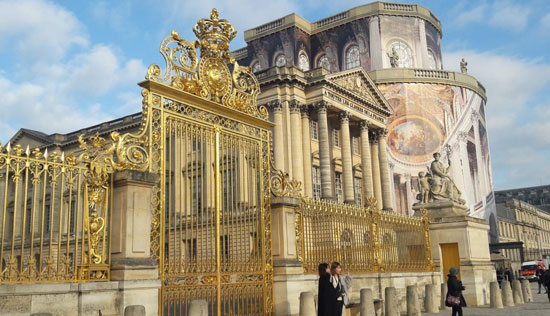 Versailles' golden gate
With this entrance ticket to the Palace of Versailles, you can visit at your own leisure the main state apartments and discover the real life of the french Kings.
Enjoy an audio guide made available to you at the start of your visit. The guide is available in 11 languages, so you can visit the Palace and learn about France's royal history. Visit the King's chambers with their elegant décor, and the grandiose Hall of Mirrors, which was once a reception hall overlooking the immense gardens of the palace.
Complementary offer:
One-day pass Versailles Estate
With this one-day pass, you can discover the entirety of the Versailles Estate at your own leisure: the palace with audio guide, the Petit Trianon, Grand Trianon, Marie-Antoinette Estate, the gardens (except during Musical Fountains and Musical Gardens)
The Trianon Estate estate includes the Petit Trianon, Grand Trianon, the gardens and the Queen's Hamlet.
The Petit Trianon Château was built by Madame de Pompadour, but it was Marie-Antoinette who decided to make it a residence far from the hustle and bustle of royal daily life. Its elegant paneling makes for sumptuous décor.
Built in 1783 in the style of a Normandy village, the Queen's Hamlet was a haven for Marie-Antoinette, who often retired there to escape courtyard pompousness and enjoy a simple peasant lifestyle. It is made up of 11 houses—each with a garden—built around a lake. These were dwellings for the Queen, her guests and peasants. The Queen also partook in boating and fishing, embarking from the Malborough Tower.
One-day pass Versailles Estate + Gardens
Visit the complete Versailles Estate at your own leisure with this one-day pass: Versailles Palace with audio guide, the Trianons, Marie-Antoinette hamlet and the gardens with the great Musical Fountains.
Stroll through the Palace's park and admire the beauty of the planted greens and sculptures lining its fountains and reflecting pools. In summertime (April–October), a magnificent Musical Fountain Show takes place every weekend. The park's fountains come to life against a background of baroque music, transporting you back to the royal era.
Please note:
Palace audio guide available in 11 languages: French, English, German, Spanish, Italian, Russian, Chinese-Mandarin, Japanese, Portuguese, Korean, Polish
The price includes:
Ticket to the Palace of Versailles
Entrance to the Palace, Marie-Antoinette's estate, the Petit Trianon and Grand Trianon, the temporary exhibits and the Musical Fountain Show (from April to October) depending on the tour selected
Palace audio guide
Further information on your confirmation voucher:
You will receive a reservation confirmation by e-mail, as well as a voucher. Print your voucher and present it at the PARISCityVISION office to retrieve your pass.
The ticket is valid at any time of the day following the opening hours of the site.
You have to get to Paris City Vision to redeem your voucher and get the entrance ticket of the site.
Opening hours of Paris City Vision agency: from April to October, 06.30am-10.00pm ; from November to March 6.30am-8.30pm