Enjoy an unforgettable moment during this excursion that combines a tour of the city of Paris with visit to the Eiffel Tower, including a meal served on the first floor. This visit joins the two leading features of Paris: culture and gastronomy.
You will leave at 10:00 from our Paris City Vision agency, which is located in the center of Paris, a few feet from the Louvre. Aboard our air conditioned panoramic bus, you will hear the history of Paris, using individual headphones in the language of your choice. This visit will give you an overview of the main districts of Paris that you should visit, the magnificent bridges that cross the Seine, the symbolic avenues and monuments of the capital: Place Vendôme, Place de l'Opéra, the Louvre, the Hôtel de Ville, the Cathédrale Notre-Dame de Paris, the Panthéon, the Luxembourg, Saint-Germain-des-Prés, the Musée d'Orsay, the Place de la Concorde, Champs-Elysées, the Arc de Triomphe, the Eiffel Tower, the Invalides.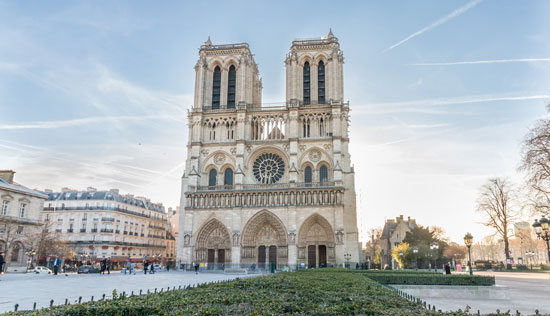 Notre-Dame de Paris cathedral
Through this city tour, you will have the opportunity to discover the history of Paris and the architectural evolution of its monuments, thanks to audio-guided commentaries in the language of your choice. The panoramic view you will have from the bus will enable you to get your bearings in the French capital and have an overview of the life of Paris citizens. You will cross the major streets and neighborhoods of the city: from Notre-Dame to the Eiffel Tower, without forgetting the Louvre, the Invalides or the Pantheon.
Your children will enjoy this Paris tour as much as you and discover Paris in a fun way. The story of Lulu and Maurice will be told to them through audio-guides. Those are two dogs which will show them around Paris in a lively and entertaining way. Children will learn the story of dogs of famous figures through anecdotes and will see how dogs are welcomed everywhere in Paris.
After this tour of Paris, you will join our hostess, who will bring you to the second floor of the Eiffel Tower with a VIP ticket. She will give you a voucher for admission to the terrace of the Eiffel Tower where you will have lunch. While you wait, you can spend your time marveling at the incredible view over Paris. You will see the in the distance the Orsay, Sacré Cœur overhanging the Butte Montmartre, the Arc de Triomphe above the Champs Elysées or the Louvre. You will then lunch on the 1st floor, enjoying a traditional French meal in this panoramic setting.
Menu*:
French platter:
Assortment of Charcuterie or Mixed or Vegetarian
**
Hot side:
Soup, Truffade (potatoes with Cantal cheese) or other specialty made with potatoes
**
Dessert:
Fruit tart or Pastry (Tropézienne or Paris-Brest)

Drinks:
Water
1 glass of wine or beer or soft
Coffee
* Example of menu, subject to modification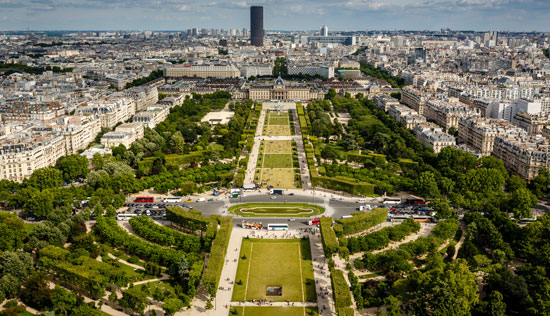 View from the Eiffel Tower over the Champ de Mars
Please note:
There is no child menu available at the Eiffel Tower
The glass domes are heated in winter
The tour is not a guided one: the hostess will not tell you anything about monuments.
The skip-the-line access is subject to the Eiffel tower procedures: The Vigipirate plan, the security control or an unforeseen crowd can slow down the entrance.
Available languages for city tour commentary: French, English, Spanish, Italian, German, Portuguese, Japanese, Mandarin, Russian, Korean
Commentary for children available in: French, English, Spanish