Enjoy a truly unique experience at the "58 Tour Eiffel" restaurant located on the first floor of the Eiffel Tower, with uninterrupted panoramic views of the Paris skyline: Montmartre and the Sacré Coeur, the Invalides, the Champ-de-Mars, the Champs Elysées and the Arc de Triomphe. You will live a unique moment at the top of the Eiffel Tower enjoying a superb view of Paris from the second floor and a pleasant lunch on the 1st floor.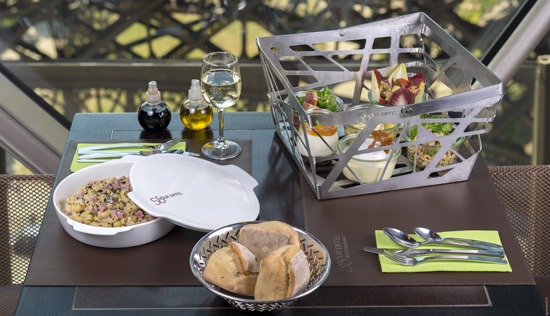 Lunch at the Eiffel Tower
You will be invited to arrive at 12:45 at the restaurant "58 Tour Eiffel" located on the first floor of the Iron Lady. A menu with a choice of three dishes will be offered and served as a picnic basket. All dishes will be served at the same time which will allow you to enjoy the view without being disturbed during your lunch. THE restaurant offers a fully glazed setting that will give you the opportunity to enjoy the view while savoring a traditional meal. You will enjoy this lunch in a friendly place with contemporary decor. Around this typical Parisian brasserie, a completely transparent floor will give you incredible sensations making the visit of this monument even more impressive. At 57 meters high, dizzying sensations will make you live an unforgettable moment.
3 Course Menu*
Starter at choice :
Maison Verot chicken liver terrine with a honey and Meaux mustard vinaigrette
Green asparagus with a raspberry vinaigrette and fresh herbs
Peas and fresh goat's cheese with a fine cress cream
Tomato gazpacho with vanilla olive oil and fresh basil
**
Main course at choice :
Fresh tagliatelle with sage sauce, parmesan and baby New Zealand spinach
Cod croquettes with aubergine caviar and organic quinoa with herbs
Lightly seared prok belly with honey and ginger roasted carrots
Creamy risotto with seasonal vegetables and fresh rocket
Crisp romaine lettuce, organic quinoa with herbs, tomatoes, charlotte potatoes and a raspberry vinaigrette (additional €5 on the set menu)
**
Cheese or dessert at choice :
Ferme de Viltain fromage blanc, muesli with Ile de France honey and fruits
Chocolate crème with streusel with sea salt and a dark chocolate coulis
Crisp pavlova with strawberry-rhubarb sorbet and a light coconut mousse
Iced seasonal fruit gazpacho
**
Drinks :
1 glass of wine or beer or soft
Coffee
Child Menu (- 12 years old)*

Tomato salad with vanilla olive oil and fresh basil
**
Cod croquettes with creamy risotto and sauce vierge
Corn-fed chicken fillet with fresh tagliatelle
**
Chocolate crème with streusel with sea salt and a dark chocolate coulis
**
Soft drink

* Example of menu, subjet to modification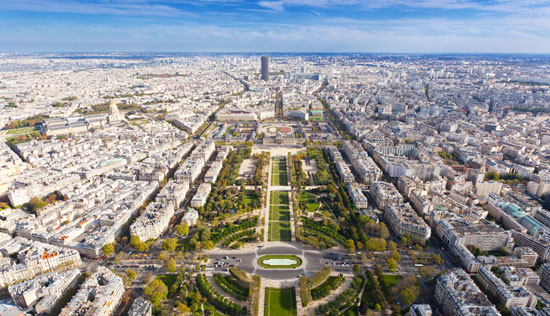 View from the Eiffel Tower
You will be free to leave the Eiffel Tower whenever you want.
Please note :
Fifteen minutes before your lunch reservation time, collect your Eiffel Tower ticket from the "58 Tour Eiffel" kiosk located at the foot of the tower, between the North and East pillars

Picnic style basket

: all dishes are served at the same time
This visit is extremely popular. If the date you are looking for is unavailable, you may be interested in a different package : City tour, Cruise, Skip-the-Line Eiffel Tower Access with Lunch or our selection of Dinners at the Eiffel Tower
You can reach the 2nd floor with no extra fee taking only the stairs
Skip the Line access to the Eiffel Tower is subject to constraints: security checks or unforeseen traffic can cause a waiting time that can sometimes exceed 1 hour
The price includes:
Three-course meal: Appetizer + Entrée + Dessert of your choice
Children's menu available for children aged under 12
Ticket for the first floor of the Eiffel Tower
The price does not include:
Transfers to and from your Paris accommodation
Lift ticket access to 2nd floor and 3rd floor of the Eiffel Tower
Further information on your confirmation voucher:
You will receive your confirmation and your tour voucher in 2 separate emails. Present your voucher to the "58 Tour Eiffel" restaurant's desk between the North and the East pilar.