Spend your evening visiting the Eiffel Tower, from the bottom to the summit, in complete freedom thanks to our audio guide or the application that can be downloaded from your smartphone. Get ready to discover the history of this true symbol of Paris
You will leave our agency located a few steps from the Eiffel Tower escorted by a member of our team who will drop you off at the first checkpoint of the monument. You will be able then to start your ascent towards the summit.
You can access the 1st floor via the elevator, or by climbing the 347 steps. Once you arrive, you will be amazed by the breathtaking view of the Champ de Mars and by the unique architecture of the place. At 57 meters from the ground you will shiver as you step on the glass floor that covers the entire floor, an incredible feeling of having your feet in the void!
You will then take the elevator to the second floor, at a height of 115 meters. From the observation platform you will admire a 360° panorama that allows you to see the highlights of Paris: the Sacré-Cœur de Montmartre, the Invalides, the Tour Montparnasse, the Arc de Triomphe overlooking the beautiful avenue des Champs Elysées. The audio guided comments will give you many anecdotes to discover and understand the secrets of this monument.
You will continue your ascent to the top floor of the tower. You will reach the highest point in Paris, at 276 meters high. You will then enjoy a unique panoramic view of the entire capital in the special evening atmosphere . You will be able to see as many Parisian landmarks as possible, from the main boulevards to the Louvre, including the historic bridges over the Seine and the Arche de la Défense.
The visit is not limited, thus experience this moment as long as you want.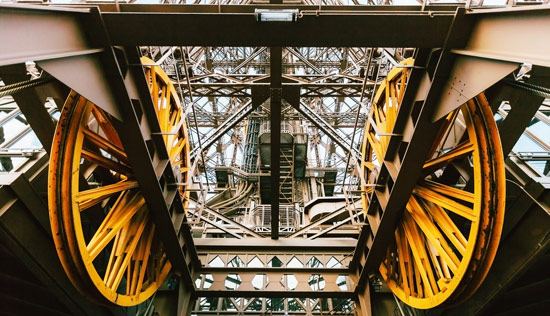 Eiffel Tower elevator
Extra Offer: Seine river cruise ticket
If you wish, you can also select the cruise option to further extend your visit of Paris.
Boarding one of the Bateaux Parisiens boat, You can admire the iconic and historical monuments of Paris center, from the Seine river. You will enjoy a unique view inside de the entirely glazed boat or outside on its terrace. You will sail by the National Assembly, the Orsay Museum, the Conciergerie or the Louvre Museum: that monument will no longer hold any secrets for you, thanks to the musical and historical comments available on board.
Let yourself be carried away by this river trip and enjoy a unique moment of relaxation.
Please note:
The audio guided tour is made via the "Paris City Vision – Tour Eiffel" app that can be downloaded from your Apple Store or Play Store. Comments will be available in English, Spanish, French, German, Italian, Japanese, Chinese, Portuguese, Russian, Korean
This is not a guided tour of the Eiffel Tower but a group ticket with a specific time.
Access is free for children under 4 years old
Please arrive at the meeting point 15 minutes prior to the time indicated on your voucher
Skip the Line access to the Eiffel Tower is subject to constraints: security checks or unforeseen traffic can cause a waiting time that can sometimes exceed 1 hour
Languages available for comments during the cruise: French, English, Spanish, Italian, German, Portuguese, Japanese, Mandarin Chinese, Russian, Korean
Comments for children are also available in: French, English, Spanish, Italian and German