"Toulouse Lautrec" dinner and Moulin Rouge Show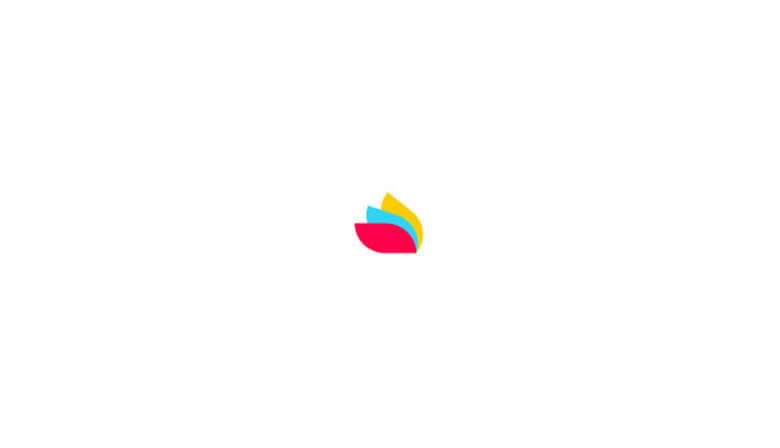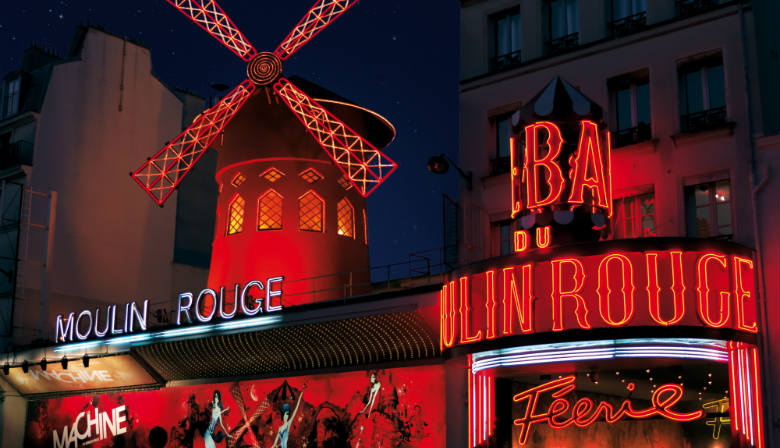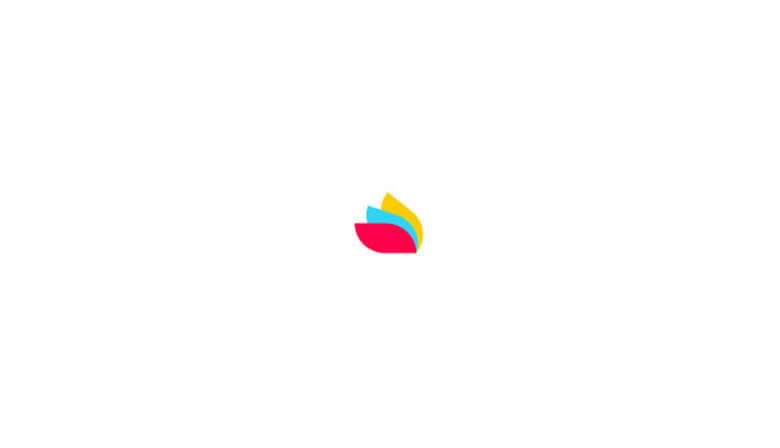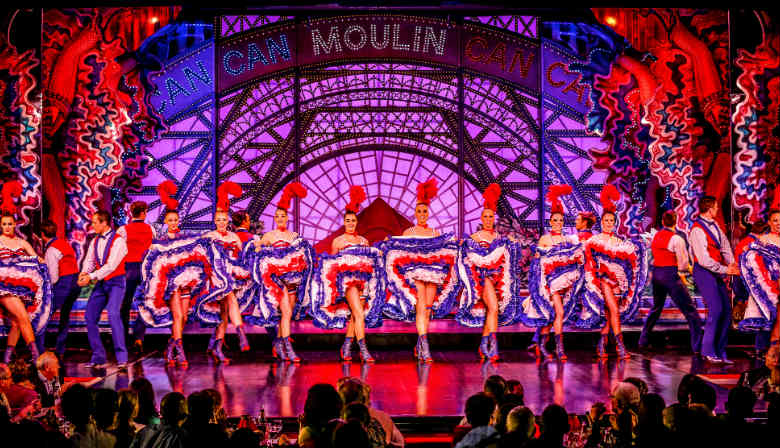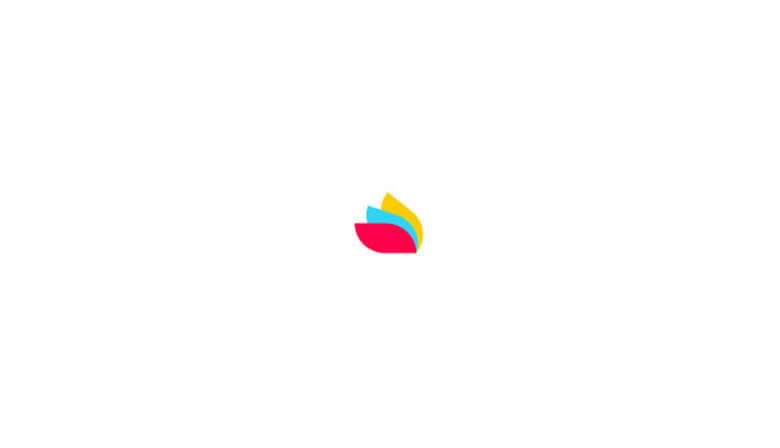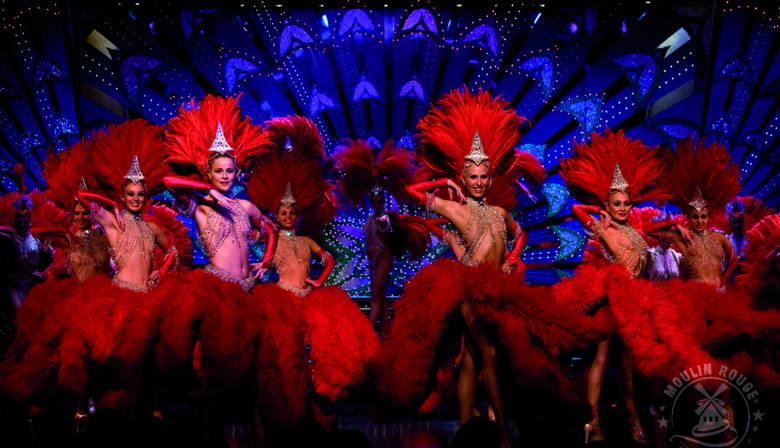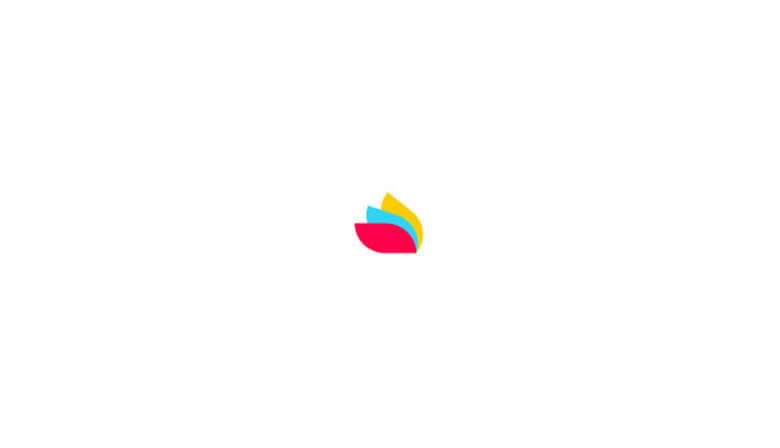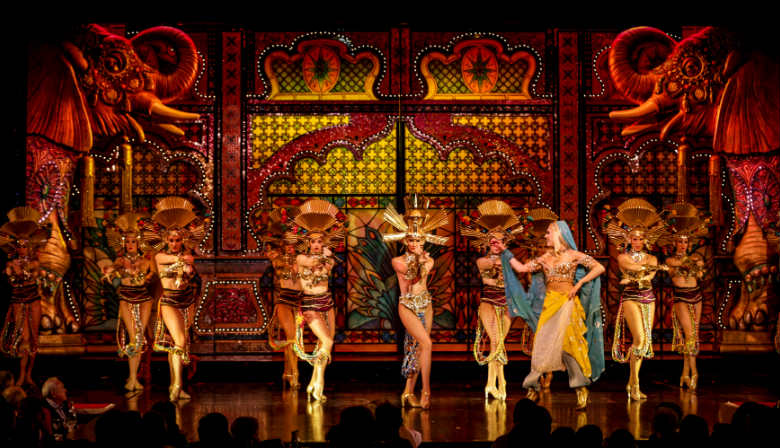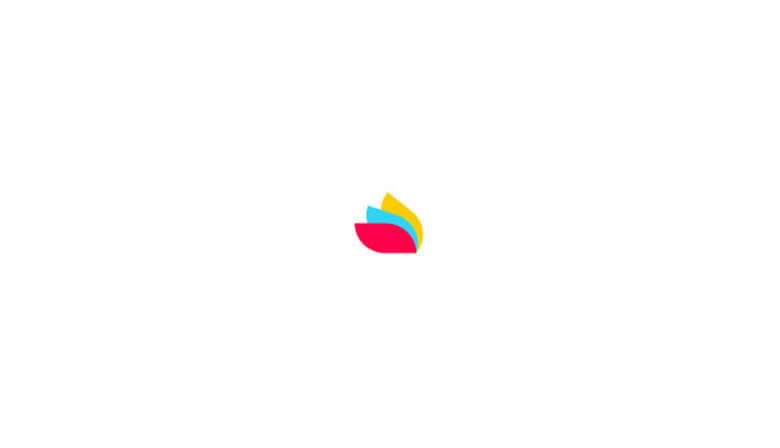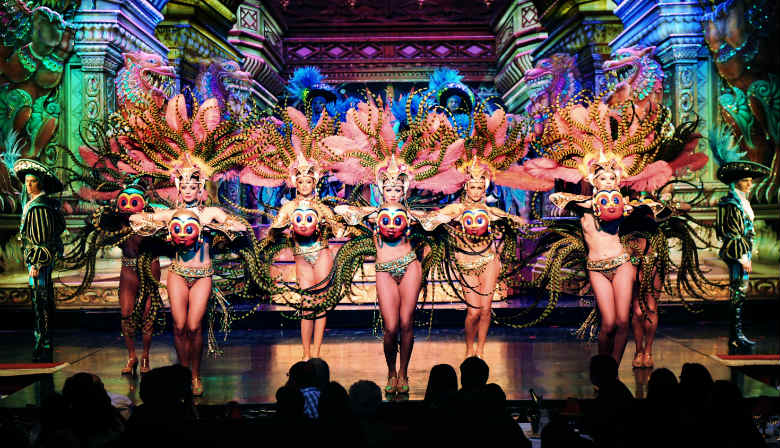 Highlights
Magical and enchanting evening at the Moulin Rouge
Enjoy a refined dinner with 1/2 bottle of champagne
Discover breathtaking acts and the famous French Cancan
Come spend an unforgettable evening in Paris at the legendary Moulin Rouge cabaret. After a gourmet dinner, you'll take in the famous "Féérie" show.
We invite you to arrive directly at the Moulin Rouge about 20min before the stated time. The cabaret team will seat you right in front of the stage. You'll be served a meal whose "Toulouse Lautrec" menu is sure to delight you. Created by Chef David Le Quellec, who finds his inspiration throughout his many travels, the menu consists of refined dishes. You'll savor your dinner in this legendary cabaret's unique atmosphere and hip decor.
Menu Toulouse Lautrec*:
Starter at choice:
Tiger Prawns in a Basil Pesto, Caponata with Chives and Pine Nuts
Angus Beef Carpaccio, Mixed Seasonal Crunchy Vegetables, Fresh Coriander Pistou
Salmon Marinated like a Gravalax, Mixed Pickles Vegetables Colored with White Balsamic, Mimosa Eggs
**
Main Course at choice:
French Veal Quasi Pan fired and Glazed with juice, Vegetables Barigoule with Basil
Cod Fish Coco-Curry, Cuttlefish Fillet, Prawns, Flavored with Espellette Pepper
**
Dessert at choice:
Custard of Chocolate 64% from Peru, Brioche Stick with Raspberry
Seasonal Fruit Tart, Green Tea Marshmallow Scented with Cherry
**
Drinks:
1/2 bottle of Champagne
Valentine's Day Menu:
**
Amuse-bouche:
Seabream Tartar with Kiwi and Pear, Rose Leaf's
***
Starter at choice
Ceviche of Sea Scallops from Erquy with Passion Fruits, Vegetables Relish, Mango Coulis
Mini Leeks and Quail Fillet Cooked Rosé, Egg Mimosa with Truffle, Banyuls Dressing
***
Main course at choice
Fillet of Sea Bass Poached with Safran, Belgian Endive Cooked with Orange, Coriander and Sultanas, Maltaise Sauce
Roasted Breast of Chicken from the Landes with Foie Gras, Confit Potatoes Green Ravioli with Wild Mushrooms, Sand Carrots, Poulette Sauce
***
Dessert
Flower of Granny Smith Apple, Pana Cotta, Almond Cake Scented with Hibiscus and Rose
**
Drink
1/2 bottle of Champagne Rosé
... and a souvenir of the Moulin Rouge per couple !
Vegetarian / Vegan menu*:
Starter at choice:
Leeks with Truffle Dressing and Black Chanterelle
Snow Crab with Artichke Salad, Watercress and Hazelnuts
Artichoke Salad, Watercress and Hazelnuts (vegan)
**
Main course at choice:
Oven Roasted Pollock, Diced Pumkin, Chestnut, Chinese Artichoke
Lemon Risotto with Gold Leaves
Mixed Seasonal Vegetables, Served Warm (vegan)
**
Dessert:
Exotic Fruits Minestrone, Sherbet of the Day
Coconut Milk Tapioca, Exotic Emulsion, Fruits Minestrone, Sherbet of the Day
Child Menu*
Cucumber Sticks with a Creamy Soft Cheese and Chives
**
Roasted Breast of Chicken, Roasted Grenaille Potatoes with Thyme, SImple Jus
**
Crème Brûlée with Almond Wafer
* Examples of menu, subject to modification
After dinner, you'll watch the fabulous Moulin Rouge show. Led by the magnificent Doriss Girls, the show is unveiled at a frenetic pace. As the scenes parade in front of your eyes, you'll fall under the spell of the dancers' energy, their feathered, glittering costumes, and the magical, enchanting ambiance. Extraordinary acts like the Giant Aquarium are followed by more typical French performances, like the classic French Cancan. You'll be served a complimentary 1/2 bottle of Champagne during the show.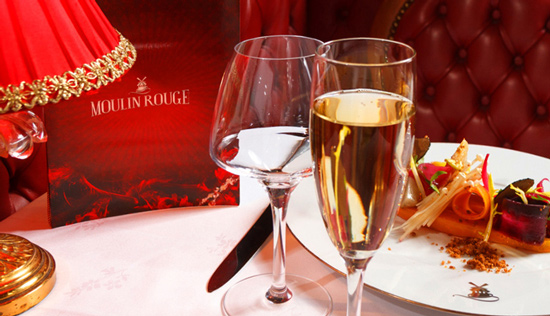 Dinner at the Moulin Rouge with Champagne © C.Zekser
Additional Offer : City Tour
On the day of your choosing (contact us for the reservation), you'll be invited to come to our agency for the panoramic bus City Tour, 30 minutes before departure. This city tour will take you through the main neighborhoods of Paris to discover the daily lives of its inhabitants. You'll hear two hours of entertaining commentary on the evolution of Parisian architecture throughout history. Children can also enjoy the tour by listening to the story of Lulu and Maurice, two dogs roaming the city. They'll hear fun anecdotes about the dogs of certain famous Parisian figures.
Please note:
Guests should dress elegantly. No shorts, jeans or tennis shoes
Mandatory cloakroom facilities at the Moulin Rouge Cabaret (extra charge)
Children are accepted from 6 years old
The show starts at 9.00 pm and ends at 11.00 pm
The route and itinerary are given as an indication only; they may be subject to change for reasons of traffic or other exceptional events
Non-stop city tour
Available languages for tour commentary: French, English, Spanish, Italian, German, Portuguese, Japanese, Chinese, Russian, Korean, Dutch
Commentary for children available in: French, English, Spanish, German, Italian
The price includes:
Moulin Rouge show with 1/2 bottle of Champagne per person
Headsets for the pre-recorded commentary (digital sound)
City tour based on chosen excursion
The Toulouse Lautrec Menu dinner at the Moulin Rouge
Transport in air-conditioned panoramic coach
The price does not include:
Transport to Moulin Rouge Dinner Show
Transport
Let's go
Book your tour
1. Define your needs
Date
Selected
Special offer
Unvailable
2. Select your tour
"Toulouse Lautrec" dinner and Moulin Rouge Show
We take care of everything
Preparation of the tour
Address : Moulin Rouge
83 Boulevard de Clichy 75018 Paris
3:45 hour(s)
Organized by PARISCityVISION
Tour Code: DMTLS