An exceptional evening combining gastronomy and magic awaits you at the famous Moulin Rouge cabaret. After a delicious and authentic French cuisine dinner, you will attend the amazing Moulin Rouge show. You will immerse yourself in a magical universe where the exceptional dancers play the scenes one after another.
Make your way directly to the Moulin Rouge where you can enjoy a meal and show in Paris's entertainment hotspot.
Before the show, enjoy a relaxing, delicious, traditional meal prepared by chef David Le Quellec, and served with half a bottle of champagne. The chef joined the cabaret in March 2015 and successfully combines the elegance of his cuisine with the grace of the Moulin Rouge revue.
Menu Mistinguett*
Starter at choice:
Melon, Smoked Holstein Beef, Beetroot Micro-Leaves, Old Port Jelly
Multicolored Heirloom Tomatoes, Cream of Mozzarella du Bufala, Basil Cress, Parmesan Wafer
**
Main Course at choice:
Filet of Sea Bream with a Shellfish Sauce, Quinoa with Summer Vegetables, Tomato Rougail
Roasted Farm Chicken Breast, Stuffed Zucchini with Aioli Sauce, Olives Polenta
**
Dessert at choice:
Duo of Creamy Chocolate, Caramelized Muesli, Speculoos Biscuit
Traditional Fresh Strawberry Cake with Madagascar Vanilla, Génoise Cake with Iranian Pistachio Nuts
**
Drinks:
1/2 Bottle of Champagne
Vegetarian Menu:
Starter at choice
Tiger Prawns in a Basil Pesto, Caponata with Chives and Pine Nuts
Multicolored Heirloom Tomatoes, Cream of Mozzarella di Bufala, Basil Cress, Parmesan Wafer
**
Main course at choice:
Cod Fish Coco-Curry, Cuttlefish Fillet, Prawns, Flavored with Espellette Pepper
Risotto with Barigoule Vegetables and Pistou
**
Dessert:
Mixed Seasonal Fruits, Yellow Lime Sherbet
**
1/2 Bottle of Champagne
Vegan Menu:
Starter at choice:
Multicolored Heirloom Tomatoes with Basil Cress
Caponata with Pine Nuts and Eggplant Chips
**
Main course at choice:
Mixed Seasonal Vegetables, Served Warm
Risotto with Basil Coulis
**
Dessert:
Mixed Seasonal Fruits, Yellow Lime Sherbet
**
1/2 Bottle of Champagne
Child Menu*
Rosette of Heirloom Tomato, Pistou with Basil
**
Breast of Chicken, Sautéed Grenaille Potatoes, Chicken Jus
**
Custard of 64% Peru Chocolate, Brioche Stick with Raspberry
**
Fruit Juice
* Examples of menu, subject to modification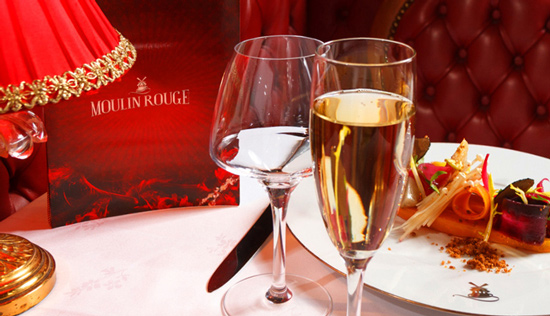 Dinner at the Moulin Rouge with Champagne © C.Zekser
The evening continues with a magnificent show: 80 dancers from all over the world perform in the "Féerie" show, featuring dazzling costumes created in renowned Parisian ateliers. Be blown away by the sumptuous scenery decorating the room and stage. The show is composed of several acts, with music from 80 musicians and 60 back-up singers. Come discover the following shows... and more!
- "The Moulin Rouge, Today and Yesterday" will leave you feeling nostalgic in the midst of the Moulin Rouge "Garden".
- "The Pirates" will take you away to a mythic, dream world.
- With "Au Cirque", the circus comes to town, inviting you into a colorful, music-filled universe, featuring the spectacular parade of the Doriss Girls and Doriss Dancers.
Also discover numerous outstanding artistic performances, with a mix of funny, touching and breathtaking acts. Be amazed by the giant aquarium and incredible aquatic ballet. Get ready for an unforgettable evening in a legendary music hall, featuring the world-famous French Can-can.
Please note:
Guests should dress elegantly. No shorts, jeans or tennis shoes
Mandatory paying cloakroom at the Moulin Rouge cabaret
Children are accepted from 6 years old
The show starts at 9.00 pm and ends at 11.00 pm
The price includes:
Dinner dance with "Mistinguett" Menu
1/2 bottle of Champagne or wine per person depending on the tour selected
Moulin Rouge first show
Transport depending on the tour selected
Further information on your confirmation voucher:
You will receive your confirmation and your voucher in 2 separate emails. Please print your voucher and redeem it directly to the Moulin Rouge cabaret 30 minutes prior the time. We will accept only paper voucher.