3 Day Guided Trip to Mont Saint-Michel and Loire Valley Chateaux from Paris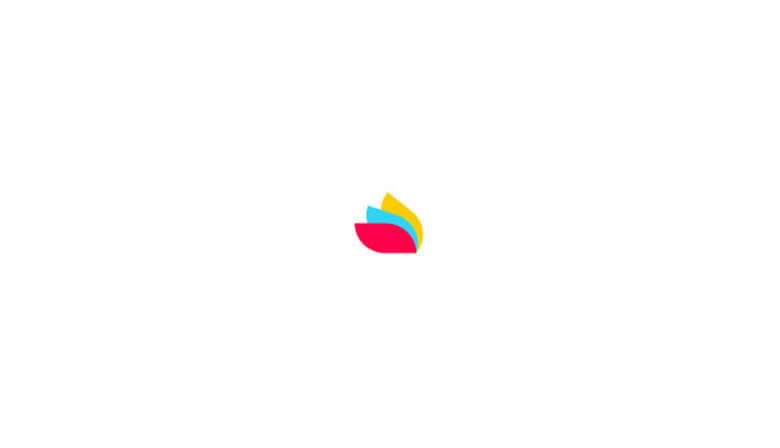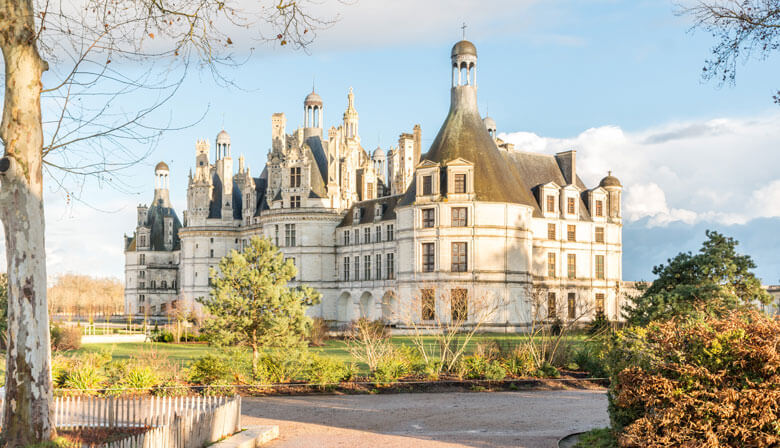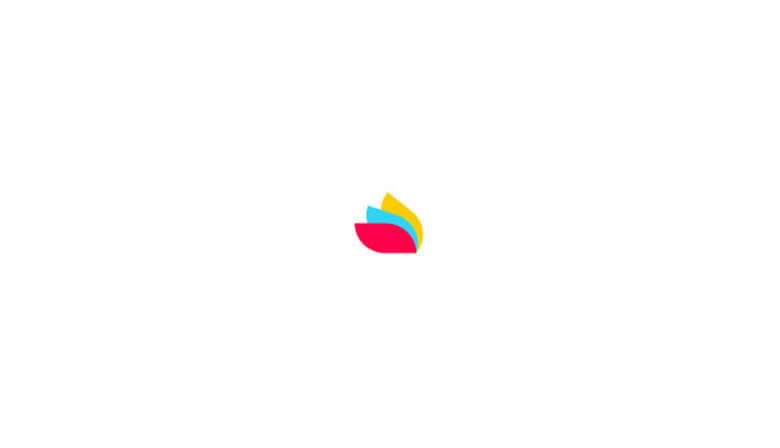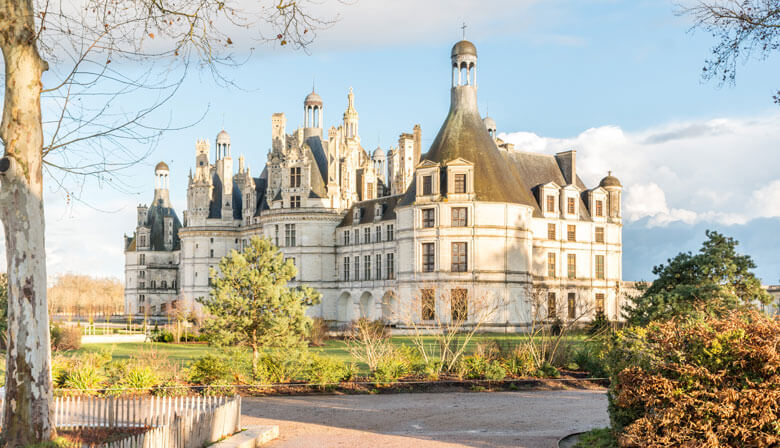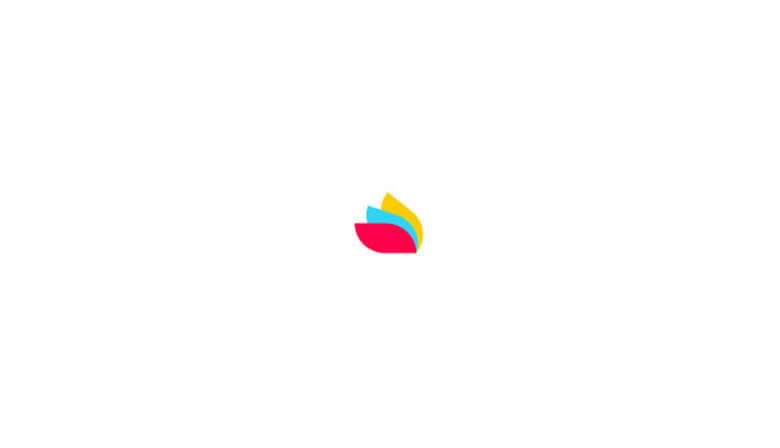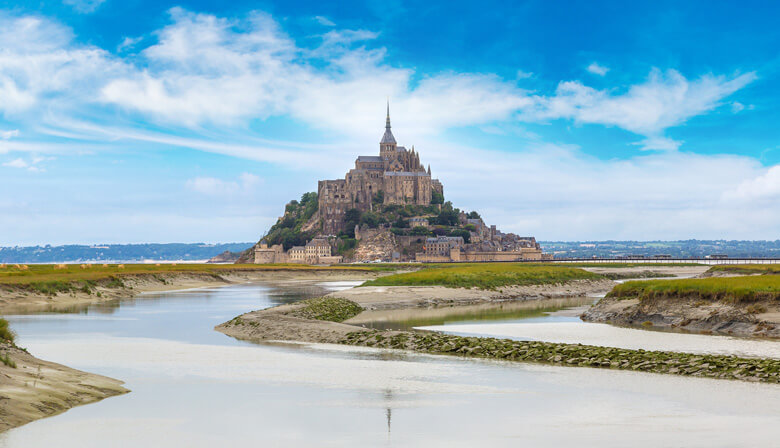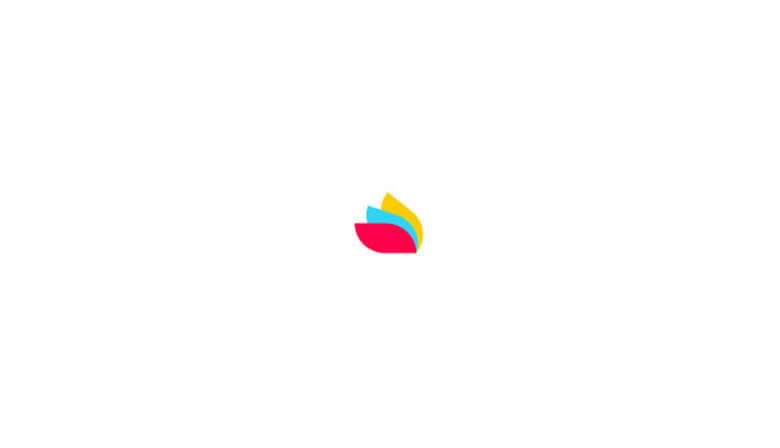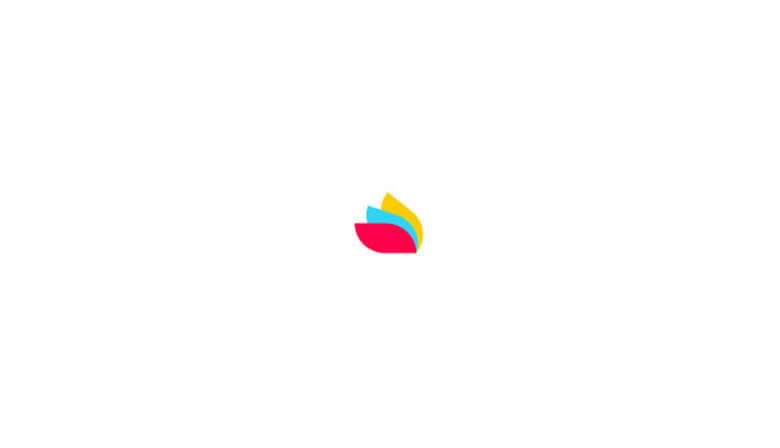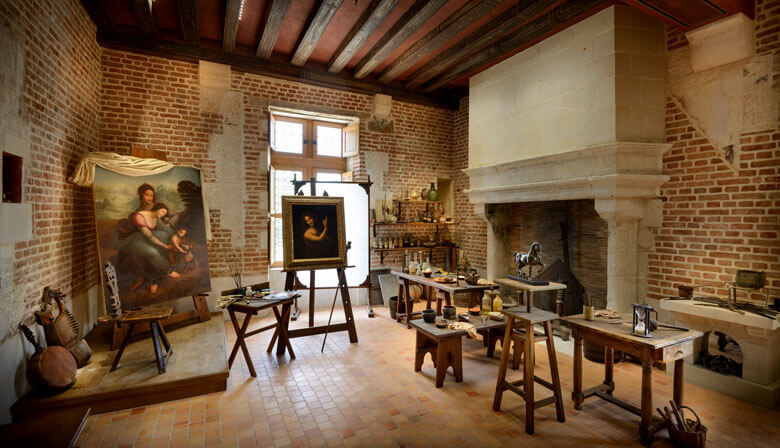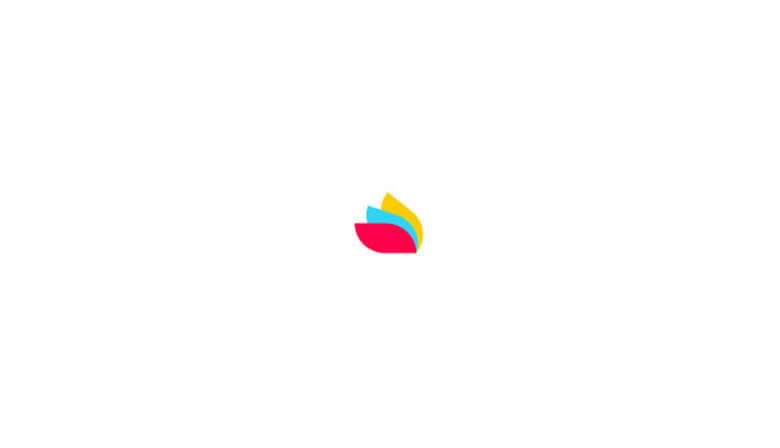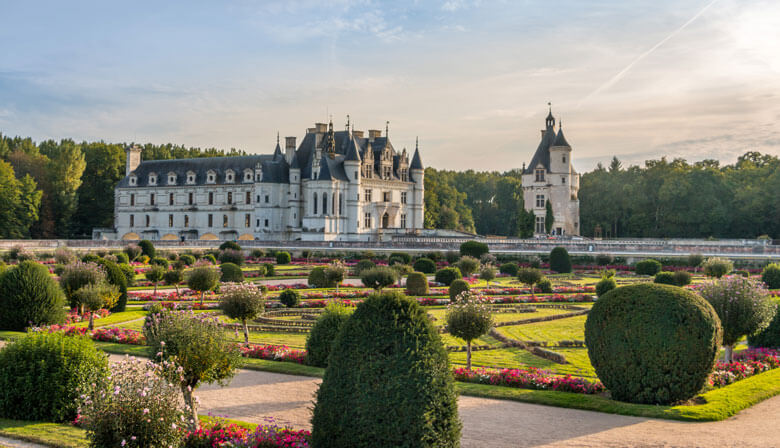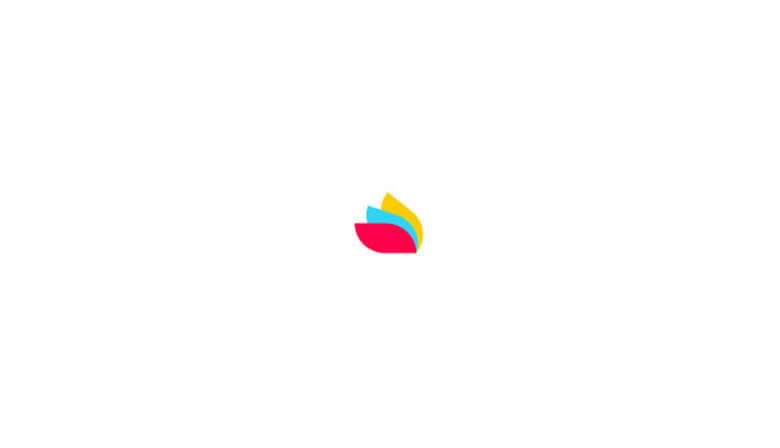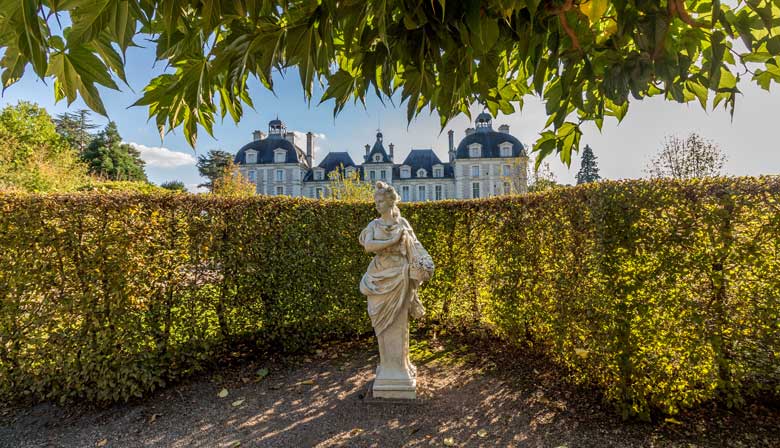 Highlights
Three-day tour leaving from Paris
Tour the iconic Mont Saint-Michel
Visit the 6 greatest Châteaux of the Loire Valley: Langeais, Clos Lucé, Villandry gardens, Cheverny, Chenonceau and Chambord
Guided tours with a qualified guide-interpreter
Set off to discover historic French landmarks
Take a three-day tour to explore must-see sites from the Renaissance and the Middle Ages. Visit Mont Saint-Michel and six Chateaux of the Loire Valley: Langeais, Clos Lucé, Chenonceau, Cheverny, Chambord and the gardens of Villandry.
DAY 1: Guided Tour to the Mont Saint Michel and its Abbey
Our air-conditioned bus leaves at 7:15 am from our Paris City Vision agency, located in the heart of Paris. A guide-interpreter will accompany you on the trip. After passing through the western districts of Paris, the bus enters the Normandy highway. Drink in the magnificent scenery as you drive through the verdant French countryside. The bus will reach Mont Saint-Michel around 11:30 am, stopping at the entrance to the causeway. Your guide will lead the way to the Relais Saint Michel (or a similar restaurant) located in the bay with a panoramic view of Mont Saint-Michel. Enjoy a delicious meal of regional specialties.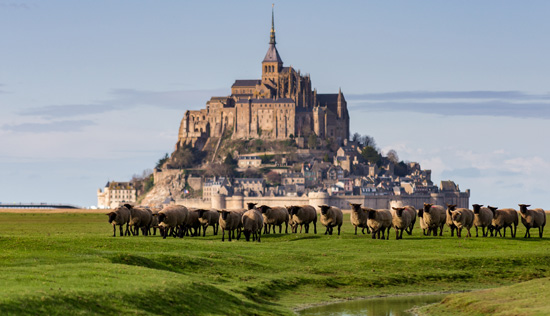 Mont Saint Michel
The Relais Saint Michel Menu*:
Baked Camembert in phyllo dough with apples and arugula salad
**
Salmon with rice and two vegetable sides (e.g. mushrooms and broccoli)
**
Apple tart
**
1 bottle of cider + 1 bottle of water for 6 pers.
Coffee or tea
Vegetarian Menu*:
Baked Camembert in phyllo dough with apples and arugula salad or Crudité plate
**
Tagliatelle with vegetables or Omelet with vegetables
**
Apple tart
**
1 bottle of cider + 1 bottle of water for 6 pers.
Coffee or tea
Children menu* (under 12 years old):
Tagliatelle with ham or Ground beef with french fries or 'Moules Marinières" with french fries
Apple pie or Chocolate mousse or Ice cream vanilla-strawberry
Soft drink
* Menu subject to modification
After lunch, a shuttle will take you to the entrance of Mont Saint-Michel. Wander through the village along with with the Grande Rue, making your way to the top past the museums, souvenir shops, and medieval houses that line this street. At the summit, you will find the famous Benedictine Mont Saint-Michel abbey, which dates back to the 8th century. Enjoy a guided tour of this Gothic marvel dedicated to Saint Michael the Archangel. Of particular note are the refectory, the cloister and the garden overlooking the sea. At the end of the tour, you can head back along the city walls and admire the exceptional vistas of the Mont Saint-Michel bay. During this free time, you can also explore the bustling picturesque streets, pick up a souvenir or two, and sample some traditional Breton crêpes.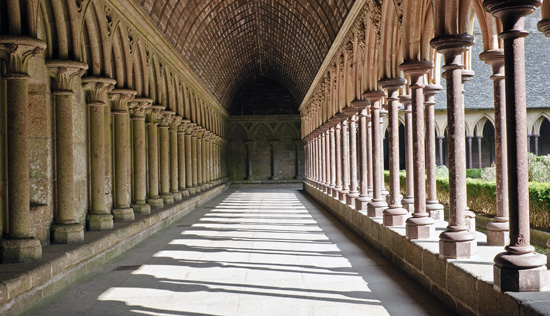 Mont Saint Michel cloister
Around 4:30 pm the bus will leave for Angers (about 2.5 hours away). Once you have checked in at the Mercure Lac de Maine (or a similar hotel), where you will spend the night. You will find many restaurants near your hotel to have dinner.
DAY 2: Guided Tour to the Loire Valley Castles of Langeais, Clos Lucé, and Villandry Gardens
After breakfast at the hotel in Angers, you will set off for the Loire Valley. The bus will make a brief stop at the Chateau d'Angers so that you can view the exterior of this medieval fortress before heading to the next destination. The first guided tour of the day will take place at the Chateau de Langeais, located about one hundred kilometers from Angers. Langeais is made up of two very different chateaux: the keep built around the year 1000, considered the oldest in France, and the Chateau of Louis XI constructed in 1465. While you tour the inside of the Langeais chateau you can experience French history first-hand through depictions made with highly realistic wax figures.
Next stop: Amboise, about 45 minutes from Langeais. There you will have time for some lunch. Your guide will point out the various restaurants near the Chateau d'Amboise.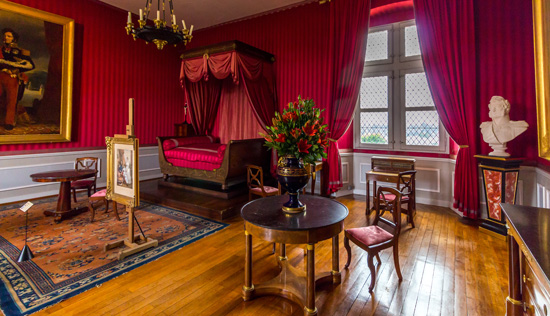 Chateau d'Amboise
After lunch, your guide will lead you to Chateau du Clos Lucé, which is just a ten-minute walk from Chateau d'Amboise. Built-in 1500 and now a UNESCO World Heritage Site, Clos Lucé was once home to Leonardo da Vinci. During the guided tour of the castle, you will learn about the private life of this leading light of the Renaissance who spent the last three years of his life there as the guest of King Francis I.
About 60 kilometers away lies Chateau de Villandry, the next stop on your journey. Your guide will lead you through the splendid Villandry gardens, which boast paths lined with linden trees, several different levels and a wealth of colors that will surround you with a feeling of peace and tranquility.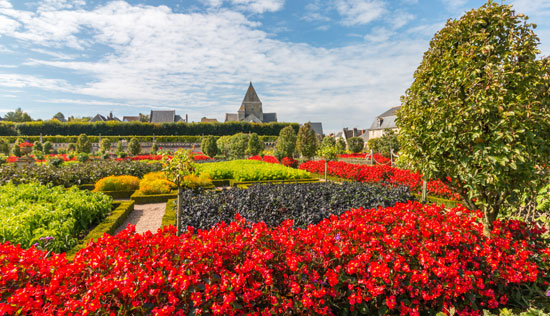 Villandry gardens
The bus will then make its way to the town of Tours, about 30 minutes away. You will then settle in and have dinner at the Mercure Tours Nord (or a similar hotel).
DAY 3: Guided Tour to the Chateaux de Chenonceau, Cheverny, and Chambord in the Loire Valley
Your third day begins in Tours with breakfast, then it's off to the Loire Valley. You will board the bus once again to travel to Chateau de Chenonceau. Located approximately 30 kilometers from Tours, Chateau de Chenonceau is a symbolic site for the history of France and a true Renaissance masterpiece. Explore this incredible Loire Chateau with its fairytale architecture that seems to have appeared by magic on top of the Cher river. Built and renovated by famous French women throughout history (including Diane de Poitiers and Catherine de' Medici), the castle bears witness to the refined French way of life with its lavishly appointed rooms. This is why it is known as the "Chateau des Dames".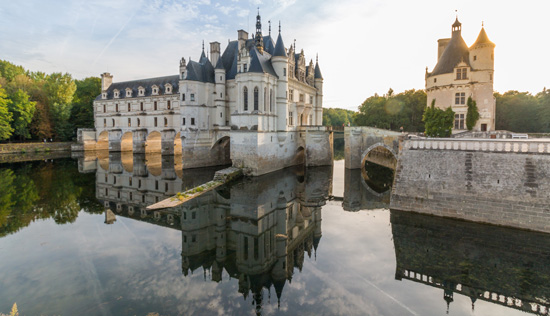 Chateau de Chenonceau
The guided tour of Chenonceau is followed by a tour of Chateau de Cheverny, which is about 45 minutes away. Let your guide lead you through this 17th-century aristocratic estate that embodies the French way of life with its magnificently decorated royal chambers, including a birthing room and a private dining room. Then, explore the chateau's incredible park before enjoying lunch at Saint Hubert Cour Cheverny.
Menu restaurant Saint Hubert *
Fish terrine on diced mixed vegetables
**
Poultry fillet, cheverny sauce, and gratin dauphinois / green beans
**
Tiramisu with raspberries
Vegetarian menu :
Raw vegetables
**
Parmentier omelet and green beans
**
Tiramisu with raspberries
* Menu subject to modification
The trip will end with a tour of the most majestic Loire Chateau, located about 20 kilometers from Cheverny. On the guided tour of Chateau de Chambord, you will learn about the building's fascinating and complex history through its exceptional architecture. Admire the imposing double-helix staircase in the center of the monument, and visit the former royal chambers and other rooms located on different floors. The large terrace with its majestic chimneys offers a remarkable panoramic view of Chambord park.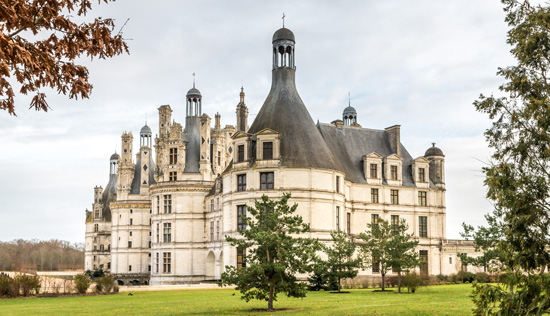 Chateau de Chambord
The bus is scheduled to leave Chambord at 6:30 pm and should return to our agency in Paris around 9 pm.
Please note :
In the case of a booking requiring a single room, a supplement of 85€ will have to be paid online.
For example:
- For a booking of 1 person: you will be automatically assigned a single room, so you will have to pay 85€ extra upon the departure of the tour
- For a booking of 2 people: you will be in a double room without any extra charge. If you want to be in two separate rooms, you will need to book the tour separately and pay the single room extra for each person upon the departure.
- For a booking of 3 people: you will be in a double room and a single room. In that case, you will have to pay the 85€ extra upon the departure. Triple rooms are unavailable.

Comfortable clothing and good shoes recommended
Copyright©digikode.com, Villandry
The price includes:
Porterage service on hotel arrival and departure
Accommodation in 4-star hotel (double room occupancy with private bathroom, triple room unavailable)
Transportation in air conditioned coach
Dinner on day 2
Return transport from/to your residence in Paris, depending on the tour selected
Lunch on day 1 and day 3
Entrance tickets for the various monument and museum visits
Services of a tour guide
Breakfast on day 2 and day 3
The price does not include:
Lunch on day 2
Dinner on day 1 
Visit of Tours
Let's go
Book your tour
1. Define your needs
Date
Selected
Special offer
Unvailable
2. Select your tour
3 Day Guided Trip to Mont Saint-Michel and Loire Valley Chateaux from Paris
3 Day Guided Trip to Mont Saint-Michel and Loire Valley Chateaux from Paris
3 Day Guided Trip to Mont Saint-Michel and Loire Valley Chateaux from Paris, Pick up & Drop off included
Cancellation fees : Free cancellation up to 6 calendar days before departure (Central European Time). Beyond that period, the following fees apply: 5 calendar days prior service: 50% of tour price (Central European Time) 3 calendar days prior service: 100% of tour price (Central European Time)
We take care of everything
Preparation of the tour
Address : Paris City Vision Louvre Agency
2 rue des Pyramides 75001 Paris
Metro :
Tuileries
, Pyramides
3 days
Organized by PARISCityVISION
Tour Code: ML3
Reviews from the community
They give their opinion
A. Norbert Gerard the 6/11/19
Covers quite a few locations but very fast paced. Too little time for self explorations.
wONDERFUL TOUR OF THE lOIRE vALLEY. gRAT ACCOMODATION, GOOD FOOD, A GRAT GUIDE AND EXCELLENT OVERALL. Really enjojed it
Well timed, well guided, informative and perfect amounts of time given for excursions. Guides are great , food is excellent , accondations are comfortable and relaxing. Well done, all well organized. We Loved it.