This unique two-day Normandy experience will take you far from the beaten path. You will be free to explore Mont-Saint-Michel. You will visit its famous abbey and other sites, including a caramel shop where you will be offered a taste of their wares. Lunch and lodging will be provided in this picturesque village. You will explore Granville, the birthplace of Christian Dior, with its museum dedicated to the designer. The adventure will end at the Château de Breuil distillery, where you will enjoy a tasting.
DAY 1: Guided tour and night at the Mont-Saint-Michel
Please arrive at our PARISCityVISION Louvre agency, located in central Paris by 7:00 am. You will board one of our air-conditioned buses for a 7:30 am departure for Mont-Saint-Michel. The bus journey will take you through some superb traditional Normandy landscapes.
Around 11:45 am, the bus will stop for a photo opportunity at the Moulin de Moidrey, which offers an incredible view of Mont-Saint-Michel. Listed as a UNESCO World Heritage Site since 2007, this windmill near Mont-Saint-Michel Bay was restored after having been abandoned for more than a century. Next, you will visit a caramel shop, La Maison Pèlerin, where you will be offered a snack. You will then head to the Le Relais Saint-Michel restaurant for a lunch full of local flavors and an incredible view of the Mont.
Menu
***
Appetizer and main:
Surf and Turf Trio: Crispy sea bass, vegetable tagliatelle
Salad of wild greens, flaked salmon in a house marinade, pistou sauce
Crispy Camembert with apples
**
Dessert :
Sweet Dessert Trio: House chocolate mousse
Apple tart, whipped cream
Vanilla cream with salted caramel

***
Drinks :
Cider, water, coffee or tea
After lunch, our driver-guide will accompany you and help you get settled at the Hôtel Mouton Blanc (or similar), which dates from the 14th century.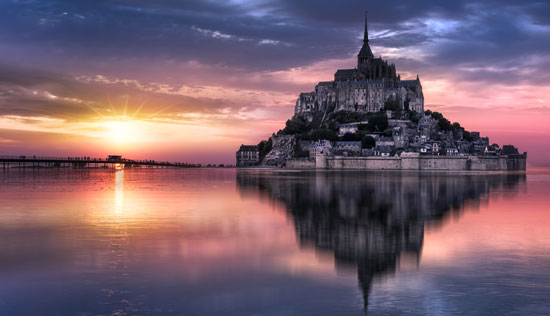 Spend a night in Mont Saint Michel
You will have the entire afternoon and evening to explore this picturesque Norman village at your leisure. An audio guide will help you learn more about the Mont and its Abbey. As one of the most visited sites in France, and a listed UNESCO World Heritage Site since 1979, Mont-Saint-Michel is a must for any trip to France to learn more about its history. You will be able to admire this magical place both during the day and at night. You will climb through picturesque alleyways up to the top of the Mont, dominated by its famous Benedictine abbey. Dedicated to the Archangel Saint Michael, this abbey dates from the 8th century and houses a superb cloister and an impressive refectory where the monks used to eat their meals in silence.
After you leave the abbey, be sure to stroll through the streets and along the ramparts, enjoying the incredible panoramic views of the bay. Your jaw will drop when you see the expanse of sand that surrounds the rock. You may also use this time to sample some of the specialties of the Mont (the famous Breton crêpes, for example) and visit the souvenir shops.
Later, you can dine wherever you choose, and take in the sunset before spending a restful night in this ancient and mythical place.
DAY 2: Granville and Château du Breuil
You will meet the group at the hotel at 8:15 am for a traditional French breakfast before getting on the road for Granville around 9:30 am.
After a little over 30 minutes in the bus, you will arrive, ready to follow the footsteps of Christian Dior through his home town. You will visit the Musée Christian Dior, with its shop and gardens. In fact, this was the fashion designer's villa, which was then transformed into a monument to his memory. Our driver-guide will lead you on an hour-long guided walking tour of the town before getting back on the road.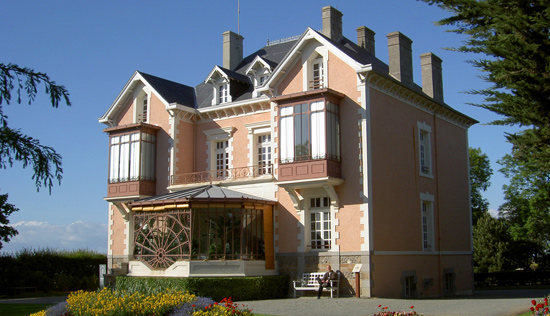 Visit of Christian Dior's house in Granville
You will then go to have lunch in a French restaurant, La Table de Louis (or similar), which offers a superb panoramic view of the sea and the casino.
After another 45 minutes or so in the bus, you will arrive at the Château du Breuil (or similar), which dates from the 16th century, to visit its distillery. In the past, the Château produced linen, then cheese, before becoming a cider works in the 20th century, and they have been distilling Calvados there for the last 50 years. You will visit the magnificent grounds of the Château before enjoying a cider and Calvados tasting.
After this exclusive and unforgettable experience, you will return to the bus and leave for Paris around 4:15 pm, with an estimated arrival at our agency around 6:45 pm.
Please note :
In the case of a booking requiring a single room, a supplement of 40€ will have to be paid at PARISCityVISION agency prior your tour departure.
For example:
- For a booking of 1 person: you will be automatically assigned a single room, so you will have to pay 40€ extra upon the departure of the tour
- For a booking of 2 people: you will be in a double room without any extra charge. If you want to be in two separate rooms, you will need to book the tour separately and pay the single room extra for each person upon the departure.
- For a booking of 3 people: you will be in a double room and a single room. In that case, you will have to pay the 40€ extra upon the departure. Triple rooms are unavailable.
The price includes :
Entry ticket and audio guide for the Mont-Saint-Michel Abbey
Entry ticket for the Musée Christian Dior and its gardens
Entry ticket and tasting at the Maison Pèlerin caramel shop
Entry ticket and tasting at the Château du Breuil
One night at the Mouton Blanc (or similar) three-star hotel at the Mont Saint Michel, breakfast included
Lunch at the Relais Saint Michel, drinks includedLunch at La Table de Louis (or similar), drinks included
The services of an experienced driver-guide.
Comfortable round-trip transportation from Paris in a minibus
Pick-up/drop-off at your accommodation in Paris depending on the option you select
The price doesn't include :
Dinner at Mont Saint-Michel
Further information on your confirmation voucher:
You will receive your confirmation and your tour voucher in 2 separate emails. Please print your tour voucher and present it to the PARISCityVISION office on the day of your departure.