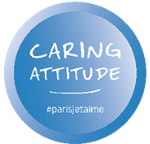 Enjoy Paris & France safely with our sanitary program
We have developed City Protect, a program of sanitary measures to ensure your safety and comfort while allowing you to fully enjoy your experience. Here you will find the detailed measures of this program as well as frequently asked questions. Your safety is our priority, which is why we have also joined the charter of health commitment of the city of Paris, Caring Attitude.

To welcome you
Our employees are equipped with a visor or mask
Hygiaphones have been installed
Marking on the ground or on the seats ensures distance
Hydroalcoholic gel is available at the agency
Desks are cleaned every hour

For your tour or activity
Our guides wear a visor or a mask
You will be equipped with audiophones to hear well.
The equipment is disinfected after each use.
Vehicles are cleaned after each service
A sanitary partition is installed in our minibuses.

For your peace of mind
Bring your mask! Wearing it is compulsory in agencies, on board buses and minibuses.
Cashless payments (online, creditcard, contactless)
Measures for our City Tours also respects
Gray Line's Health & Safety policy
Your safety is our priority. Watch the full video of our program.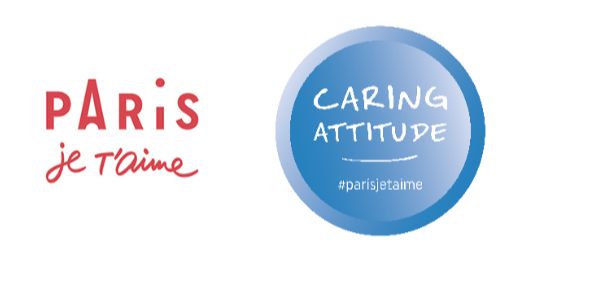 We are committed
We join forces
We have also joined Caring Attitude, the commitment charter of the city of Paris. We are therefore embracing the seven pledges of this charter. More info.
Frequently asked questions
Yes! We have reopened our visits from September 1st. We have adapted our experiences to offer you the best while guaranteeing the necessary sanitary measures.
To date, France is no longer in lockdown, and the museums as major sightseeing sites have reopened. Depending on the situation in your country, entry to European and French territory may be regulated. We advise you to get in touch with your institutions to find out their travel recommendations. Besides, we recommend that you also consult the French diplomatic website: https://www.diplomatie.gouv.fr/en/coming-to-france/coronavirus-advice-for-foreign-nationals-in-france/.
Yes, please! For your peace of mind and others, you will be required to wear a mask at our agencies, aboard our vehicles, and our tours.
All of our measures are detailed at the top of this page. Measures for our City Tours also respects
Gray Line's Health & Safety policy
. Beyond the necessary social distancing, our staff wear a mask or visor in our agencies and tours; you will have your own audio phones to hear the guide and be able to respect social distancing; our premises, counters, equipment and vehicles are regularly cleaned and disinfected. Group sizes have also been reduced. We will also ask you to wear a mask and to pay with cashless means of payment. At any time, you will have a hydroalcoholic gel at your disposal in case of need. You will be notified if certain places require additional measures.
Yes, sure! We have several private tours, such as:
Private Guided tour of Versailles – Half Day
Private Guided tour of Versailles – Full day
Private Guided tour of Giverny Monet's Gardens
Private Guided tour of Giverny & Versailles
Private Guided tour of Giverny & Auvers sur Oise
Day trip to Champagne, Cellar Visits & tastings
Day trip to Normandy Battlefields
Flexible! Our cancellation policy is specified on each product sheet. Except for ticketing, you can usually be refunded 100% if you cancel up to 3 days before the tour starts, 50% within 2 days. We try to offer you as much flexibility as possible. However, conditions are becoming stricter and stricter in many establishments, and uncertainty weighs on our level of activity due to the health crisis. So, beyond this cancellation policy, please try to let us know as soon as possible, it will help us a lot! Check our general terms & conditions if you want to know more.
If your tour is unfortunately canceled by us, we will offer you 3 possibilities:
1-Transfer you to another tour
2-Give you a credit note worth the value of your tour
3-Refund if conditions apply
Everything is live! We may add several availabilities depending on the level of business resumption. So check back regularly. You can also block your place on the experience of your choice and change the date later, usually depending on the tours, you can do this for free up to 3 days. To use your voucher, write an email to booking@pariscityvision.com.
That's not planned right now. However, this may change according to government guidelines. If so, we will update this page.
There can always be unexpected events during the tours, even outside of the current situation. In these cases, we do everything possible to offer you the best possible experience or alternatives with the constraints we encounter. Please know that your safety is our priority and that we will never take any risks. Given the current situation, we will all have to be flexible, and should the program change for reasons beyond our control, we hope that we can count on your understanding and not hold it against us.
For the comfort and tranquility of all, we thank you for not participating. Call us, and we will find a solution if you are in the period of the non-refund of the tour.
If one of the participants of your tour is diagnosed with coronavirus afterward, we will follow the protocol given by the authorities. This may include contacting you and quarantining you if the authorities deem it necessary.
If a tour member shows the coronavirus symptoms, the tour guide will put them in touch with a local health provider to be screened.
Honestly? A big Yes! First of all, because France, Paris, it's incredible and it's not a mask that will take that away from you. Then because our guides are passionate people who make you live the places and transport you through time and space. We have also adapted our experiences to have smaller groups: you will gain interactivity and immersion! Trust us to make your stay in France an unforgettable experience.
Book your experiences, you will always be able to modify them later if necessary. Accept a credit note rather than a refund if you have to cancel.
Come and enjoy an incredible experience in Paris and France, post a review, and spread the word!