Small group or privatized tour.
Pick-up at your Paris accommodation at 8:15 pm for a minibus journey of around one hour and 15 minutes to Giverny Monet.
Full day excursion from Paris on the trail of the famous Impressionist painters Vincent Van Gogh and Claude Monet, in Normandy. Discover at your own pace this places that have inspired artists as Renoir, Sisley or Cézane and immerse yourself in the universe of this prodigious painters thanks to the comments of your guide.
As you travel by minibus for around an hour and a quarter, admire the lush, green landscapes of the French countryside as you listen to commentary provided by your guide en route to the small Normandy village of Giverny. For 43 years, it was home to Claude Monet, his wife and children, until the painter's death in 1926.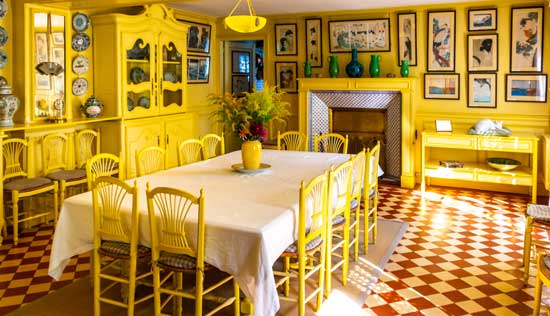 Claude Monet's dining room
During your visit, admire the multi-coloured flower beds, many different plant species originally from the East, the stunning water garden with its famous water lilies, and its Japanese bridge, so often the subject of Monet's paintings. Then take your time exploring the pink house, Claude Monet's place of work and his home (guided tours of the interiors are not permitted due to limited space). After your visit, make the most of your free time and enjoy a self-guided visit of Giverny's Impressionisms Museum, dedicated to the Impressionist movement in France and abroad. You can also walk around the village and visit the pretty bookshop / giftshop which occupies the old Waterlilies Workshop.
After your two-hour visit, enjoy a tasty lunch at the Moulin de Fourges restaurant just ten minutes from Giverny.
Menu:
Cider norman kir (Cocktail aperitif and appetizers in private tour)
**
Mackerel bread with vegetables and white wine, herbs cream and small salad
**
Roasted chicken breast, mushrooms cream, smashed potatoes with salted butter
**
Norman apple pie, vanilla ice cream
**
White wine or local cider on request
Mineral still or spring water
Coffee or tea (Coffee or tea with sweet treats in private tour)
* Example of menu, subject to modification
After lunch, it will be time to move on to Auvers sur Oise for a guided tour of this picturesque village, where the Dutch painter Vincent Van Gogh spent the final 70 days of his life in 1890. At the peak of his artistic skill, he painted a great many works in Auvers sur Oise, depicting peasant life as well as the architecture of the village especially in "Wheatfield with Crows" and "The church in Auvers-sur-Oise" paintings. While in Auvers, visit the Pension Ravoux guest house and the artist's bedroom, as well as the church and its cemetery, the last resting place of both Vincent Van Gogh and his brother Theo. Your visit will last for approximately one and a half hour.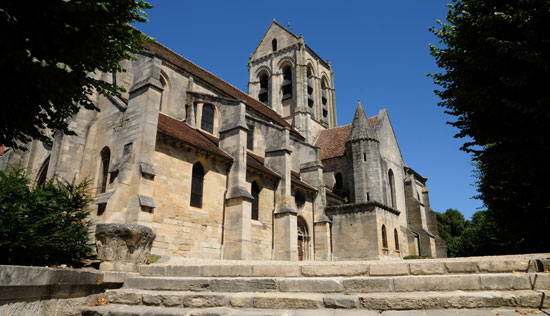 Church in Auvers sur Oise village
Return to your Paris accommodation is scheduled for approximately 5 pm.
Please note:
The itinerary and schedule shown are subject to change depending on traffic or variations in opening hours at the attractions
On-site visit duration: 7h